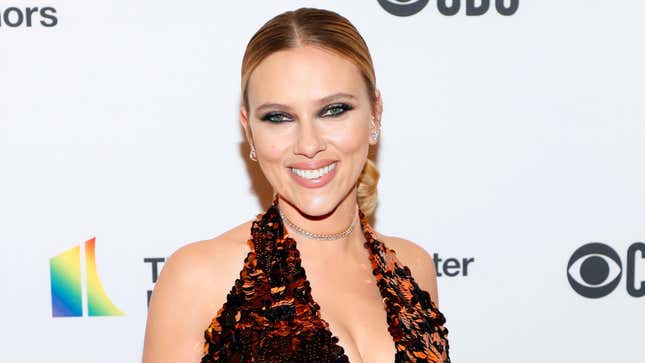 Breaking news: the Johansson family is reportedly full of Disney adults. In a new Variety interview, Scarlett Johansson reminisces about their annual passes to Disney World, leading to "a real passion for the Disney Parks"—she still goes at least 10 times a year and "spent a recent Christmas with a group of 15 friends at Disney World." Most of all is a love of the movies, which she apparently shares with her sister, whom she needs to get in contact with on the subject.

Jodie Sweetin on the appeal of holiday movies, "Fuller House" and Bob Saget
"[When] I was growing up, it was a great time for Disney animation—The Little Mermaid and Aladdin and Lion King with the incredible soundtrack. Like, I will be pre-buying tickets to The Little Mermaid," Johansson tells the outlet. "I actually need to text my sister about that."
Who among us hasn't realized mid-interview that we need to nail down plans with a sibling? Perhaps the Johansson sisters are the Tom Cruise of the Disney set, here to bolster the reputation of a film largely met with skepticism. (Disney's live action experiments are already the butt of jokes, but the aquatic CGI in this one faced serious backlash.) Early reactions are mixed-to-positive, with Gizmodo's Germain Lussier tweeting: "It's real simple. Are you excited for #TheLittleMermaid? You'll like it. It's exactly what you think it is. Are you skeptical and worried about it? That's valid too." Seeing as Johansson falls into the former category, it should be a fun night out for her and her sister. Hooray!
That the Avengers star is willing to go on the record about pre-buying tickets to a Disney movie is a shocker in and of itself, given the legal drama between herself and the company. The studio at one point accused her of "callous disregard for the horrific and prolonged global effects of the COVID-19 pandemic" amid her Black Widow lawsuit.
"I was sad and disappointed. But mostly sad," she shares with Variety. "It was such a surreal moment because we were all isolated and just sort of emerging a little bit. I was also really heavily pregnant, too, which in a weird way was amazing timing. Suddenly, your entire attention is drawn to this miracle of life. So, I had the most wonderful distraction in the world and soon after had a beautiful baby."
Despite being in battle with her beloved Disney, Johansson says she got a lot of support from the public ("I couldn't even walk through a restaurant without somebody saying, 'Good for you. Stand up for yourself.'") Eventually, the two parties settled the lawsuit, and she went right back to her Disney adult ways—she's even set to star in a Tower Of Terror film from Taika Waititi. Thus, she can enjoy The Little Mermaid live-action without resentment, so long as she remembers to text her sister and make a date!