It took a while, but Showtime has put together a solid little schedule, then filled in the cracks with some really bizarre stuff. So much of what Showtime has peddled for years now is attitude—a kind of loutish, asshole-y behavior that's meant to seem clever and confident and cool. Yet in the past couple of years, the network has continued to peddle that attitude (the ads it had for Homeland at Comic-Con were terrible in how they undercut the show in a jokey fashion), while putting shows that rose above that juvenile nature to become compelling, adult drama and comedy. It took a while, but Nurse Jackie just completed a really strong season that suggested all the early raves for the show four seasons ago were justified, and the trio of dramas of Shameless, Homeland, and The Borgias, is as good a lineup of series as the network has ever had. The network still gives in to its attitude problem—House Of Lies—from time to time, and it's still the home of Dexter, TV's most frustrating show. But under the stewardship of David Nevins, the network has grown bolder and more confident.
That's a tone that seems to extend to the network's latest pick-ups. Nevins introduced footage from new dramas Ray Donovan and Masters Of Sex at his executive session at the Television Critics Association summer press tour, and both look to be at the very least intriguing. The more interesting is Sex, which is filled with fairly blatant depictions of sexual activity (as you'd expect in a series about the famous mid-20th century Masters/Johnson study of human sexuality) but also lots and lots of solid laughs. Michael Sheen and Lizzie Caplan are the leads, and if the show lives up to the trailer, it will be the weird sex comedy/period piece America didn't know it wanted. Donovan was a bit more standard issue, what with its tortured antihero dealing with the sins of the past and his father, but it stars Liev Schreiber and Jon Voight, and any excuse to get those two to snarl at each other is a good one. Its "Hollywood fixer" milieu could also be promising, though the situation set up in the trailer was solved a bit too cutely.
So Nevins' executive session didn't really have an overriding theme, beyond, "Hey, Showtime's doing all right, isn't it?" The network is rapidly closing in on 22 million subscribers, inching ever closer to market leader HBO, and it just received 22 Emmy nominations, including nine for Homeland, the most of any new series and the most any Showtime series has ever received. The network received five nominations in the lead acting categories, the most of any network, and it also boasted a series of announcements about its documentary programming, which has been coming on strong in recent years. It announced the lineup for its series Close-Up, a series of conversational biodocs about prominent people from famous filmmakers, including R.J. Cutler taking on Dick Cheney and Antoine Fuqua looking at Suge Knight. The network is also filming a special with Daily Show correspondent and Bernie Mac Show creator Larry Wilmore, which could expand into a series. Nevins also announced that Oliver Stone's long-in-the-works documentary series The Untold History Of America will debut in November and will, presumably, encounter absolutely no controversy whatsoever.
If there was a theme to the panel, it was that of endings, something Showtime has had a problem with in the past. When it wasn't letting shows run on long past their expiration dates—Weeds and Dexter will end in their eighth seasons—it was canceling them without a chance to wrap up the story—United States Of Tara. Even now, after a season that would have made an arguably perfect endpoint for Nurse Jackie, the series will return for season five, despite not being terribly well-rated. Nevins was even unable to definitively state that season eight of Dexter will be the end of the road for that show, despite the fact that the series' two stars and its executive producers have said that they're treating season eight as the show's final one. (Season seven, incidentally, begins in September. The premiére has its share of problems, but the main storyline is generally strong.) Nevins finally admitted that, sure, season eight will probably be the end, but if the producers came to him and said they had an idea for a season nine, he wouldn't say no.
Yet you can forgive critics for feeling a little gunshy about this, after numerous Showtime series have had trouble ending their stories. Nevins promised that definitive end to The Big C we talked about earlier, and he also said The Borgias was planned to end after season four. (Season three is prepping to shoot right now.) But there are no plans in place for any of the network's other series, though Nevins allowed that characters who no longer fit into the narrative on shows, particularly Homeland, might be written out if events dictated they should be. That's a good strategy for that series, which has any number of characters who could eventually bog down the series, simply because they no longer fit the overarching narrative. But it still won't quell the fears of those who might hope the show's got some sort of long-term plan, beyond the season-to-season arcs.
G/O Media may get a commission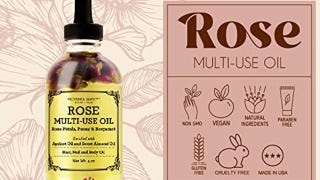 Provence Beauty Rose Multi-Use Oil
Yet there's something vaguely appealing about Showtime's scrappy, seat-of-its-pants ethos. You don't always know when you're going to wander into a narrative cul-de-sac, and it might take forever for the network's online streaming player to debut. (Showtime Anytime, the network's answer to HBO Go, likely won't be live with options for most major cable providers until early next year.) But the whole thing is going to feel like it weirdly hangs together. Showtime got into trouble back when it tried to copy HBO to a fault, then when it overlearned the lessons of letting Weeds evolve and change perhaps too much. But under Nevins, the network is slowly beginning to make sense, and it's programming plenty of good shows. With Homeland as a guiding principle, Showtime just might create the lineup of its dreams yet.