Denis Leary, at this point, has a bigger career behind the scenes than in front of the camera. When he's not doing voice work for the Ice Age franchise or playing Emma Stone's father in The Amazing Spider-Man, he's a prolific writer and producer. In the process of creating the successful Rescue Me, Leary's developed not just a team he's comfortable working with but also a signature storytelling style. It's to his credit that though the work he's involved with has his fingerprints all over it, the shows do not feel like copies of each other. Leary has a brand, not a formula, and Sirens is evidence that the Leary brand is still doing very well.
Sirens was originally a British series—starring a pre-Game Of Thrones Richard Madden—but never made it past its first season. But Leary—and a team that includes Traffic Light writer Bob Fisher and Jim Serpico, a longtime collaborator of Leary's on Rescue Me—reworked the idea for American audiences. Blue-collar public servants are Leary's bread-and-butter, and with good reason. Sirens feels organic and unconventional at the same time, without trying hard to be either authentic or shocking. The result is a surprisingly solid sitcom—watchable, relatable, a little raunchy, and a lot of fun. It's like very little else on television right now, but that's why it's so attractive.
The premise is so thin it's barely a premise—"a bunch of paramedics do things" about sums it up—but this works to Sirens' benefit. The first few episodes might have been shuffled a little, but it's barely noticeable. There isn't a whole lot to tell that isn't conveyed by the actors inhabiting the characters wholly, and over the course of a few well-written conversations, our protagonists are immediately recognizable and likable.
The paramedics side of the equation is all Leary and Serpico—you can see their interest in urban grit and the working-class mentality come to light in countless little ways, like the choice to film in Chicago, the unapologetic commentary on race relations, and the bro-talk the male paramedics get involved in about porn and cocks. Even the brassy, tough women in the story come from the Rescue Me wheelhouse—one woman collects photos of severed limbs; another Googles porn of The Rock when she's not reading Gillian Flynn's Gone Girl.
G/O Media may get a commission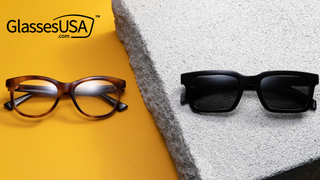 60% off frames
GlassesUSA.com Back to School Sales
But the well-crafted scenes—the line-by-line excellent dialogue that is so engaging—is the hallmark of Fisher, whose short-lived Traffic Light provided personal moments with lived-in characters without even seemingly trying to. The only downside is that Fisher's work is so good, it comes out of left field—how many viewers are going to give this sitcom the time it needs to take hold? No one really expects rich character interplay from a sitcom on USA, do they? ("Characters welcome" tagline aside.) The feeling of dropping in on an overheard conversation with a group of friends is so strong, it's very easy to lose names or job descriptions and just get swept up in the story.
It's not perfect, of course—Sirens is a little light on laughs for a straight-up sitcom, making it more of a half-hour dramedy. Which makes sense, because it's adapted from the U.K., where they're a little more comfortable with blurring the lines between comedy and drama. But when the laughs do come, they're amazing—the first episode makes much of the sound of a porno featuring a horse and the reaction of the paramedics without showing anything salacious. Indeed, it's the horrified silence afterwards—accentuated with agile editing—that draws the biggest laugh. The restraint allows the actors to make the most of the joke instead of some kind of sight gag—and fortunately, the actors have perfected their looks of dazed horror.
Sirens is anchored by the lovable bro trio of Johnny, Hank, and Brian, played by Michael Mosley, Kevin Daniels, and Kevin Bigley, respectively. (Mosley had recurring roles in Justified, 30 Rock, and Scrubs; Daniels had a long arc on Modern Family.) Johnny is recently broken up with a girlfriend he's still in love with; Hank is an out-and-proud gay man; Brian is the newcomer to the team. Johnny's girlfriend, Theresa (Jessica McNamee), is also a paramedic, as are a few other women, named Voodoo (Kelly O'Sullivan) and Stats (Maura Kidwell). Voodoo collects the pictures of severed limbs; Stats, meanwhile, is obsessive-compulsive, especially with numbers. In the first few episodes, Johnny's relationship with Theresa is the center of the show, as the two spar over porn on their computers and commitment issues. But the couple's total lack of boundaries means that the entire squad is able to participate in their issues, and there's already enough care to the characters that they could each hold A-plots of their own, in time.
Sirens' style of humor doesn't trade on punchlines, and its characterization is subtler than most sitcoms. But it is solidly entertaining. It has a strong sense of how to make scenes between characters work, and it matches that with a cast that is game for a different kind of characterization. It's not exactly groundbreaking, but it's fun to watch and slightly addictive. Which, for a sitcom, is sometimes all you need.