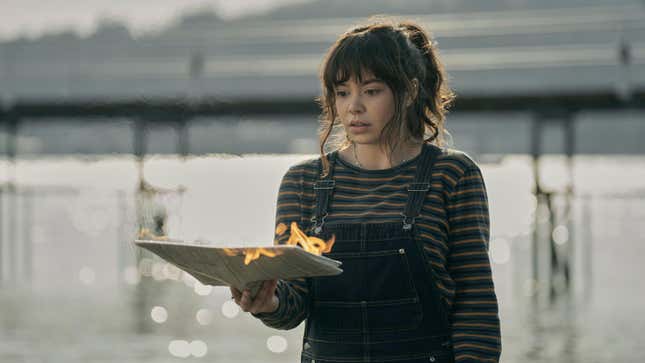 Between Elle's powers in Stranger Things, Feyre from booktok staple A Court Of Thorns And Roses' endless arsenal of skills, and even Ellie's mysterious immunity in The Last Of Us, it appears the era of the overpowered teenage girl in a dark and dystopian world is really, truly back. (We're even getting the Hunger Games prequel later this year!) And we are really, truly thrilled about it.
Dream Horse's Toni Collette shares why horses make such great actors
But while all of these stories are empowering in their own right, Prime Video's new series The Power dares to ask a question none of them have even deigned to gesture at: What if it wasn't one teenage girl that was special, but every teenage girl? Only teenage girls. All across the globe.
To some, this situation will obviously sound like a euphoric dream, while to others (like many of the show's characters), it represents sheer, biblical terror. No matter on which side of that line you fall, the series—which is based on Naomi Alderman's 2016 novel of the same name and is produced by Chernobyl studio SISTER—promises a nuanced, heart-pumping exploration of the concept with a truly stacked cast.
Toni Collette (still one of recent history's most egregious Oscar snubs, while we're on the topic) stars as Margot Cleary-Lopez, the stone-faced mayor of Seattle charged with an unhappy task: she must announce to the world that teenage girls are developing a new organ, one that allows them to generate unlimited electricity at will.

"This power is evolution," she says to the crowd of clamoring journalists, just before her daughter (Auli'i Cravalho) and a friend giddily cause a city-wide blackout using just their hands and a single electrical pole.
"I was living in constant fear. Now I feel a hundred times stronger. Can you imagine that kind of freedom?" she asks later, over clips of smoldering trucks and nose-diving planes.
A global, teenage-girl-led revolution is coming. The trailer only has one real question: when it arrives, which side will you be on?

The Power premieres March 31 on Prime Video.