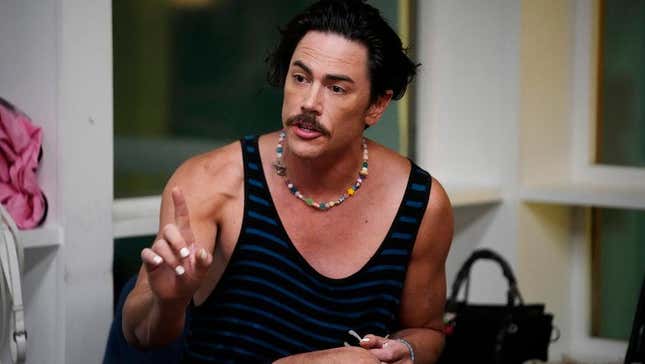 You know things are bad for the friend group when Bravo brings Kristen Doute back to clean up the mess.

Tragedy strikes Lana Del Rey in form of lost vape pen
After a season of fans teasing out the makings of an affair between Tom Sandoval and Rachel "Raquel" Leviss, Vanderpump Rules is finally about to catch up to the rest of us. Earlier today, Bravo released the much-anticipated trailer for the Vanderpump Rules season finale. More importantly, for the first time, the network will air footage from after the Scandoval news broke and sent the show into the stratosphere. Vanderpump Rules was already one of the best reality TV shows on God's Green Earth, but this season made it one of the best shows on television. Now viewers will get to see the cast's reactions as they happened. We couldn't be more thrilled.

Less than a month into its 10th season, the show went nuclear after its most boring couple, Tom Sandoval and Ariana Maddix, broke up because Sandoval cheated on Maddix with Leviss. The news invalidated everything we were about to see because we knew how it would end. However, it also added a new level to the show as, for the first time, fans knew Leviss and Sandoval were lying their way through the season. Thankfully, Bravo got the fallout on camera. After news broke, Bravo sent camera crews to Valley Village, California, to grab footage of the breakup.

We spent the last three months watching the show under a thick layer of dramatic irony as we waited for the day when James Kennedy would know as much as the viewer. It's perhaps the only thing that could top last week's now-legendary beach day episode, in which the gang decided to drink too much, get sunstroke, and air all their grievances. As the show gets closer to the present, the camera and fellow cast members began poking holes in Tom and Raquel's alibis. "Beach, Don't Kill My Vibe" will go down as one of the show's finest outings. It could have been a season finale had the affair never come to light.

The brouhaha also opened the door to bring back one of the wildest cards in the deck: Kristen Doute. She appears in the trailer via a masterful reveal that cuts from her slide sandals to her steepled fingers, indicating that the truth is about to come out. Doute spent much of her tenure on the show reminding people that Sandoval did the same thing to her before she was fired for a racist "prank" (though we're not entirely sure how calling the police on someone qualifies as a practical joke). Doute's appearance signals that the show will turn up the heat as Vanderpump heads into the even more hyped reunion episodes airing later this month.
Vanderpump Rules' finale airs on Wednesday on Bravo.