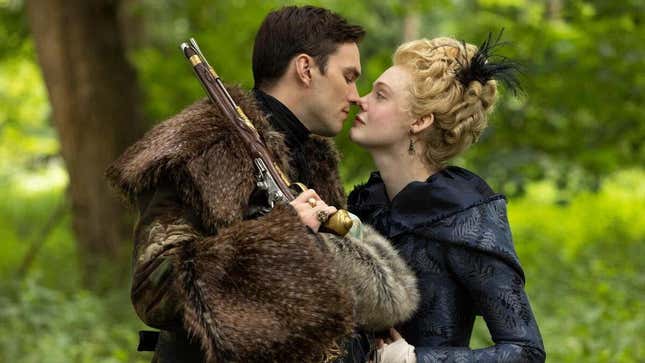 Huzzah! The trailer for the third season of The Great has arrived. The Hulu series stars Elle Fanning as Catherine the Great and Nicholas Hoult as Peter III in the loosely historical comedy from The Favourite screenwriter Tony MacNamara.
AV Club Interviews Tom Kenny and Bill Fagerbakke
In the new preview, Russia's favorite power couple is, predictably, still at each other's throats after the birth of their son Paul. While an elaborate trust exercise can't solve their problems, that doesn't stop them from trying. Of course, as previously established in the Emmy-winning series, Catherine and Peter have some pretty fundamental differences of opinion, such as whether or not feudalism should be a thing.
"I am no longer the child bride who took this place, and I will be the leader I promised myself I would be, letting all pursue their happiness as they see fit," Catherine proclaims.
The power plays at court continue as Catherine further develops her blueprint for a more modern Russia and meets with an American ambassador, as well as a whole bunch of peasants who think that her ideas about equality might actually be witchcraft. Meanwhile, Peter throws himself into parenting as he's haunted by visions of his own father (Jason Isaacs). And of course, it wouldn't be The Great without plenty of guns, vodka, and extravagant feasts.
Last year, Elle Fanning also starred in another Hulu series, The Girl From Plainville. She has been tapped to play Ali MacGraw in Francis And The Godfather, which tells the behind-the-scenes story of the classic film.
Until the new season of The Great premieres, you can catch Hoult opposite Nicolas Cage as Dracula in Renfield, which hits theaters this Friday. He also appeared in The Menu last year.
All 10 new episodes of The Great will be available on May 12.