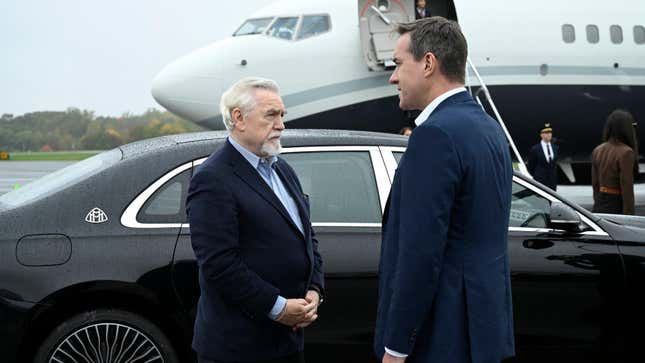 Well, last night's episode of Succession left viewers (this writer included) in shock and awe. Heralded by top-notch performances, we witnessed the immediate fallout from the death of Waystar-Royco CEO and family patriarch Logan Roy. As the show's final season truly ramps up, it makes even more sense why Brian Cox has been pretty chill about the series' end.
While other Succession cast members have mourned the ending of the HBO drama in interviews, Cox's been pretty nonchalant about the whole thing. Even when he learned Logan would finally kick the can from showrunner Jesse Armstrong, Cox says he was "unbothered."
"He called me, and he said, 'Logan's going to die,'" Cox tells The New York Times in an interview published after last night's episode. "And I thought, 'Oh, that's fine.' I thought he would die in about Episode 7 or 8, but Episode 3, I thought … 'Well that's a bit early.'"
"Not that I was bothered," he adds.
In newly published interviews, Cox mostly seems relieved that he no longer has to carry Logan's death around with him like a sacred secret anymore.
"I'm very proud of myself, that I managed to keep this secret," Cox tells Deadline. "You know, I thought, wow, Brian, for the first time ever, you've actually kept a secret. It's such a big secret."
Cox has mentioned the necessity for Succession's end before, expressing minimal sentimentality and applauding the tough decision to end the Emmy-winning show. After airing last night's episode, his attitude makes even more sense, as Logan was never coming back anyway.
"Well, they had to end it somehow, and it was Jesse's choice," he tells the Times. "I've said it before, and I'll say it again, the problem with a lot of television, particularly American television, is it goes past its sell-by date. And the great thing about Jesse and the writers is they wouldn't do that. It was difficult for them because it wasn't easy to bring this to an end."
Logan's death was inevitable in a show called Succession. The show started with the media magnate approaching his deathbed, and his exit from this mortal plane was only a matter of time—and of Armstrong writing the script. Clinging to a character or project is not Cox's style, and would be futile when it came to Logan, whose death is necessary for the show's progress.
As Cox looks to a life beyond Logan, he's looking forward to returning to the theater stage and embarking on his first feature directorial project.
"[Succession] is a very special work that I've done, and it's given me so much, and I'm really eternally grateful for it," Cox says. "But it's only a stop on the way. It is not the destination, as far as I'm concerned. Now that may be wrong. That may define me. But I'm just going to go on regardless."