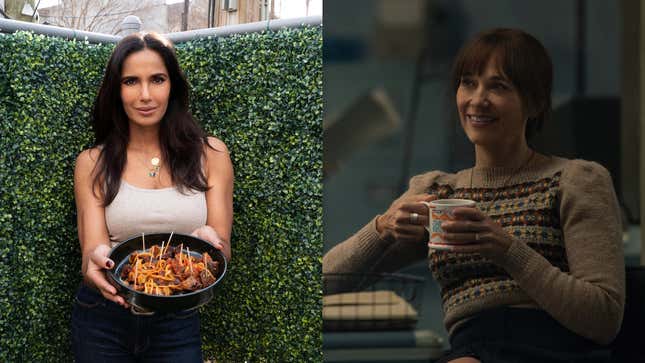 Welcome to the weekend edition of What's On. Here are the big things happening on TV from Friday, May 5, to Sunday, May 7. All times are Eastern. [Note: The weekly What's On will publish on Sundays.]

Sam Raimi on finding his place in the MCU
---
1. Padma Lakshmi returns with another serving of Taste The Nation
Hulu, Friday, 12:01 a.m.: There's no better host for a food and travel docuseries than Padma Lakshmi. The Top Chef judge returns with her Hulu series, Taste The Nation, exploring the cuisine and culture of the Afghan community in Washington D.C., celebrating Ramadan in New York City, and traveling to Houston with Insecure's Yvonne Orji, among other fun journeys. All 10 episodes drop on the same day.
---
2. Silo joins the list of TV shows about dystopian futures
Apple TV+, Friday, 12:01 a.m.: Created by Graham Yost, Silo is a sci-fi drama based on Hugh Howey's novels. It follows Juliette (Rebecca Ferguson), an engineer in a dystopian reality where the last 10,000 people live in a silo, away from the deadly, toxic world outside. She strives to learn more about their history after a loved one is killed and tumbles into a mystery that lies beyond her imagination. Rashida Jones, David Oyelowo, Common, Iain Glen, Harriet Walter, Tim Robbins, and Avi Nash co-star.
---
3. Have some laughs at the MTV Movie & TV Awards
MTV, Sunday, 8 p.m.: The great Drew Barrymore was supposed to take the stage at this year's MTV Movie & TV Awards as host, and she proved exactly why she's great by dropping out to support the ongoing writers' strike. However, the ceremony will still go on. Some of the top film nominees include Top Gun: Maverick, Scream VI, Nope, and Smile. On the TV front, The Last Of Us, Stranger Things, Yellowjackets, and The White Lotus picked up nods. Jennifer Coolidge will also be present to pick up her Comedic Genius trophy. (She deserves it.)
---
4. Harriet The Spy is back for season two
Apple TV+, Friday, 12:01 a.m.: Based on Louise Fitzhugh's book of the same name, Harriet The Spy is an animated series about 11-year-old Harriet M. Welsch (voiced by Beanie Feldstein). The outspoken future writer tries to peek in on everything and everyone to collect material for her words, and the voice cast returning for season two includes Jane Lynch, Lacey Chabert, and Grey Griffin.
---
5. Let's decompress with The Great American Baking Show
Roku, Friday, 3:01 a.m.: The Great British Bake-Off's Prue Leith and Paul Hollywood are the judges here (they just can't quit), and they're joined by Unbreakable Kimmy Schmidt's Ellie Kemper and Severance's Zach Cherry. All six episodes of The Great American Baking Show will premiere on Roku on the same day.
---
6. Paramount drops international thriller Death's Roulette
Paramount+, Friday, 3:01 a.m.: Spanish-language film Death's Roulette centers on seven strangers who wake up in a mansion in the middle of nowhere to discover they are part of a twisted game. They get one hour to choose one person who'll die, and if they don't, all of them will be murdered. The cast includes Maribel Verdú, Carla Adell, Juan Carlos Remolina, Adriana Paz, Dagoberto Gama, and Fernando Becerril.