The Shorty Awards, as everyone involved with the Shorty Awards will no doubt be happy to tell you, are the future of awards shows, an annual event honoring those twin pillars of social media monetization: influencers and brands. The 2018 edition of this collective death march into eternal distraction was held last night in New York City; there, Wendy's #NuggsForCarter and Backpack Kid were celebrated, and Distracted Boyfriend was named Meme Of The Year. It was the kind of night where people give acceptance speeches that begin, "This is why I got into marketing," and it nearly crushed Adam Pally's soul.
Pally took the stage to present the award for Best Overall Instagram, his shirt collar unbuttoned and the dull sheen of a man who has lost even the memory of what hope used to feel like in his eyes, and proceeded to mercilessly tear into the entire concept behind the Shorty Awards, as well as several of the evening's honorees. "Thank you for having me at the Shorty Awards, the waiting-at-the-DMV of award shows," he said, before comparing the shape of the award itself to a "glass vagina" and asking, "I have a few questions about what's happening here tonight. I guess I'll start with: What is going on?"
As he struggled to read the prepared #copy, Pally added commentary on the sheer despair he felt even being there at that moment. Some choice lines: "I think a career highlight will be when I am done"; "Once again, I'm giving an award to a company. I'm 36."; "Remember that winner who said that she was in college for engineering but she dropped out to play video games?… She thinks it worked out for her, but in six months she'll be trying to get back into that school"; "If you want me to host next year, hard pass"; "Delete my account? God, I wish I could"; and, most succinctly, "This is hell." Safe to say, none of that was in the script.
Eventually, as Pally collapsed under the emotional weight of introducing an "in memoriam" segment for fucking AIM and Vine, another presenter came out, finished reading the intro off of the teleprompter, and escorted Pally off of the stage. And we can't say we blame him: Other big winners at last night's Shorty Awards were Best Meme/Parody Account (FuckJerry), Best Snapchatter (Spencer Pratt), and Best Influencer & Celebrity Brand Partnership (a bunch, but our favorite is Snapchat runner-up "AMC Theatres and Coca-Cola engage Snapchat influencers to drive concession purchases at the movies").
Pally's segment, in which he establishes himself as the John Connor of the anti-branding resistance, lasts from about an hour and 34 minutes to an hour and 45 minutes in the video above.
G/O Media may get a commission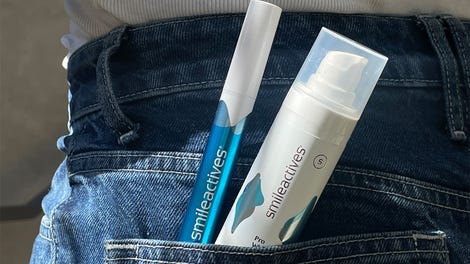 58% off
Whitening Powerhouse Pen & Gel Duo
Thanks to NYC comedian and friend of The A.V. Club Jane Harrison, who witnessed this whole jaw-dropping affair in person, for the tip.