This week's question comes from commenter nunyobini:
"What is your all-time 'turn-off' album, where you checked out from a band you previously loved after listening to it?"
Ignatiy Vishnevetsky
An embarrassingly large portion of my memory is devoted to the subject of indie pop. You see, once upon a time, I was what you would call a twee ass. I had the sideburns, the all-corduroy ensemble, the messenger bag with the pins on the sash. In my life, I've only ever asked one person for an autograph, and that was Stuart Murdoch, the frontman of Belle & Sebastian. The Scottish group meant a lot to me when I was in my late teens. But with 2010's Write About Love, I experienced something I would describe as an alienating, psychic break. The whole enterprise of the band—now much more professional than in its creative heyday, and with better range—suddenly felt like shtick, as dull and competent as dad rock. I still listen to Tigermilk and the rest of the band's pre-Dear Catastrophe Waitress output regularly, and not just out of nostalgia. I think early B&S was actively trying to court obsession and lost the creative impetus behind its music once it became a band with a secure, aging fan base. I listen to 2015's Girls In Peacetime Want To Dance, and I can't for the life of me imagine a 15-year-old who could become fixated on this music.
Nathan Rabin
I don't know why I'm admitting this publicly, but like a fair number of music critics, I could once semi-proudly claim to be a Black Eyed Peas fan. Before they became the most irritating pop group in existence, they were something of a critic's darling, thanks to sonic mastermind will.i.am's breezy, airy take on the Native Tongues' school of jazzy, feel-good hip-hop. Indeed, the guest roster for Black Eyed Peas' Bridging The Gap was a testament to will.i.am's good taste. Mos Def, De La Soul, DJ Premier, Chali 2Na, Estero, Les Nubians, and Wyclef Jean all helped mask Black Eyed Peas' glaring faults as lyricists and songwriters, leading to a breezy, fun pop disc that made it onto a whole lot of top 10 lists, including my own. Out of affection for Bridging The Gap, I convinced myself its follow-up Elephunk wasn't that bad, but by the time Monkey Business came around, I had to concede that the plucky underdogs I had once championed were nothing but hot garbage. I still contend that will.i.am is a talented musician and producer, and often a guilty pleasure. Hell, my Now That's What I Call Music! series here was largely devoted to working through my complex feelings and love-hate relationship with will.i.am, bubblegum-R&B guru/musical supervillain, but after Monkey Business (the one with "My Humps"), it became impossible to still describe myself as a Black Eyed Peas fan. That was the end of the road for me, but will.i.am's dominance of the radio means I still end up hearing lots of his sadistically catchy ditties, just not of my own volition.
G/O Media may get a commission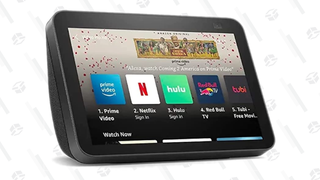 Erik Adams
For men of a certain age (thirty- or fortysomething), disposition (incorrigibly sensitive), and spectacles (any combination of chunky and plastic), the band is obvious: Weezer. The album, however, may vary. I'm an advocate for one of Weezer's most commonly cited turn-off points, Maladroit, a crunchy flirtation with pyrotechnics and stadium-rock slickness that turned off supporters who hadn't already been turned off by the brighter tones of the band's self-titled comeback LP from 2001. Really, Weezer's been in the business of alienating fans since its shaggy, oversharing masterpiece of a sophomore album scared away everybody who loved "Buddy Holly"—but Rivers Cuomo could've written an entire album about jerking off to his fan mail and still come up with something stronger than 2005's Make Believe. The insane degree of specificity and urgency in "Across The Sea" was completely drained from the band by the time it put out Make Believe, replaced by an increasingly irritating sense of irony ("Beverly Hills") and some of Cuomo's soggiest lyrical sentiments ("This Is Such A Pity," "We Are All On Drugs"). I wasn't surprised when the album's follow-up turned out to be a lengthy hiatus—at the Detroit date of the Make Believe tour, fatigue was noticeably setting in—but I more or less treat the material Weezer's put out since as the work of a different band. Even at its lowest, the band could still crank out a hook or two, though: With its "woah-oh-oh" chorus and "What if Elisha Cuthbert was Courtney Love, but also the lead singer of Weezer?" video, "Perfect Situation" still rates the occasional spin.

Matt Gerardi
It seems like a lifetime ago, but at one point, I was all-in on Kings Of Leon. I fell for the Southern Rock 101 shtick on their debut and the shaggy Strokes-style tunes of Aha Shake Heartbreak. It was Only By The Night that finally turned me off, and I can remember the exact moment I knew I was done. I was at a festival, sitting in front of the main stage all day so I'd have a decent spot for Radiohead's headlining set. Kings Of Leon came out as the penultimate band of the day and debuted "Sex On Fire." I stood there, taking in its overly polished sound, arena-rock dreams, and limp noodle of a chorus. I hated it. I hated it then, and I hated the studio version and the rest of that sappy, lethargic album even more.
Sam Barsanti
I feel bad saying this, because I do still like the band's older stuff, but I've completely lost the thread with Okkervil River. I think Black Sheep Boy is a masterpiece, and both The Stage Names and The Stand Ins have a bunch of great songs, but I Am Very Far was the first time the music simply did nothing for me. Even though that album has some highlights, none of them grab me the way "For Real" or "Unless It's Kicks" do. I can't even really point to things about it that I think are bad; it just doesn't hook me in any way. I liked 2013's The Silver Gymnasium even less, and I haven't gotten around to giving last year's Away a proper listen at all—despite the fact that both of those albums were pretty well received. Essentially, this isn't a situation where the band became shitty; it's more like my stupid ears became shitty and the band became really good.
Sean O'Neal
It's not controversial to say I've grown exhausted by The Flaming Lips, but I suspect I'll get roasted in the comments for saying that Yoshimi Battles The Pink Robots was the breaking point. That album has taken on certain mythic proportions among younger Lips fans; it's a safe bet it's the record that got most of them into the band in the first place. But for this crusty Gen Xer, Yoshi represented the official pivot from the fuzz-gun acid freaks I fell in love with through Hit To Death In The Future Head, Transmissions From The Satellite Heart, Clouds Taste Metallic, et al., into the rock equivalent of a black-light Alice In Wonderland poster. I'd already been teetering with The Soft Bulletin, a gorgeously produced album that, with its accompanying tour—featuring hand puppets, dancing bunnies, and tons of glitter—nevertheless hinted at the Disney-fied psychedelia to come. But those rounded edges became squishy bloat on Yoshimi, and I found myself instantly bored by its cartoony concepts, stoner profundity, and the kind of Muzak-laden soft-rock glurge made for hawking personal computers. Listening to it was like trading blotter acid for a nice cup of valerian tea. As each successive Lips album and tour sagged under Wayne Coyne's Willy Wonka gimmicks (Spaceships! Big plastic bubbles! The songs are on a flash drive buried inside a marijuana-flavored gummy skull! Miley Cyrus!), it got to the point where just the idea of listening to one seemed like a huge, draining ordeal. I've definitely heard good Flaming Lips material since then—I quite enjoyed The Terror and bits of Embryonic—and I still hold most of their catalog in high regard. But thanks to Yoshimi, one of my former favorite bands will now always have to fight to get my attention.
David Anthony
Hot Water Music was one of the first bands I discovered on my own as a preteen, and it's remained one of my favorites all these years later. That said, while 2012's Exister was fine I guess, it didn't really sound like the band I loved. And while I haven't revisited it in ages, the quiet announcement that the band is working on yet another new record made me want to tune the whole thing out. While I'm sure I'll still reach for albums like Forever And Counting and No Division, it's hard for me to imagine anything the band does in 2017 matching the impassioned heights of 20 years ago. After reading a book about the history of Gainesville punk, which details the band's shows as being so energetic that its members would often finish them covered in blood or would vomit from exhaustion shortly thereafter, seeing photos of them looking like they've just returned from a golf tournament doesn't exactly inspire confidence. Pair that with short videos of the band playing limp, midtempo punk, and it all seems like the exact opposite of what a Hot Water Music album should be. And while this doesn't undo my love for its early records, it doesn't make me want to hear a new one, either.
Danette Chavez
I was a big Madonna fan growing up, a devotion I shared with my three sisters. The Immaculate Collection remains one of my go-to playlists. But there just wasn't much for me on 1994's Bedtime Stories. Not even Björk's assist could keep me interested; Madonna's titillation act just felt warmed over. I didn't hate it; I just couldn't bring myself to care about it, nor any of her subsequent work. I can probably chalk this up to a general change in tastes (hello, grunge). It was an amiable parting of ways—I don't hold anything against Madonna, and she has no idea I exist.
A.A. Dowd
I'm over Mastodon. That's a weird thing to type, because for a few years in the mid-2000s, there were few contemporary bands that excited me more. Emerging fully formed from the primordial ooze of the Atlanta sludge-metal scene, Mastodon was fast as lightning, heavy as hell, and technically virtuosic. These Georgia sluggers released epic concept records—their masterpiece, Leviathan, is a loose adaptation of Moby Dick—stacked with monster-sized riffs and Lovecraftian lyrics. They were smart and brutal, and they wrote songs that could get stuck in your head and send the pit into a massive frenzy. After building a sizable crossover fan base, however, Mastodon began to detrimentally tinker with its perfect cocktail of metal, prog, and hard rock. 2009's Crack The Skye went a little too far up its own psychedelic ass, sacrificing much of the ferocity that made the band so exhilarating in the first place. But where they really lost me was 2011's The Hunter, an uneven collection of hook-driven radio rock that announced that the band that had scaled Blood Mountain and chronicled the march of the fire ants was gone. I don't begrudge those who can rock out to the newer stuff, but it's just not for me—enough so that I probably won't even listen to the just-announced new record the guys are releasing in March.
Katie Rife
With apologies to Josh Modell, who gave this album a good review, We Were Dead Before The Ship Even Sank was the album that made it clear that I just wasn't into Modest Mouse anymore. I had enjoyed its previous album Good News For People Who Love Bad News quite a bit, in a Combat Rock, "this is blatantly commercial but who cares, it's still good" way. But "Dashboard," the radio-friendly single off of the follow-up album, struck me as more of the same—and not in a good way—and the rest of the album wasn't compelling enough to make up for my indifference toward the lead single. It's not the fact that Modest Mouse adopted a slicker sound that turned me off; it was more that the band members seemed to be going through the motions, when their inspired eccentricity was what I had liked about them in the first place. The fact that I saw two sloppy, disappointing Modest Mouse shows between 2004 and 2007 probably didn't help either.
William Hughes
As The A.V. Club's resident Wallflowers apologist, it pains me to admit that even my affection for Jakob Dylan and his crooning cohort has its limits. It's not that the band's fourth album, 2002's Red Letter Days, is even bad. It's perfectly fine, with a couple of songs, like the dreamy "Three Ways," approaching some of the same melancholy weight that powered the band's breakout hit, Bringing Down The Horse. But it's also enough. Upon listening to it for the first time, I knew I had successfully acquired every Wallflowers song I would ever need, heard every trick in the band's repertoire. They've since released more music, gone on hiatus, released a "reunion" album, and apparently split up for good, and I've ducked out on all of it. I wish them the best, and will cherish our time together (i.e., the summer in between my senior year of high school and college), but I don't feel the need to carry the relationship any further.
Leonardo Adrian Garcia
For a solid 18 months, from 2002 to 2003, there was likely no band I listed to more than Thrice. To me its first three albums (Identity Crisis, The Illusion of Safety, and The Artist in the Ambulance) formed a musical trinity of pop-punk lyrics, post-hardcore vocals, and thrash riffs. Then the band's fourth LP, Vheissu, arrived, eschewing the tried-and-true and replacing it with some Radiohead-lite sonic experimentation. Although lead track "Image Of The Invisible" seemed like it could have been the fourth single from The Artist In The Ambulance, songs like "Between The End And Where We Lie" and "Atlantic" sounded like discarded Dismemberment Plan demos or The Get Up Kids-penned elevator music. And to a snot-nosed brat like me, it all sounded like a band desperate to appear important, as if it was embarrassed of its past. Was I wrong to jump ship? Probably. I didn't listen to any of the subsequent albums and was so ignorant to its new output that when a friend invited me to see the band's 2012 farewell tour (it's since reunited), I only knew half the songs on the set list. But, let's be honest, those were the best songs.
Kyle Ryan
I've spent an embarrassing amount of time, frankly, arguing on behalf of Fall Out Boy. In reviews, other AVQ&As, and god knows what else, I've suggested that the band that epitomized the overly slick, corporate emo-punk of the mid-'00s is simply a good pop group. When Fall Out Boy re-formed in 2013 after a hiatus, I gave its comeback album a B+ and was generally psyched to have the guys back. Then 2015's American Beauty/American Psycho arrived, and the slickness that characterized the band's most recent albums turned corrosive. The hooks weren't as plentiful, and worse, were replaced with gimmicky samples (the Munsters theme in "Uma Thurman," Suzanne Vega's "Tom's Diner" in "Centuries"). 2013's Save Rock And Roll spoke passionately about the power of music, but American Beauty/American Psycho didn't have anything to say. Worse, Fall Out Boy followed it with a screamingly inessential album full of hip-hop remixes called Make America Psycho Again. By the time the group's dire theme to the new Ghostbusters movie arrived, I knew not to get my hopes up.
Gwen Ihnat
I have a short attention span when it comes to loving certain bands. While others are completists and loyalists, I am fickle as fuck, more than ready to chuck a once-beloved outfit when its latest album no longer interests me—or when it starts loving a horn section, like The Cure did on Kiss Me, Kiss Me, Kiss Me ("Why Can't I Be You?" almost ruined "Just Like Heaven" for me). For example, I know the first seven R.E.M. albums absolutely by heart, but the group totally lost me with the sickly, sappy, Automatic For The People. I don't think I ever even purchased it: Just the radio hits were enough to make me swear off my once-mumbly band forever: "Nightswimming," "Man On The Moon," and god help us all, "Everybody Hurts," in which Michael Stipe's whining can be registered on the Richter scale. Up until then, I was pretty open to all of R.E.M.'s transformations, warts and all—even the abject horror of "Shiny Happy People" on Out Of Time—but its follow-up album went a step too schlocky, meaning that I am now about 20 years behind on a band I once loved.
Alex McLevy
Here's a weird little secret most people don't know: Goo Goo Dolls used to be a really great rock band. I got slightly obsessed with them when I first started getting heavily into music and someone passed along a CD of Hold Me Up, the band's third album. Like Jed before it and Superstar Car Wash after, it's a near-flawless record of Replacements-meets-power-pop energy, with ridiculously catchy riffs, sing-along choruses, and a dorky, "we're just guys from down the block" enthusiasm that translated into an immensely likable blend. Then came what the band had intended to be its swan song after years of trying and failing to achieve wider success, A Boy Named Goo. Suddenly—and quite unexpectedly—"Name" became a massive hit, the soundtrack to a hundred high school proms. Unfortunately, it was also a ballad, one of the only times the band had ever penned such a thing—and the band learned the exact wrong lesson from it. To most people, that's where their story begins: with "Iris," the absolutely fucking atrocious song to the Nicolas Cage/Meg Ryan vehicle City Of Angels. (Itself an atrocious remake of Wings Of Desire, appropriately enough.) It's the definition of a sellout song, and with follow-up album Dizzy Up The Girl, the Goo Goo Dolls leaned hard into that top-40, blandly swaggering, watered-down crap goalpost with everything they had. I feel fine about never revisiting the group since.