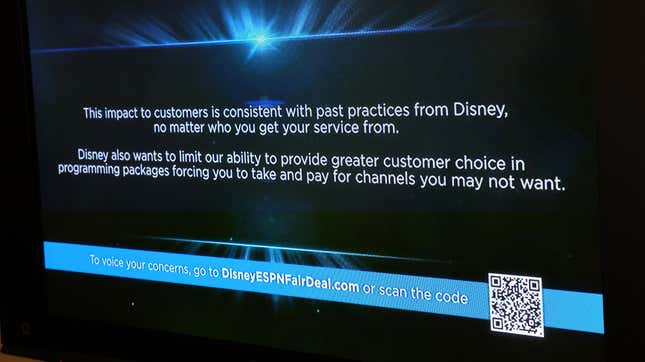 Rest easy, sports fans: Disney and Charter Communications, the company behind Spectrum cable service, have reached a deal. In a fight that reflects the evolving nature of television, the two corporations had been in a standoff since August 31. For now, cable television will live to see another day—though streaming continues to be an existential threat to the industry, as is its wont.
The A.V. Club's weekly film round up
As recently as July of this year, Disney CEO Bob Iger teased that the company would find a way to deliver its sports programming, namely ESPN, directly to consumers—yet another incentive for audiences to cut the cord with cable. According to the Los Angeles Times, Iger's plan for ESPN "was one of several factors" that caused the divide between Disney and Charter Communications. The agreement between the two expired on August 31, and two dozen Disney channels went dark for Spectrum users right in the middle of ESPN's airing of the U.S. Open.
Spectrum, the second-largest cable company in the country, serves a reported 15 million subscribers (per CNN), so you can imagine there were some unhappy sports enthusiasts out there. But Charter Communications was ready to take a stand, threatening to leave the television business altogether if Disney didn't offer a good deal. It would be a financial loss for both companies, as Spectrum pays billions of dollars for Disney programming. But cable, while profitable, is a smaller segment of Charter's business than its broadband internet and wireless phone service (per the L.A. Times), so it was a stand the company was willing to take.
"The Walt Disney Company has removed their programming from Spectrum which creates hardship for our customers. We offered Disney a fair deal, yet they are demanding an excessive increase. They also want to limit our ability to provide greater customer choice in programming packages, forcing you to take and pay for channels you may not want," Spectrum said in a note to subscribers at the end of August (per The Hollywood Reporter). "The rising cost of programming is the single greatest factor in higher cable TV prices, and we are fighting hard to hold the line on programming rates imposed on us by companies like Disney."
Spectrum subscribers will now get Disney+
Disney initially balked at some of Charter's demands, particularly that Spectrum subscribers be given access to Disney's own direct-to-consumer services like Disney+, per CNN. But the companies ultimately came to an agreement after a 10-day blackout, with Disney conceding to give Spectrum customers Disney+ with ads at no additional cost to the consumer. ESPN+ will be available to customers with the Spectrum TV Select Plus package, and whenever that direct-to-consumer ESPN streaming service does launch, Select Plus users will also have access to it, according to THR. With flexibility being another of Spectrum's sticking points, the company also promises it "will maintain flexibility to offer a range of video packages at varying price points based upon different customer viewing preferences."
"Our collective goal has always been to build an innovative model for the future," said Disney CEO Bob Iger and Charter CEO Chris Winfrey in a joint statement (via THR). "This deal recognizes both the continued value of linear television and the growing popularity of streaming services while addressing the evolving needs of our consumers. We also want to thank our mutual customers for their patience this past week and are pleased that Spectrum viewers once again have access to Disney's high-quality sports, news, and entertainment programming, in time for Monday Night Football."
Some channels aren't returning to Spectrum
Spectrum didn't get everything, though. Its cable packages will no longer carry Freeform, FXX, Disney Junior, Disney XD, FXM, Baby TV, Nat Geo Wild and Nat Geo Mundo. Those networks are still available to Xfinity customers (whose parent company Comcast is Charter's biggest cable competitor) under its 2021 agreement with Disney. More notably, they're available via Disney's direct-to-consumer services like Hulu. (Hulu + Live TV allegedly saw a 60% increase in subscribers amid the dispute with Spectrum, according to Deadline.) While much of this programming will likely make its way to Disney+ eventually, not all of it can be watched on that streamer live.
Disney Entertainment co-chairman Dana Walden told The Hollywood Reporter that it was interested in "windowing to our streaming platforms" in specific areas (like "the adult female demographic" over at Freeform). "So for us what's most important is that we're maintaining channels where they are valuable to us in the distribution ecosystem, and then we're making sure that we have a solid pipeline of that programming to Hulu or Disney+," she said, touting that the company "protected our primary entertainment channels" in the Spectrum deal.
The TL;DR is that cable will continue … for now. At a time when the future of television (and the entertainment industry as a whole) is up in the air, streaming is still very much threatening to subsume the entire business. After all, how long will customers continue paying for Disney+ with ads on cable before deciding to go straight to the source? On the other hand, the streaming model has proven extremely tenuous, as Hollywood's current strikes have laid bare. Perhaps if cable continues to hold out, it may once again become the dominant form of television consumption. For now, though, it seems streaming continues to reign supreme.