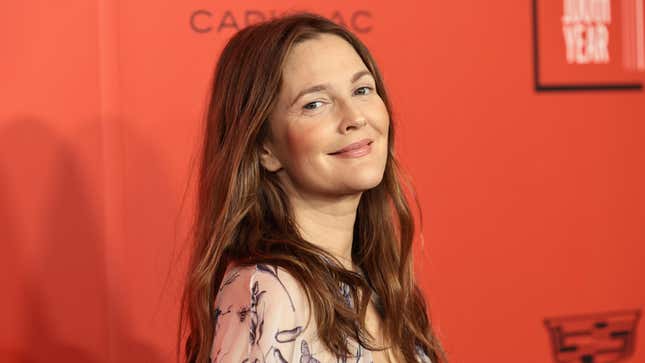 Drew Barrymore would be nowhere without writers. With a show business lineage extending back to the 1800s, Barrymore and her family have long relied on the efforts of hard-working scribblers, typists, and punch-up artists to warm our hearts and fill our bellies with laughs. Thankfully, America's favorite close-talker didn't forget them. Announced today, Drew Barrymore has dropped out of MTV Movie Awards hosting duties in solidarity with the writers' strike.
Weird moments from the really weird MTV Movie & TV Awards
"I have listened to the writers, and in order to truly respect them, I will pivot from hosting the MTV Movie & TV Awards live in solidarity with the strike," Barrymore said in a statement. "Everything we celebrate and honor about movies and television is born out of their creation. And until a solution is reached, I am choosing to wait but I'll be watching from home and hope you will join me. I thank MTV, who has truly been some of the best partners I have ever worked with. And I can't wait to be a part of this next year, when I can truly celebrate everything that MTV has created, which is a show that allows fans to choose who the awards go to and is truly inclusive.​"
Of course, because the show must go on, MTV plans on moving forward with the award ceremony sans host or writers. After all, they still have all those pre-taped segments to air and popcorn buckets to hand out. The president of music, music talent, programming, and events at Paramount Global, and MTV Movie & TV Awards executive producer tells Variety that fans will still get their fill of "exclusive sneak peeks of the big films." As for who will receive these awards, Gilmer concedes, it is up in the air. "We still have the award sequences, although those are the elements that are very unpredictable — because clearly we don't know which talent will feel comfortable. A lot of them won't."

As we all know, an awards show without a host is possible. The Oscars went hostless for a solid three years after Kevin Hart's homophobic stand-up bits came back to haunt him. However, those weren't exactly great years for the Academy Awards. It was an era that began with a Green Book Best Picture win and concluded with that Steven Soderbergh-directed ceremony where he moved Best Actor to the final slot. That isn't to say the host issues were responsible for those debacles, but it certainly didn't help. Maybe MTV can hire the pregnant woman from those mobile games to host. She's not eligible for union membership because she's not real, and her life is already a mess. We're quite sure that even the WGA would celebrate her catching something resembling a lucky break.

In this age of writers demanding a living wage, despite the fact that any stupid computer could do the job, people have to make hard choices between hosting the MTV Movie Awards and doing the right thing. Drew made the right call. Of course, this mess is all in the hands of several multi-billion dollar corporations, the owners of which could end the strike immediately, ensure their employees get a fair deal, and secure Barrymore for the show. Weird call on their part. People love watching Drew Barrymore on television.