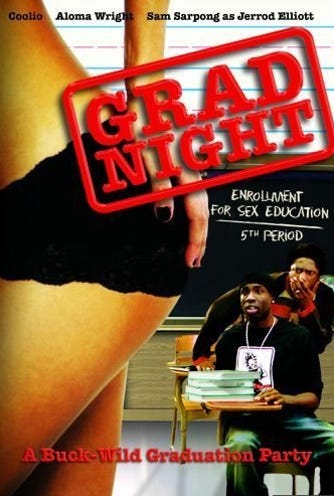 Coolio (Michael Adkins)Sam Sarpong (Jerrod Elliott)Aloma Wright (Principal Wheeler)Howard Mungo (Mr. Weldon)Cindy Escandon (Ana Melendez)Suzette Tomlinson (Neyda Colon)Kamau Holloway (Leo Taylor)Elan Gale (J Walsh)Shasa Dabner (Quay Quay Jenkins)Trent Miller (AJ Robinson)Carlos Javier Castillo (Arturo Ramirez)Jon Wellner (Brett Johnson)Al Clegg (Mr. Elliott)Paras Alexandria (Ms. Devi)Darline Harris (Mrs. Elliott)Dana Walsh (Mrs. Walsh)Jennie Floyd (Parent)Justin Charles (Guy in Bathroom)
Michael T. Fitzgerald Jr.
An Urban Comedy surrounding a group of yet to be graduates. Unfortunately for Crispus Attucks High, Class of 2005, the school's budget cut cannot afford to have its Grad Night off campus. But one group of grads are determined to make it a night they'll never forget.