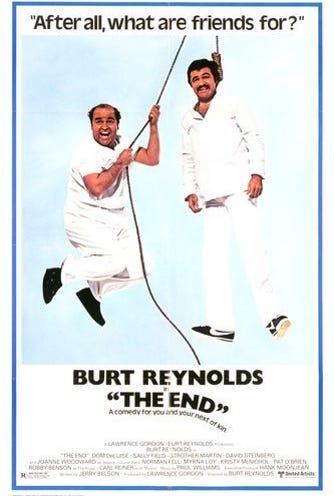 Burt Reynolds (Wendell Sonny Lawson)Sally Field (Mary Ellen)Dom DeLuise (Marlon Borunki)Strother Martin (Dr. Waldo Kling)David Steinberg (Marty Lieberman)Joanne Woodward (Jessica Lawson)Norman Fell (Dr. Samuel Krugman)Myrna Loy (Maureen Lawson)Kristy McNichol (Julie Lawson)Pat O'Brien (Ben Lawson)Robby Benson (Father Dave Benson)Carl Reiner (Dr. James Maneet)Louise LeTourneau (Receptionist)Bill Ewing (Hearse Driver)Robert Rothwell (Limousine Driver)Harry Caesar (Hospital Orderly)James Best (Pacemaker Patient)Peter Gonzales Falcon (Latin Lover)
Slapstick black comedy about a man (Reynolds) who finds that he hasn't much longer to live and has bungled his attempts at suicide.
Here's what's up in the world of TV for Tuesday, May 19. All times are Eastern.