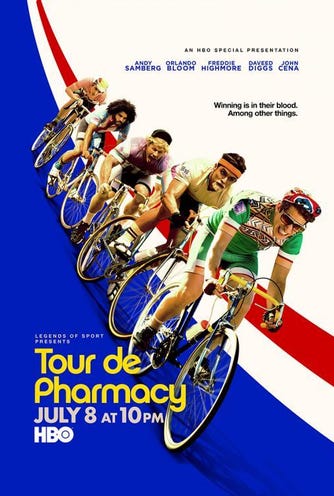 Andy Samberg (Marty Hass)Orlando Bloom (Juju Pepe)Freddie Highmore (Adrian Baton)Joe Buck (Joe Buck)Nathan Fielder (Stu Ruckman)Daveed Diggs (Slim Robinson)John Cena (Gustav Ditters)James Marsden (Rex Honeycut)Maya Rudolph (Lucy Flerng)Danny Glover (Slim Robinson)Mike Tyson (Mike Tyson)Julia Ormond (Adriana Baton)Jeff Goldblum (Marty Hass)Adewale Akinnuoye-Agbaje (Olusegun Okorocha)Lance Armstrong (Lance Armstrong)Dolph Lundgren (Gustav Ditters)Eric Nenninger (Finnish Husband)Kevin Bacon (Ditmer Klerken)
A mockumentary that chronicles the prevalence of doping in the world of professional cycling.
More about Tour de Pharmacy
Here's what's up in the world of television for Friday, July 7 and Saturday, July 8. All times are Eastern.
At one point in Tour De Pharmacy, the second of Andy Samberg and company's sports mockumentaries (following 2015's…
HBO dropped a trailer and a release date for Andy Samberg's next sports mockumentary today, announcing that Tour De…