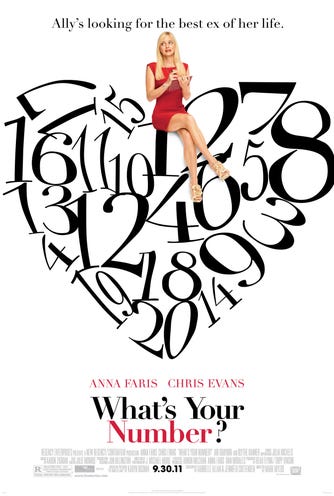 Anna Faris (Ally Darling)Chris Evans (Colin Shea)Ari Graynor (Daisy Darling)Blythe Danner (Ava Darling)Ed Begley Jr. (Mr. Darling)Oliver Jackson-Cohen (Eddie Vogel)Heather Burns (Eileen)Eliza Coupe (Sheila)Kate Simses (Katie)Tika Sumpter (Jamie)Joel McHale (Roger the Boss)Jacquelyn Doucette (Sheila's Mom)Chris Pratt (Disgusting Donald)Denise Vasi (Cara)Sondra James (Plant Lady)Zachary Quinto (Boyfriend Rick)Jason Bowen (Brad)Danielle Perry (Melissa)
A woman looks back at the past nineteen men she's had relationships with in her life and wonders if one of them might be her one true love.
More about What's Your Number?
The gimmicky new romantic comedy What's Your Number? takes place in a strange time warp where attitudes about sex…