There is a new documentary in the works about Mike Diana, an underground cartoonist who has the distinction of being the first person in the United States to receive a criminal conviction for artistic obscenity. While it's in production, the makers of the film have launched a Kickstarter campaign to raise funds to help make this film a reality.
Sharon Stone made a fraction of what Michael Douglas did for "Basic Instinct"
The director behind The Trial Of Mike Diana is Frank Henenlotter, whose films Basket Case and Frankenhooker are certainly no strangers to censorship. The team behind the film feels that it is important, particularly in the modern political environment, to remind people just how fast they can lose their First Amendment rights. "Freedom of speech doesn't mean anything if your art is declared 'obscene," declares Henelotter. "One man's art could be another man's obscenity. That's the battle we explore in this documentary."
In 1991, a California police officer got ahold of one of Diana's comics, whose content was eerily similar to the then-unsolved Gainesville student murders in Florida. He then became a suspect in the murders, until DNA analysis ruled him out. Diana, with the eyes of the law on him, continued to publish his underground comics; through a shady sting operation, the comics wound up in the hands of Assistant State's Attorney Stuart Baggish. Soon after, Diana was sent a certified letter informing him that he was being charged with three counts of obscenity: one for publishing the material, one for distribution, and one for advertising.
G/O Media may get a commission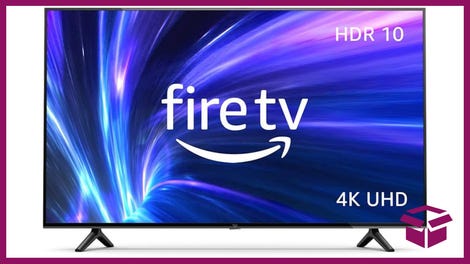 42% Off
Amazon Fire TV 50" 4K Smart TV
Diana went to trial in 1994 in Pinellas County, Florida; after the trial came to a close, Diana was held in jail for four days without bail until sentencing occurred. Diana was then sentenced to three years supervised probation, a $3,000 fine, and 1,248 hours of community service. The artist was even prohibited from drawing images for personal use in his own home. Since then, he has attempted to appeal the verdict twice, but both attempts failed.
Backers of The Trial Of Mike Diana will receive such rewards as signed Blu-rays and a movie night with Henenlotter and Diana. And for a very reasonable $150, Mike Diana will draw you—how obscene you want it to be is up to you. The Kickstarter just launched, and currently has raised $4,751 of its $40,000 goal. You can click here to donate.