For almost 50 years, Tangerine Dream has provided the perfect mood music for cracking safes, having sex on a El train, raiding a German castle, and road trips carting dangerous explosives across South America. We are living in the golden age of crowdfunded fan documentaries, and now from the people that brought you Billie Holiday: A Sensation are attempting to bring audiences a new movie about the synth-rock pioneers.
According to the filmmakers, the documentary began as a small project, but grew exponentially when Edgar Froese, the founder of the band, passed away unexpectedly last January. The team behind the film wanted to celebrate Froese and his contribution to music, so they expanded the film to feature length and filmed new interviews with members of Tangerine Dream and Froese's wife Biance, as well as frequent Tangerine Dream collaborators like Michael Mann, Brian Eno, Jean Michel Jarre, and Volker Schlöndorff. Queen guitarist Brian May even shot a short video revealing the importance of his relationship with Froese:
Tangerine Dream was founded in 1967, and, despite numerous personnel changes over the years—Froese was the only continuous member in the group until his death—have continued recording original albums and soundtracks, even providing the score for Grand Theft Auto V. Tangerine Dream's music heavily influenced the "krautrock" movement, and the group was known for its moody soundtrack work on films such as Michael Mann's Thief (somehow the recipient of a Razzie that year), Risky Business, and Near Dark. The group's film work influenced composers and artists, such as John Carpenter—the Sorcerer score is a favorite of the horror master—disco godfather Giorgio Moroder, and Nicolas Winding Refn favorite Cliff Martinez.
Fans can donate to the Kickstarter here. At press time, the team is at 30 percent of its $79,681 goal, with 25 days to go.
G/O Media may get a commission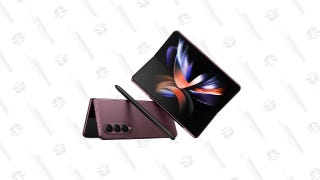 Save Up to $300
Galaxy Z Fold4