The original Ghost In The Shell anime directed by Mamoru Oshii (based on Masamune Shirow's original manga) is one of the landmark works of the entire medium, up there with Akira and the Studio Ghibli canon in terms of influence and importance. But—and this is true of a lot of anime from its time—it could be argued that it's a little more concerned with style than substance. Or, rather, that the style of it is so undeniable that it leaves its complex plot and high-minded philosophical themes harder to track by comparison.
Ghost In The Shell: Stand Alone Complex, the spin-off anime series that ran in the early 2000s, is arguably the better take on the property, using the expanded format of a television series to explore the core franchise themes—identity, technology, and how the two intersect—with a little more breathing room. (It's worth mentioning, too, the elegant way it taps into post-9/11 conspiracies and takes some well-deserved potshots at the War On Terror.) The show pays homage to the style of the original while only occasionally hitting similar highs, but the stuff it has to say is a little more grounded and coherent.
In its first season, Netflix's follow-up anime Ghost In The Shell: SAC_2045 was the worst of both worlds: ugly and cheap CG animation that failed to imitate the aesthetic of the (mostly) hand-drawn original with a plot that was, even by GITS standards, nonsense. Character designs also suffered, playing into sexist anime design tropes in an uncomfortable way (say what you will about the Major and her frequent nudity in older GITS stuff, but at least she was usually meant to be an adult woman).
So there's a lot of ground for 2045 to make up in its second season, both in terms of quality and justifying its inclusion in the canon of GITS. The short version is that season two of 2045 is a step up from season one. The action is a little more dynamic and the art style is easier to get used to, though the character designs are still lousy and there's an abundance of incredibly dull backgrounds and sets (you'd have a hard time recognizing this as part of an iconic, genre-defining cyberpunk franchise without the name on the label).
G/O Media may get a commission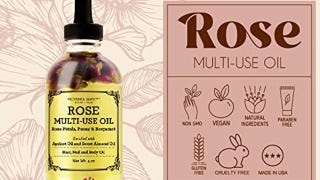 Provence Beauty Rose Multi-Use Oil
And much like with Blade Runner: Black Lotus, which was also directed by Kenji Kamiyama and Shinkji Aramki through the Sola Digital Arts studio, 2045's connection to a bigger and more successful thing is both the best and worst part about it. While it is more competently produced than the previous batch of episodes, the best parts are all familiar from Stand Alone Complex (world-building and character backgrounds, mostly) and the worst are all…new to this show, more or less.
2045 doesn't require you to have seen Stand Alone Complex, but it both assumes you have and would probably prefer if you haven't. Then, it can get away with not really bothering to make the Major or Batou or Togusa into characters (because it assumes you know their stories from SAC) and it can repeat story beats from other GITS media as a shortcut to avoid coming up with too many new things to say. The show leans on nods to George Orwell's 1984, for example, which was a lot cooler and somehow more subtle when Stand Alone Complex did the same with a grassroots revolution vaguely themed around The Catcher In The Rye.
The plot in season two is pretty much entirely hung on the mysterious threat of new "posthumans," which are cybernetic future-people infected with some kind of virus (though that word is tossed around a lot in GITS) that compels them to join up with some kind of cult/revolutionary movement with unclear goals. While SAC mixed up its run with standalone episodes that filled out the world or offered intriguing glimpses into character histories, most 2045 episodes are just an action scene, followed by someone explaining something in meaningless tech-speak, then another action scene that leads into the next episode, which starts with the continuation of that action scene. It's a structure that lends itself to binge-watching, which cheapens the show even more than everything else about it already has. But this isn't a review of the Netflix model.
At the same time, though, maybe it is? 2045 is the latest in a long, long, long line of Netflix-backed continuations or reboots of existing popular things, and like too many of those, it's a pale imitation of the original successful thing. Worse than that, the fact that it's a pale imitation of what came before just makes it feel as unnecessary as every other Netflix reboot that is a pale imitation of what came before.
2045 makes some gestures to being about this idea, or more specifically the idea of nostalgia being a virus (there's that word again), but that's not addressed or explained until the final episode, an episode that is, like so much of this show, nonsense. But it's not nostalgia that makes the old Ghost In The Shell good or important. That first movie and Stand Alone Complex really are good and important. In its second season, 2045 seems to have a better idea of why that is, but in keeping with its world of endless digital copies, it's no substitute for the real thing.