After Pernell spent last episode talking out what was behind his breakdown, "A Flower That Bees Prefer" wastes no time kicking Hand Of God's plot back into gear. Pernell's still seeing P.J. around the house, but he dutifully takes his medication, telling a warily hopeful Crystal, "Oh, he's there. He's just not real."
Of course, Hand Of God isn't a series about a judge who has a nervous breakdown and then works everything out through proper psychiatric treatment, so the comatose P.J. also speaks to his father from his hospital bed, badgering Pernell with having broken his promise to find those responsible for Jocelyn's rape and pointing out that the visions have successfully led Pernell partway up the conspiracy ladder. Add to that Jocelyn's out-of-nowhere announcement that: 1. She found P.J.'s never-before-mentioned cell phone, 2. She knows Pernell was the last person P.J. called before he shot himself, and 3. P.J. watched a promotional video from Brooks (the conglomerate behind Pernell's land deal) "23 times" right before he did the deed. With last episode acting—with mixed success—to humanize all of Pernell's actions in the series so far as the result of personal trauma, "A Flower That Bees Prefer" jerks the show back on its plot rails with jarring predictability.
What human elements there are to be found here come in the courtroom scene where the newly sane (or is he?) Pernell interrupts Jocelyn's doomed attempt to get Josh's video of P.J. proclaiming he'd never want to be on life support admitted into evidence. It's become a necessary refrain to extol Ron Perlman's talent in the face of what he's given to work with on Hand Of God, but his measured, sincere apology to Jocelyn and decision drop his lawsuit shows what a powerfully contained presence he can be.
Wait. No. We don't have to do this any more. My son is gone. I know that now. Nobody's going to win here today, but if anyone should decide when to pull the plug, it's Jocelyn. We would like to dismiss our action on one condition. That my wife and I get to be there when she takes him off life support. That's all I ask.
G/O Media may get a commission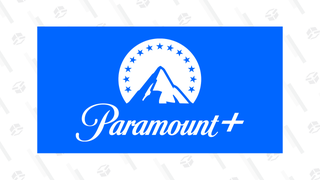 One month free
Paramount+ One-month Free Trial
It's a low-key, resolutely human moment, only undermined by the fact that P.J. (in vision form) is glaring at his father while typing "milk" and "honey" on the court stenographer's machine while a heavenly choir drones menacingly on the soundtrack.
It's not that Hand Of God should be a show about a man coming to terms with unthinkable tragedy—this is a show about a guy who has visions, which is fine—it's that the re-ignition of the plot engine here is a return to what's been done so badly. Pernell's's visions of milk and honey continue through the episode (in P.J.'s IV, in Pernell's whiskey glass) because it's a return to the "monster of the week" structure where Pernell chases down symbolic hallucinations (or are they?) Here, this leads to Pernell obsessively rewatching the cell phone video and making a connection to the heretofore-unassuming Brooks executive Anne Wu (Elaine Tan) who not only hails from New Canaan, Connecticut (see Exodus 3:17, where Canaan is the "land of milk and honey") but is also on that promotional video where, in her apartment, is P.J.'s stolen copy of Yeats. "Oh my God," gasps Pernell, watching the video in front of the guests at the opulent party to celebrate the Brooks deal, "It's the book." After the camera zooms in helpfully, he clarifies, "It's P.J.'s book!" Yup. Sure is.
With only one episode to go, everything is not so much coming together as being tossed atop a pile. Pernell's return to sanity (or is it?) sees him telling off Paul and Alicia (and accurately surmising that Alicia approached him initially because they spotted him as a wealthy and vulnerable mark). But Garret Dillahunt's K.D., seeking to be re-born-again in the wake of the realization that he'd been killing people for false prophet Pernell, confesses their misdeeds to Paul (who nearly drowns K.D. in the baptismal tank before relenting, a greedy glint in his eye). Alicia—aided by Jordana Oberman's scrupulously responsible and sympathetic abortion doctor—chooses not to terminate her pregnancy, setting up further trouble at Hand of God. Pernell summons enough of the old, Godfather-like Judge Pernell Harris to convince cold fish billionaire Mr. Brooks (Jimmy Ray Bennett) to go ahead with the oft-mentioned and crucial concrete pour on their development. And Pernell, convinced his visions are back, nods at the unsuspecting Anne Wu from across the room, setting up next episode's final showdown among Hand Of God's warring elements.
Stray observations
Dana Delany, too, does as much as possible with her inconsistent character. Here, she gets to do an affectionately terrible Andre Royo impression (Crystal's as tired of hearing Bobo say "concrete pour" as Royo, no doubt, is saying it). And her confrontation with Pernell upon hearing that P.J. called him and not her before shooting himself is solid: "I gave him everything. I put love in that boy every single day. You barely tolerated him and he called you."

She's also an amusing uber-hostess. After Brooks asks for a glass of water: "This is your first Crystal Harris party. The water's in the pool."

Remember when Tessie's brother tried to blackmail Pernell? Well Tessie is mad that Bobo almost had the kid arrested, but Pernell tells her it wasn't his fault, so they're all right now. (Pernell also uses the phrase "going down" and "go down" to refer to the blackmail caper in two successive lines for some reason.)
Garret Dillahunt, as ever, makes K.D. as moving as he is irredeemable, here provoking three men into giving him the vicious beating he thinks he deserves, and then confessing his many sins to the reluctant and untrustworthy Paul with a shame-faced innocence that's heartbreakingly pure in its confused faith. "I know I made a mistake. I made a lot. And I don't wanna go to hell. I wanna be clean again."