IDW's Jem And The Holograms titles are some of the most entertaining licensed comics currently available, and writer Kelly Thompson has revitalized the property with her work on both the main Jem And The Hologram series and the spin-off Misfits miniseries. Jem ends its two-year run with April's issue #26, but fans of the franchise shouldn't despair, because IDW still has big plans for both of these colorful rock bands. Announced today at Emerald City Comic-Con, Jem And The Holograms: Infinite is a new biweekly crossover that ramps up the fantasy sci-fi elements of the story, taking Jem And The Holograms and The Misfits to a new world that promises to shake up the futures of both groups.
Thompson will continue to write both Jem And The Holograms: Infinite and The Misfits: Infinite miniseries, which run for three issues and will alternate shipping every two weeks beginning in June. The Jem miniseries features artwork from Stacey Lee, whose work on Marvel Comics' Silk revealed a talent for expressive characters, dynamic action, and bold fashion design, three qualities that make her a perfect fit for Jem as it ventures into more spectacular storytelling territory. Current The Misfits artist Jenn St-Onge provides artwork for The Misfits: Infinite, and considering the strong creative chemistry she's developing with Thompson, it makes sense to keep the team together. M. Victoria Robado will be coloring both books, ensuring that they retain the bright visuals that have helped give the Jem comics franchise loads of energy.
"We love what we've already done with Jem and The Holograms and The Misfits and we didn't want to change any of that, but we did want to shake things up in a very real way that will matter. So [we did] our first ever crossover event!" says Thompson. "We decided to go about as big as you can go…other worlds, sci-fi shenanigans, reunions, betrayals, death, destruction, saving the world, and also, of course, music. It's a really fun change of pace for us, but one that I think completely fits into everything that has come before and with creators like Stacey Lee, Jenn St-Onge, and M. Victoria Robado on board I feel confident we're gonna pull it off with style to spare."
G/O Media may get a commission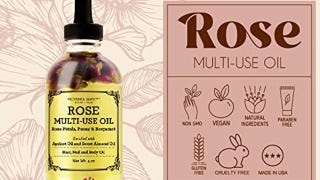 Provence Beauty Rose Multi-Use Oil
Taking the characters off world is a huge departure for the Jem titles, which have embraced more fantastic elements, but never to this degree. Expanding the scope of these stories introduces all sorts of new narrative avenues to explore down the line, suggesting that Infinite isn't the end of the story for these rockstars. "I am not joking around when I say that when this is over, nothing will ever be the same for these characters again," says Thompson. "This is a story that will fundamentally change things we've come to know and expect in Jem And The Holograms and The Misfits. I hope people can really get into it. So far it's a blast." Readers can take this truly outrageous journey when Jem And The Holograms: Infinite and The Misfits: Infinite begin in June, but in the meanwhile, here's the solicitation info and an exclusive reveal of assorted covers for these new miniseries.
Jem and the Holograms: Infinite #1 (of 3)— SPOTLIGHT
Kelly Thompson (w) • Stacey Lee (a & c)
The FIRST-EVER Jem/Misfits Crossover Event begins here and now with "INFINITE PART ONE!" Now a happy quintet, Jem and The Holograms are stronger than ever, which is a good thing because they're about to embark on an adventure unlike anything they'd ever imagined possible. After a public fight with The Misfits at a charity event, a strangely dressed Techrat shows up and takes them to a whole new world… literally. And it is going to change EVERYTHING.
FC • 32 pages • $3.99
Jem and the Holograms: The Misfits: Infinite #1 (of 3)— SPOTLIGHT
Kelly Thompson (w) • Jenn St-Onge (a & c)
The FIRST EVER Jem/Misfits Crossover Event continues here in " INFINITE PART TWO!" Never okay with letting Jem and The Holograms steal the spotlight, The Misfits have followed them to this "brave new world" and are shocked by what they find… a world ruled by JEM and powered by Synergy Hologram Technology. WHAT. IS. EVEN. HAPPENING!?!
FC • 32 pages • $3.99