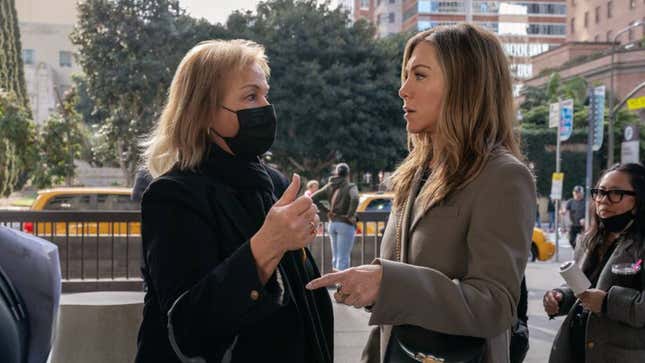 Apple TV+'s star-studded drama The Morning Show is officially back with season three today, picking up two years after its last batch of episodes ended. UBA's famous, beloved news anchors, Alex Levy (Jennifer Aniston) and Bradley Jackson (Reese Witherspoon), have apparently moved up in the world—quite literally in Bradley's case, considering she goes to space for 13 minutes in the premiere. (Yes, you read that right.)
Jon Hamm now has a name for his penis
The season three opener features Bradley in a rocket along with her boss/friend/potential romantic partner Cory Ellison (Billy Crudup) and Paul Marks (Jon Hamm), a tech entrepreneur who is about to upend everyone's lives. TMS added Hamm and Nicole Beharie to its lineup this time around—so say what you will about the show, at least we can all agree this drama is nabbing the right talent. Meanwhile, the two-part premiere also features Alex, who was meant to go in the rocket, fighting the network's management (what's new?); Bradley pursuing a relevant story about abortion rights in Texas; and UBA getting hacked big time, all while the pandemic and the Ukraine war loom in the background.
To help unpack it all, The A.V. Club spoke to executive producer and director Mimi Leder about season three's stories, adding comedy into the mix, and why she and the folks who make the show were dead set on casting Hamm in such a pivotal role.
---
The A.V. Club: How did you decide where to launch the new episodes after season two closed with UBA excessively covering the start of the pandemic?

Mimi Leder: Yeah, season three was made as we were coming out of [isolation during] the pandemic. There was a lingering sense of uncertainty about whether we will ever get back to before times. We decided it was important to step forward by two years to find characters somewhat floating and trying to find their footing, trying to find their home and where they belong now. We've moved past the Mitch Kessler [Steve Carell] story. We've pivoted away from his sexual misconduct, but his ghost is still in the building.
This season, we're very much focused on women's autonomy, how it's undermined, and the ways [in which] power is being challenged right now. Abortion rights and women's agency is what we were looking to cover. It's a big part of it. Reproductive rights, minority rule, the threat to journalists, the state of the truth ... those are the things happening right now. We're a topical show, so we felt these stories could be interwoven with what our characters have lived through. What's really interesting about the abortion-rights story Bradley works on: Our executive producer Charlotte Stoudt created it before Roe v. Wade was overturned. It was like life mirroring art and vice versa. That was pretty fascinating. The state of the truth is a big theme for us this year. And look at the world around us, you know? It's mind-boggling.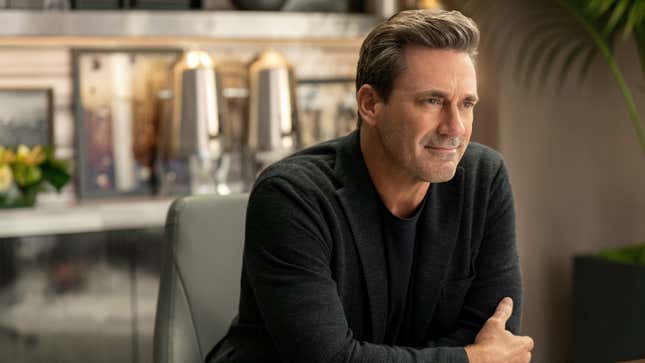 AVC: The Morning Show covers a lot of timely and serious issues. As a director, how do you know when to get the soapiness and entertainment out of your cast to balance all that?
ML: That's a good question. TMS is always about something without being preachy, and that's important to us. It's why we've attracted the writers who want to join us and it's why we were able to get Charlotte Stoudt. But high drama only works through great comedy and when we are entertained. So we wanted to make TMS very entertaining. Even within the dialogue of a scene that's really, really dramatic, all of a sudden you're laughing or smirking. It comes from the writing, acting, and directing. We wanted it to be in the DNA of the show. It was hard to walk that tightrope while making season one, especially the pilot. But we've got great comedic actors who can do anything. It was exciting to step into the director's chair and figure it out over time.
AVC: In the season three premiere, there are hints of some big secret Cory shares with Bradley. What can you tease about it and how it will affect their friendship and work dynamic?
ML: With Bradley, when season three begins, we find her seemingly thriving. She has the evening news at UBA, she's got a fabulous new apartment, and she's living her dream as a journalist. But we also see that she's lonely. She's coming out of the pandemic and she's not with Laura (Juliana Marguiles). She's also not with Cory. So what's going on? What it has to do with is this huge secret she's carrying. We'll look at Bradley's past, why she's a relentless truth-teller, and how it relates to her family and her father's crimes. And it's a very intense story that Reese is incredibly brilliant in. You think the secret between Bradley and Cory is one thing, but it's going to turn out to be something else entirely.
AVC: The two big additions to season three are Jon Hamm and Nicole Beharie. Did you always know you wanted to cast them when their respective characters were being written?

ML: Yes, we wanted Jon when this character was conceived. It was always Jon Hamm, Jon Hamm, Jon Hamm! [Laughs] We wrote this tall and handsome character and in walks Jon Hamm. He plays Paul Marks, this innovative genius who is going to save the day at UBA. Then, of course, it's about to become more complicated than that. He becomes an accelerant who pushes everyone toward finding the truth—our big theme once again. Everyone thinks money is the answer, but they're about to find out it isn't. He plays an integral role in the power triangle between himself, Cory, and Alex Levy.
With Nicole, it happened more organically. We had to find her because Chris Hunter was a difficult character to cast. She's an Olympic gold medalist who moved into media, a la Michael Strahan. She's talented and bubbly and the anchor of UBA's morning show. But she comes in and finds out it's a bit different than the clarity of the track, where there's a beginning and an end. In the media world, the politics and turf wars at UBA become hard for her to figure out. There's a power struggle and racism because systemic racism is prevalent in every workplace. So what does winning look like for her now? In navigating this maze, we see that she'll find a new side of herself.