Although their areas of expertise are, let's say, divergent, in its own way cult cinema label Vinegar Syndrome is as important to physical media and film preservation as The Criterion Collection. It's rescued such unlikely prestige titles as Christmas Evil, Raw Force, Punk Vacation, Liquid Sky, and The Telephone Book from obscurity, giving them sparkling 4k restorations and deluxe Blu-ray releases. And today marks the biggest day of the year in the rarified world of physical media collectors—the label's annual Black Friday sale, which this year is accompanied by the Blu-ray debut of the cult 1989 high-school slasher movie Cutting Class.

Starring both genre staple Roddy McDowell and a young Brad Pitt in his first leading movie role, Vinegar Syndrome's "worst kept secret in some time" comes restored in 4k and upgraded from the R-rated DVD to its uncut—and apparently much wilder—original form. The release comes with an assortment of five limited-edition cover variants, each representing the artist's favorite kill from the movie. Those will be available only on the Vinegar Syndrome site during the Black Friday sale. (They're serious about the "limited-edition" thing, too: Apparently, any slipcovers left over after the sale will be shredded.)
We're giving away five copies of Cutting Class on Blu-ray from Vinegar Syndrome; to enter to win yours, email us at avcontests@theonion.com with the subject line "not until your grades improve" by noon CT on Monday, November 26. We'll pull five winners at random and notify them by email that afternoon.
Vinegar Syndrome's Black Friday sale is on now, and continues through Monday, November 26. Details, along with the label's full summary for Cutting Class and a trailer, are below.
---
G/O Media may get a commission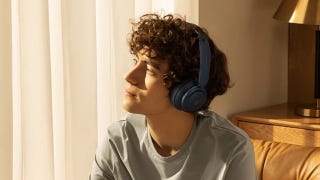 30% off
Soundcore Headphones and Earbuds
---
---
Paula Carson's (Jill Schoelen, POPCORN) high school experience couldn't be better. Between being class president and dating her school's star basketball player, Dwight (Brad Pitt, SE7EN), she seems to have everything she could ask for. But when mentally disturbed teenage murderer Brian Wood (Donovan Leitch, THE BLOB) is released from an area asylum and rejoins his old classmates, it's not long before students and teachers alike turn up missing, or are found murdered. While Dwight becomes convinced that Brian's gone back to his violent ways, Paula can't help but suspect that someone might be trying to set Brian up to carry out their own twisted plan...
A distinctly tongue-in-cheek slasher made in the autumn of the genre's popularity, Rospo Pallenberg's (EXCALIBUR) CUTTING CLASS is a lavishly mounted and self-aware take on the genre's best loved tropes. Starring Brad Pitt in his first feature film leading role, and featuring Roddy McDowall (FRIGHT NIGHT) and Martin Mull (ROSEANNE), Vinegar Syndrome presents CUTTING CLASS on Blu-ray for the first time, newly restored in 4k from its original camera negative and in its uncut version, never before released in the United States.

Directed by: Rospo Pallenberg

Starring: Jill Schoelen, Brad Pitt, Donovan Leitch Jr., Roddy McDowall, Martin Mull, Brenda James

Special features:

• Region free Blu-ray/DVD combo

• Newly scanned & restored in 4k from its 35mm original camera negative

• "Un-Cutting Class" - a video interview with lead actress Jill Schoelen

• "Donovan Makes the Cut" - a video interview with actor Donovan Leitch

• Audio interview with director Rospo Pallenberg

• Audio interview with cinematographer Avi Karpick

• Commentary track with The Hysteria Continues!

• Kill comparisons: Unrated vs. R rated versions

• Original theatrical trailer

• Reversible cover artwork
• English SDH subtitles