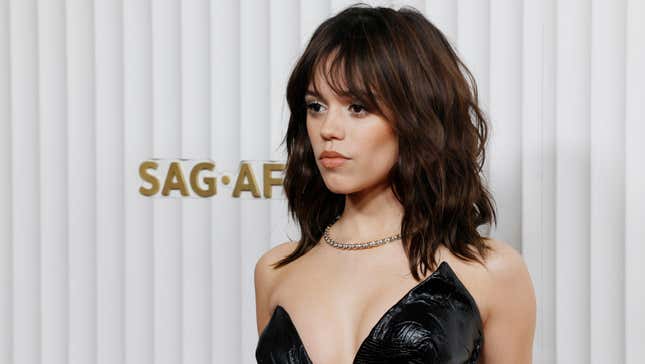 Jenna Ortega's recent strategy, as it pertains to Wednesday, is brutal honesty. It seems she's earned the right: The show is a smash success and her Scream sequel is also garnering critical acclaim, making her one of the most in-demand actors in Young Hollywood. Yet perhaps none of this would ever have happened if she had followed her first instinct, which was to turn the Netflix series down.
Asked by The Times UK whether she'd actively pursued the role, Ortega admitted, "No, I didn't. I got the email, passed on it." She explained, "I had done so much TV in my life, all I've ever wanted to do is film. When I first started acting, I don't want to say nobody believed in me, but at the same time nobody believed in me. You have to prove yourself. It's only in the last three or four years that I've been able to start going up for film. I was scared that by signing on to another television show it could prevent me from doing other jobs I really wanted and cared about. The only reason I went back is because Tim [Burton, director and executive producer of Wednesday] is such a legend, and we just happened to get along very well. But even then I said, 'Ah, no—I think I'm OK,' a couple [more] times."
When she did finally acquiesce, Ortega assumed the series "wasn't going to be watched," she claimed, thinking "it will be a nice little gem that someone finds." Instead, the show became a colossal hit, something the star has struggled with, as she recently shared on Dax Shepard's Armchair Expert podcast.
Part of the struggle is that the series is "not my proudest moment internally," she said on the podcast, adding she doesn't "want to be known specifically for" Wednesday. (Ortega confessed to re-writing lines when she felt the script didn't serve her character.) Another part of the struggle is that "You begin to feel a bit like a billboard, and there's a part of me that almost feels like I've succumbed to this commercial version and kind of given up on my own personal interests." Perhaps she should have stuck to her guns about avoiding Wednesday after all?