A soulful, versatile character actor with a gift for improvisation, John C. Reilly first made a name for himself in the Chicago theater scene, where he trained at the Goodman School Of Drama and became a member of the city's renowned Steppenwolf Theatre. After auditioning for a bit part in Brian De Palma's 1989 Vietnam War drama Casualties Of War, Reilly caught a huge break when he was recast as one of the film's major characters. Off that success, he was able to land steady supporting work in Hollywood films such as We're No Angels, Days Of Thunder, Hoffa, and What's Eating Gilbert Grape.
But Reilly's career took a dramatic and decisive turn when he met director Paul Thomas Anderson at a Sundance lab, which led to three of Reilly's most memorable roles: a down-on-his-luck gambler in 1996's Hard Eight, a porn star in 1997's Boogie Nights, and a soft-hearted cop in 1999's Magnolia. Meanwhile, he never abandoned his theatrical roots; Reilly appeared in an especially notable run of Sam Shepard's True West in which he and fellow Anderson regular Philip Seymour Hoffman frequently swapped the lead roles.
In 2002, Reilly appeared in three of the five contenders for the year's Best Picture Oscar: The Hours, Gangs Of New York, and Chicago, for which he received a Best Supporting Actor nomination. In the new film Criminal, a remake of the popular 2000 Argentinean crime drama Nine Queens, Reilly stars as a seasoned con man who recruits a neophyte (Y Tu Mamá También's Diego Luna) for a big score. Reilly recently spoke with The Onion A.V. Club about the dangers of typecasting, his collaborations with Anderson, and the lengths he will (and will not) go to in order to prepare for a role.
The Onion: Why remake Nine Queens?
John C. Reilly: Well, that's more of a question for [director] Greg Jacobs. I had never seen Nine Queens when I got the script. I just read it and thought it was great, and it reminded me in some ways of Hard Eight. I was like, "Oh, great, now I get to play the Sydney part instead of the John part." They're very different films, though. What Greg has said about why he wanted to remake the film was that he thought it was a great story, and not many people got to see it. The people who did see it loved it, and it was a hit probably in Argentina, and in the arthouse circuit or whatever. But Greg thought it would be really suited to Los Angeles, too; he thought it was a great departure point for a story about Los Angeles. You know, the stratification of class in L.A., and the different ethnic neighborhoods. Greg has said he thought of Los Angeles as another character in the movie. It's a lot harder to come up with a brand-new idea, and that being said, I think Steven Soderbergh and Greg both brought a lot of their own personalities to the script.
G/O Media may get a commission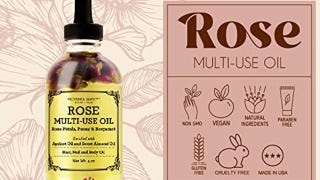 Provence Beauty Rose Multi-Use Oil
I did see Nine Queens afterwards, and it was interesting, like looking at this parallel universe to the one I had just been in. That movie was really tailor-made to what was going on in Argentina at the time, and hopefully we succeeded in the same way with Los Angeles, trying to get what was going on there during the 24 hours that we spend in L.A.
O: Criminal is a rare leading role for you. Are you comfortable with the responsibility of carrying a movie? Once you're tagged as a great character actor, does it become difficult to break out of that mold?
JCR: Once you become tagged as anything, it becomes difficult to shake it, because the less imaginative people in the business want you to do what worked for the last guy. That's always been something I've had to deal with. All you have to do is say no. I hear actors complain about being stereotyped, and a lot of the time, you have yourself to blame. Just don't take the part if you feel like it's a stereotypical part for you. You have control over your life. We don't have the old studio system, where you have to do what they tell you. You can always say no.
In terms of carrying the movie, of having that responsibility, I was really hungry for that. It's funny, Stephen Daldry, who directed The Hours, said, "You know, John, everyone says you're this character actor, but you're better suited to be a leading man." And I'm really modest, so I'm like, "What? Get out of here." It seemed like an immodest thing to admit, but I thought, "Maybe he's right. I am happier when I have more to do." I don't crave leading roles because I want to be famous or rich or whatever. I can honestly tell you, that's never why I wanted to be an actor. I've been acting since I was 8 years old, in theater in Chicago. I just love to tell stories. I tried to do other things, and it wasn't until I was almost done with college—and I had been acting for a long time at that point—that I decided, "Okay, I'm going to try and be a professional actor." It seemed to be the job that I was most suited to.
So when I'm offered a leading role in a movie, it's great, because I get to do more of what I love to do. That's what it's all about for me. I don't really get off on the anonymous love of strangers, which I think a lot of actors do. They're lacking something in their own personal lives, so they want the adoration of autographs and all that stuff. That's nice. It's flattering when people come up and say, "I really like your work." But that's not why I do it. That's an important thing for me to remember. Like, "Why do you do it? You do it because you're a storyteller." For whatever reason, that's my makeup. Hopefully, if I had a calling to be a blacksmith or something, I would be as happy being a blacksmith. I know that, growing up, I watched my friends search for something, like "What am I even good at? What the hell should I do for the rest of my life? If my childhood ends now, should I just pick something and be happy doing that?" When I saw people doing that, I thought to myself, "You're really lucky, man. You know, in your bones, that this is what you're supposed to be doing. That's a battle you don't have to fight in your own life." It's not an easy business to be in, but at least I know I'm supposed to be in it.
O: You mentioned that people complain about taking roles where they feel stereotyped. Have you always had the luxury of saying no?
JCR:Well, I've been very lucky that people have been interested in employing me since the beginning of my professional career, since I got out of college. I think I've made some good choices, in terms of my lifestyle and stuff. When the first money came, I didn't go insane and take out some huge mortgage and buy a mansion. There was no coke and champagne and limos. That was never stuff I was really after. It was like, "Oh, cool, I can pay my rent." I took that, and in this kind of slow way, built with what I have.
I live a really modest life, honestly. I have two kids now, I've been married 12 or 13 years, and that part of my life is just as important to me as my work. I think that's one of the reasons that I've had the luxury of picking and choosing along the way. I've never gotten myself in too far over my head, where it was like, "I'm gonna lose the house if I don't do this TV show." I'm also kind of lazy, believe it or not. I really enjoy my time off. If I'm going to go to work, it has to be something I really believe in, or else it's totally tedious. I have made some mistakes, and chosen things that I thought were going to be worth believing in, and then you get to the set and you're like, "Oh, dear, this is going to be a long two months."
O: Do you know right away that you're in trouble?
JCR: Well, you can usually tell. It's funny, because it's a big leap of faith when you're signing on to a movie. You have the script, which is really a blueprint, so you imagine the whole thing in your head while you're reading it. You might be imagining something completely different in tone, and in reality, than what is being planned by all these people. Then you meet the director, and you think, "Okay, I can trust this guy. This is what he's going after." Then you get to the set and you're like, [affects despondent voice] "Oh… Look at this. They want to do one take and move on. Don't you care that the scene's really good? We've spent all this time preparing for this moment." So, yeah, it's pretty apparent. But those experiences are few and far between, where I felt like it wasn't working out the way I've wanted it to. I've been really lucky, if you look at my credits. I've worked with some very inspired, talented people who are at the top of their game.
O: How did you get involved in Casualties Of War?
JCR: I was in Chicago doing theater, and I had an agent who told me they were casting this movie, so I made a videotape and sent it to [director] Brian De Palma, and they liked me enough to say, "Yeah, give him the part of the guy who gets his arm blown off in the first scene. He's a good actor." So I got over there and did the military training, and there were a lot of actors there, and it turns out that two or three of them didn't quite work out in the way the director had wanted. So the casting rearranged, and meanwhile, I was doing rehearsals for the movie during the day, and there would be these scenes where an 80-year-old Vietnamese villager comes up and starts talking to the troops. And since I was playing just a tiny part in the beginning, I'd be sitting there while they were doing that scene. Brian De Palma would say, "Someone be the Vietnamese guy. Okay, John, you come in."
I was coming out of theater in Chicago, never having done a movie, so I was, like, committed to the Vietnamese guy, doing it as best as I could. I guess it really struck everyone, like, "Look at this guy, he's nuts." There were a couple things like that that happened during the rehearsal process, so when they realized that they wanted to make some changes with the cast, they ended up bumping me up to a bigger cameo part, which later got cut, and then to one of the leading roles. It was a miracle when that happened. I had never been on an airplane before. I had never been out of the Midwest before, and here I was in Thailand making a major motion picture with Sean Penn. It was absolutely crazy. I met my wife there, within a day of getting there. My life changed because of that movie, in a major way.
O: When you first started making movies, what kind of career did you imagine for yourself? Did it change over time?
JCR: It's a very special thing to get a lead in a big studio movie as your first job. I eventually got an agent in New York, and everyone was telling me, "This is it, kid!" Even Sean Penn said to me, "You know, when I met Tom Cruise on Taps, he was just an extra, and we pulled him in. I'm just sayin'. The same thing's happening to you. It's champagne and limos, kid." And what do I know? I'm 22 years old. I assume if he's telling me this, then that must be what's going to happen. I don't know whether it was because I was so picky about the stuff that I did, but everything all along the way seemed like it was going to be the big break. There's no job that I've done that was not full of promise and possibility. It's such a fluke when everything comes together: You do good work, the movie's good, people see the movie, and the movie is praised for being a good movie. It took Chicago for all of that to kind of happen at once.
All those things happen at different levels for different movies, and meeting Paul Thomas Anderson was probably the most important chapter of my life as a film actor. He's my dearest friend, and this collaboration, this synergy that we have, is just so rare. I feel so lucky that that happened, and that we met each other when we did. I recognize that as being a very important step for me artistically, and in terms of confidence. I'd done like 13 movies before Hard Eight, but even though guys like Brian De Palma and Sean Penn really championed me early on, it was Paul who said, "You're it. You're gonna be the guy in my movie. People don't know, but I know. I've seen everything you've done." And there was no one at that time saying that to me. It was hand to mouth, in a way. Even though I was doing really well in the film business, it's not like my name had a reputation with the public or anything. One job would end, and I would be standing still. Paul was the first person in my life who said, "Hey, I saw you in Casualties, and I saw you in this," and he saw every single little thing that I'd done. It takes someone else believing in you, I think, unless you're supremely confident, and I've never been that. I never saw myself as this golden boy. It took Paul's belief in me to really show me how to embrace it, that you can achieve great things if you believe in yourself.
O: In that sense, Hard Eight was sort of a dream project for him, wasn't it? He was able to get Philip Baker Hall, another actor nobody had paid much attention to, but whom he'd followed very closely.
JCR: When you look back, it's kind of crazy. When you think about how many truly great older actors there are, it's a really narrow field. That nobody noticed Philip Baker Hall before that is kind of stunning to me, but they did after Hard Eight.
O: It's amazing that a first-time director was able to convince financiers to get behind it while insisting on that casting.
JCR: It was a freaking miracle that they did, and it took years to pull it off. It was clear reading Paul's script that this kid is very gifted—I say "kid" because he was only 23 or 24 when I met him. He's a complete natural. He spent one day in film school, and the teacher made a derogatory comment about this Scorsese movie that he loved, and that was it for film school. He's like, "Okay, these people don't know what they're talking about. I won't be going back." He taught himself about movies by watching movies. So when you looked at his script for Hard Eight, it didn't take a genius to understand that this guy is really gifted as a writer. He had all these movie stars thrown at him. He was offered the world. They told him they'd give him $10 million if he used this guy, or this guy—like Gene Hackman and John Cusack, these different pairings of much more established people. Paul was like, "No. No. No."
Paul's greatest strength as a director is his stubbornness. It gets him into trouble sometimes. Like if he's going to a marketing meeting where you're supposed to be diplomatic, he's like, "Are you stupid? This movie's great. Sell it for this much." It took probably three years from the time I met him at the Sundance lab—where we first worked on that script together—to when we got the money. It took three years of him saying, "No. It's going to be Philip Baker Hall and John C. Reilly." And God bless him. I wouldn't be where I am if he hadn't been tenacious like that about it. Finally, what really got us the financing for that movie was not me or Philip Baker Hall or even Gwyneth Paltrow, because I think it was only her second or third movie. It was Sam Jackson. He was friends with the casting director, and with one of the producers of the movie, John Lyons. Sam felt like, "Okay, I kind of owe John one, so I'll play this part in this movie." When he signed up, boom. That's when we got this little pittance to make the movie. And, like Criminal, we shot that in 28 days, in Reno.
O: Considering that your time onscreen is often limited, are you ever surprised to see how a movie turns out at the end?
JCR: Absolutely. [Laughs.] It's kind of embarrassing, in a way. There have been a couple of times where I come in and play a supporting part in the movie, and because of the level of commitment required to pull off the part, you start to feel like you're doing more than you actually are. I worked on this one movie called Georgia with Jennifer Jason Leigh and Mare Winningham, and I played a junkie drummer in this band. To me, the movie was about this drummer in this band—or at least it was a movie about this band. In all my scenes, I was with the band, and so much of the focus was on the music, and I'm like, "Yeah, cool, I made a movie about this band!" Then I go see the movie, and I'm like, "This is about two sisters!" That's one of the great perks of being a supporting actor: You get to enjoy the movie as an objective viewer would. You can get excited about the parts of the movie that you're not involved in. You can have some popcorn. I tend to get a headache when I watch my own work. I stare too much. I have just meager amounts of self-loathing and missed opportunities, but that softens over time the more you see yourself and hopefully become more forgiving about it. It's one of the great joys of what I do.
O: You worked out with [Major League Baseball catcher] Brent Mayne for For Love Of The Game, and you rode with the LAPD for Magnolia. What does that level of preparation allow you to bring to the table?
JCR: Believe it or not, I know actors who prepare much more than me, who are much more immersive in getting into roles. Like I said, part of me is kind of lazy. I only do as much research as I feel is necessary to bring authenticity to what I'm doing. When I was Jim Kurring [in Magnolia], I wanted to know what it was like to be a beat cop in North Hollywood. I didn't have to go down to police headquarters and interview the chief of police and build a binder. I know people like that—and, God love them, it's almost like having a whole academic side to your life as an actor. I'm much more instinctive, and I can learn more about a person by just having lunch with them than I could by reading their book or something.
Research is one of those things that people in the press like to glom onto, like, "Yeah, he lived it, man. Heroin addict for five years, then he got clean so he could play the addict." To me, it's hard enough. I'm a creative artist. I'm not a documentarian. I'm a chameleon. That's my job. I'm supposed to adapt and change and transform. And [intense research] is one way to do it. Watching someone like Daniel Day-Lewis work, I would never discredit someone for doing that kind of research, because it clearly works. But it's an individual process. Like with The Good Girl: I've been a housepainter before. I've been in relationships that are dead on arrival. So I didn't feel like I had to go hang out with a painter in Texas just so I could say to the press, "Yes, I lived it, man." I knew what that guy was about. I felt like I could bring an authentic portrayal of this person to the screen, and I don't have to beat myself up in order to feel validated to play this guy.
That said, I didn't know what it was like to be a policeman. I didn't know what it's like to sit in a cop car. I didn't spend a ton of time with the police in North Hollywood, but it didn't take a lot to understand. Actors are intuitive and empathetic. I went out with a policeman one night, and they don't even realize how much they're giving you. You ask this one little question, and you don't have to be like a journalist with your pad of paper and a list of questions. You just try to connect with that person, and by doing that, you get a sense of what their life is about. That first night that I went out with a cop, we went to a domestic disturbance. This little 14-year-old girl with a baby had gotten in a fight with her mother because she'd hit the baby, and her mother said, "Don't hit the baby," so she hit her mother, who hit her back, and then the police were called. I learned so much in those five minutes walking into that apartment with the police. I immediately thought I was going to break down and cry. It didn't require 15 trips to crime scenes to understand the depth of what police officers go through. I got it in five minutes in that room. If this is what your day is like, every single day, I don't have to go on two weeks of road trips with you. I get the heaviness of what you're doing. I pay attention, and I collect details. I collect behavior.