I'm not an actor, I'm a [Ghostbuster, former SNL] star!"
Kristen Wiig returned to 8H for her second time as host, and delivered exactly the Kristen Wiig episode you expect. To be fair, we only got two returning Wiig characters—Secret Word's Broadway star and terrible game show contestant Mindy Elise Grayson and constitutionally unable to keep a secret Aunt Sue—which is about two fewer than I was expecting. I love Wiig, but her first hosting gig was swamped with characters that had run dry before she left the show in 2012. Honestly, she was best tonight in her silly monologue, where she demanded and then discarded a ukelele, double-necked electric guitar, and stool, then sang an elaborately silly, catchy, and inaccurate ode to Thanksgiving. (There were pilgrims, Indians, space aliens, Ben Franklin, Paul Revere, Napoleon, and FDR, among others.)
As often happens when a former cast member hosts, Wiig brought along some pals, including Steve Martin (making a political half-joke about the dangers of fake news) and Will Forte (obsessing about how much shorter his ovation was than Martin's and about how Martin and he are best friends in the inimitable Forte style). Wiig's other best bit was a wordless showcase for the potency of her comic presence, as her Macy's parade Madeline balloon (alongside Mikey Day's Woody from Toy Story and Bobby Moynihan's truly terrifying Pennywise-looking clown) menaced the family watching from their apartment window. On SNL, Wiig could take over the show, for better and worse, with her manic energy, but she was more subdued here. Not a criticism, necessarily, but her old favorites weren't especially memorable, and, as things played out, this was more like an ensemble episode from Wiig's tenure as a cast member. (One where she was relatively light on the show that week.)
G/O Media may get a commission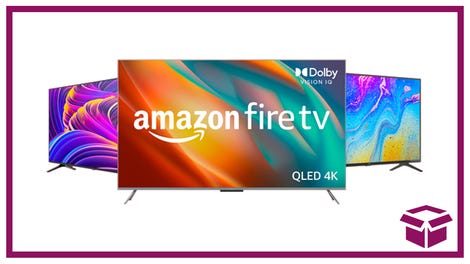 Ooh. stunning.
New Amazon Fire TVs
Weekend Update update
Someday, SNL is going to have to address how it was compromised by Donald Trump's hosting gig last year. (Michael Che had some interesting thoughts on that in a recent interview with Uproxx's Mike Ryan.) That being said, there's no question that Weekend Update's going to take up all the ammo that Trump keeps scattering, based on tonight's pointed and consistently funny outing. Che and Colin Jost shared a sharp incredulity that powered their tag-teamed Trump jokes throughout, a statement less of purpose than of comic inevitability. Jost on Trump's decision to split his time between the White House and New York's Trump Tower (which will cost taxpayers millions and cause untold inconveniences for the city) mocked, "It's all worth it to help a billionaire go night-night in his big boy bed." Che pivots from newsreader placating with the expertly delivered "Now it hasn't been great, but it also hasn't been good. Or even fine." Jost goes after Trump's pick for Attorney General, Senator Jeff Sessions, whose candidacy for a 1986 judgeship was rejected after he, among other things, praised the KKK, saying, "If at first you don't succeed, wait 30 years until history lurches backwards." And Che, after laughing incredulously at reports that Trump was surprised that being president would be so much work, comes after Breitbart, calling it a "sexist, racist, white nationalist news site" before backpedaling only to correct that calling the site "news" is "like calling the R. Kelly sex tape a rom com."
It's a cliché that comics love a shitty president because of all the great material. (Patton Oswalt once said of George W. Bush's gaffe-filled tenure that he'd give up the 10 great minutes he got out of him if "we weren't torturing people and our money weren't on fire.") But in what's looking like a long and fraught four years, at least it looks like Che and Jost are on their toes.
Even Pete Davidson was surprisingly political end energized, delivering an uncharacteristically focused and angry bit as himself. Davidson's signature persona is defiantly detached from politics (or much of anything but weed and being adorable), but Trump's election seems to have affected him. Taking on noted white supremacist and Trump advisor Steve Bannon, he mocked the idea that Bannon can't be an anti-Semite because he's working alongside Jews by citing the fact that Mel Gibson did four Lethal Weapons with Danny Glover. He mocks Trump, speculating that he's going to reduce crime in the real estate industry by not being part of it any more, and lets out some familial resentment, projecting himself at Thanksgiving asking his grandfather, "Hey, if you can take a minute away from loving Hitler, could you pass the potatoes." If this is a new, angrier Pete Davidson, it's an improvement.
Kenan Thompson brought back the ever-cheerful Willie, his reminiscences of eating cockroach pie, his father planning to frame O.J. for murder, and watching his dog be gang-raped by turkeys delivered with unquenchable but inexplicable ebullience. Thompson always makes Willie weirdly affecting, his unsinkable obliviousness about how horrible his life is emerging like improbable triumph.
Best/worst sketch of the night
The QVC audition sketch should have been more memorable, with Wiig and Cecily Strong playing neighbors and nemeses whose videotaped auditions find them unraveling. Both actresses can really crank up these sorts of tightly wound characters, but this just didn't build as it should have.
"What do you call that act?" "The Californians!"—Recurring sketch report
We got Secret Word, where Kenan Thompson took over ably from Bill Hader's longtime host. Hader phoned in a goodwill message, while Thompson's host speculates that he only became the first black game show host (it's 1964) because he auditioned over the phone. The joke is always that Wiig's actress can't stop blurting out the secret word, which Wiig makes as amusing as one joke can be. That's a wonderfully trained dog that Cecily Strong's Italian starlet beings out, though.
Aunt Sue just can't keep a secret! She eats a whole pillow (Wiig blows the joke at one point, though) trying to hold in the big Thanksgiving surprise and then jumping out the window in explosive secret decompression. Again, one joke that Wiig's commitment makes at least palatable.
And you came back again, Willie!
"It was my understanding there would be no math"—Political comedy report
After skipping the whole "what to do about Trump" thing last week, the cold open tonight saw Alec Baldwin back in the wig. It's not clear how regularly Baldwin's going to return over the next four years (more or less), as Baldwin this week made some noncommittal comments about his availability going forward. Honestly, after last week (the election and the episode), I was imagining that SNL might think outside the box on this one. In just the first week or so, the Trump administration has done enough thoroughly alarming things (if almost every nominee and appointee being celebrated in giddy, hooded, New Balance-wearing joy by the KKK and the American Nazi Party is any barometer) to suggest that a bold approach might be in order. Considering that Baldwin isn't up for being a full-time SNL cast member at this point in his life and career, I had an idea the show might register the new world order by simply not recasting its Trump at all, which would require an ambitious rethinking of the show's usual political procedure while spotlighting what a drastic change this is. As a lot of the political material tonight attested, this is not the normal state of affairs—simply trotting out Baldwin (or some plan B replacement) just seemed something like a comedic surrender to the idea that this is just another standard baton-passing.
As it turns out, that's exactly what SNL did. Baldwin's here, at least for now, and his impression, as funny as it's always been, is of a piece with the campaign trail Trump of the past… million or so years, it seems. The first SNL dealing with a new president-elect involves seeing what the show's take on him is going to be. For Trump, the concept at this point is that he's thoroughly unprepared to actually lead, completely willing to cave in on the most outrageous promises he used to get elected, and counting on VP Mike Pence to actually do all the work. There's more than a little of SNL's clueless, bumbling Ronald Reagan in the idea, with Trump actually seeming to care that—as Kate McKinnon's Kellyanne Conway reports—virulent racist David Duke has praised him, and being so overwhelmed by the idea that the press is mad at him that he's all too willing to jettison anything they find objectionable. (Baldwin has incorporated a slack-mouthed 'o' of panic into his impression for the transition.) As with the ongoing conceit that Conway—who this week taunted Clinton voters online and threatened outspoken Trump critic Senator Harry Reid with legal action for calling Trump a racist (among other things)—SNL's take on the Trump camp is couched in wishful thinking. Who knows what's going on in Donald Trump's head at any moment, but while the thought that he's a glib conman in over his head (rather than an actual racist demagogue who's purposefully filled his cabinet with white supremacists) is a possibility, it's a relatively toothless take to build a satirical legacy upon. It's a funny sketch—McKinnon makes Conway's obvious disgust with what she's helped bring about funny each time. ("What do you need, Kellyanne?" "A time machine.") And I've always loved returning alum Jason Sudeikis' grinning, vaguely robotic Mitt Romney, who exchanges a very long and awkward handshake with the man the real Romney called a phoney and a fraud, before concluding things with a friendly, "This isn't going to work, is it?" SNL has a tendency to let political impressions ossify, which suggests that this is the rather shallow Trump we're in for. Still, it's only the first week of what could be a very, very long four years.
That all being said, the rest of the political stuff tonight was rather impressively hard-edged. Update, as mentioned, mined Che and Jost's incredulity for some hard laughs right out of the gate, and even normally innocuous Pete Davidson used his time to do some clearly felt lashing out. But the Anderson Cooper 360° sketch managed to take on the ongoing issue of the media's coverage of Trump's campaign (now reign) with an escalating dark absurdity, leading to a solid punchline that all the gathered pundits' repetitious, short-memoried responses to each successive Trump scandal meant that they're actually in Westworld. Whether it's nefariously brilliant strategy or just how Trump operates, the sheer volume of scandalous and controversial things already spinning out of his president-elect status has a tendency to crowd out space in the news. (The sketch takes time to call out Trump wanting his kids to have security clearance, the KKK throwing a parade in his honor, Breitbart white supremacist Steve Bannon being a key strategist, and Trump's call to have all members of a particular religion put on a government registry—God, maybe we are in Westworld). And the sketch sees the various talking heads form an accelerating chorus of catchphrases and punchlines. Some cry out "This is not normal!" in increasing panic, another demands that the newest potential scandal is the most important, brushing off what had been most important just minutes before. The one Trump surrogate keeps mistakenly claiming that Trump won the popular vote, while CNN's Van Jones repeatedly maintains, "This is where we as the media have to draw the line!" It's a fine encapsulation of both the criticisms and the challenges of the cable news cycle, culminating in the Westworld reveal, when the process finally shorts out Alex Moffat's Cooper, causing those hazmat-suited Westworld techs to wheel in Beck Bennett's Jake Tapper to take his place.
"The Bubble" posits a literal bubble around a Park Slope-like community where heartbroken progressives can live in happy, head-nodding obliviousness to a Trump presidency. The premise deals in some easy stereotypes—plenty of hybrid cars, used bookstores, and McSweeney's but no firemen or police, who apparently all love Trump, or at least live in the real world. But while the idea that all liberals are only capable of withdrawing into a physical approximation of the metaphorical bubble conservatives accuse them of living in is reductive, there are enough funny touches—Sahseer Zamata's side-eyes at Kyle Mooney's proclamation that "We don't see color here but we celebrate it" speaks volumes.

And, product placement aside, the giant department store chain commercial had a funny idea behind it, as it attempted to lure in young relatives dreading the inevitable Thanksgiving dinner political conversations by lauding "a big empty parking lot you can just come sit in for a sec." There's a sweetly observed moment where two such people, killing time in their cars before returning to tell their parents the store was all sold out of what they supposedly went there for, share a wordless, resigned nod of recognition. Good luck on Thursday, everyone.
I am hip to the musics of today
The xx had lucite boxes, some swoony stage dancing, and a mix of whispery emotional lyrics and background grooves that was hypnotic. Or sleepy. It was late—I got sleepy.
Most/Least Valuable (Not Ready For Prime Time) Player
Team effort tonight, really, (with a lot of guest spots), so I'm going rogue and tossing the top spot to Bobby Moynihan. Now in his eighth season, Moynihan often pops up in smaller character roles, but even then, he, well, pops. Tonight, even only getting one line as a Viking (warning of killer turkeys) in the monologue, or playing a sensible, secretly closeted husband in the QVC sketch, or dressed as a big cat in "Whiskers 'R' We," he's just such an immediate presence that it reminds what a fine actor he is.
"What the hell is that thing?"—The Ten-To-Oneland Report
I should complain any time the last spot is given over to a recurring sketch, but "Whiskers 'R' We" never fails to make me giggle like a dope, so I can't. Kate McKinnon, flanked this time by Wiig's smitten coworker, just picks up a succession of adorable kitties and spins bizarre backstories for them out of her unfathomably eccentric imagination, and it leaves me helpless. Claiming that one full-grown cat is actually the ghost of a cat with "unfinished business" she intones, with loopy seriousness, "If she appears in your mirror, it's over." And remember, a cat is an angel that poops in a box.
Stray observations
"I love you Mike. You're the reason I'm never going to get impeached."

"Thank you, I'm smug to be here."

Looks like New Balance won't be on board as a sponsor any time soon. Oh well, they'll always have neo-Nazis on their side.
Okay, less applause than for Steve Martin, I'm gonna remember that.