As we all know, Hollywood is slowly but surely working up the courage to make a film version of the greatest talking horse comedy in the history of entertainment, Mr. Ed, by making film versions of every other popular 1960s sitcom. (They figure that if they practice by making movies out of The Brady Bunch, Lost In Space, The Addams Family, The Beverly Hillbillies, Bewitched, Car 54, Where Are You?, etc. by the time they attempt Mr. Ed they'll have the whole translation-to-film thing down.)
The latest in this interminable line of test runs is Gilligan's Island. Obviously.
From Variety:
The seven castaways of "Gilligan's Island" have found a home at Warner Bros. and Atlas Entertainment.

The studio and production company have begun development on a feature film based on the iconic CBS sitcom, which generated solid ratings during its three seasons between 1964 and 1967 and then found something close to eternal life in syndication.
Plans are for a contempo take on the well-known premise and characters, with the studio and the Schwartzes' blessing Copeland's initial idea for the screenplay. Roven told Daily Variety that he's hoping to start production as early as next year but won't move forward on seeking a director or cast until Copeland's script is completed.

"The characters are so good," Roven added. "We think it's going to be a great story to transport these cultural icons to the modern day."
It does sound like a great story: transporting the Gilligan's Island characters to the modern day, then putting them on a boat that crashes on a deserted island where it doesn't matter what year it is. Very Contempo Casuals.
So how will Warner Brothers modernize a story about people getting stranded on an empty island untouched by time? Here are a few suggestions:
—Instead of a tour boat, the characters will embark for their "three-hour tour" on a hovercraft.
G/O Media may get a commission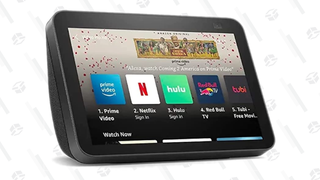 —One of the castaways, probably MaryAnn, will be really into horrorcore
—Cameo by the Verizon guy.
—Mr. And Mrs. Howell will find a hidden chamber at the base of a volcano that is full of global warming.
—Hitch dream sequence
—Instead of, "Hey Little Buddy" the Skipper's catchphrase will be, "Oh, Facebook!"
—The professor will use palm fronds, twine, and a number of small stones to somehow construct a Netflix account
—On the island, the castaways will discover a life-saving Gogurt lagoon.
—Instead of being a movie star, Ginger will be the Internet