After the mystical and enigmatic happenings in The Defenders, it's a real treat to return to the down-to-earth setting of Luke Cage. The subject matter feels familiar; the thrilling chess game of the underworld, dirty cops, drugs, stylish musical performances, and jazz and that's a good thing. The season two premiere of Luke Cage feels confident and controlled. It feels like a comfort after other more daunting cross-over events in the Marvel Cinematic Universe.
Most notably, Mike Colter shines in his portrayal of Luke Cage in the premiere. Something has changed in the writing and performance of Luke. In the first season, Luke and most of Colter's performance felt burdened by obligation and in The Defenders, he played the elder statesman in his scenes with Danny Rand. In "Soul Brother #1," he's still the same Luke, a little corny and pragmatic, but there's a new sense of play in the performance this season. Whether Colter is still riding high from his charismatic turn in Girls Trip or if some of the pressure has been taken off Luke Cage to represent blackness in the Marvel Cinematic Universe after the release of Black Panther, Luke no longer feels like the concept of responsibility and duty personified. It's most likely that this is Colter's third season portraying the hero and he's settled into the role. There are still stately monologues from Luke and he's still looking over his shoulder, but at the same time, Luke is feelin' himself.
There's a new lightness to the series. The episode's direction by Lucy Liu is slick. Action doesn't lumber around the screen; it glides. Luke and Claire's relationship feels sexy and playful. The dance between Claire and Luke before their sex scene reveals a new friskiness between Rosario Dawson and Mike Colter. Mariah's relationship with Shades is imbued with that same friskiness and while Mariah is searching for her next move, she's more than content to throw her sexuality in people's faces. I am here for a hot, older bitch sucking on a thumb in public. It feels like ten years have been shaved off every character.
This episode was laser focused on the idea of image and reinvention. Luke is stepping into his role as Harlem's Hero. Pop's Barbershop has become a defacto gift shop with random white dudes with GoPros stumbling in to catch a glimpse of Luke. Luke is carefully selecting charity t-shirts to wear when he busts up trap houses for maximum impact on camera. Even his name has become a commodity with drug dealers labelling their product "Luke Cage." All he has is his name and he's doing what he can to protect it. But Luke isn't the only one concerned about how to capitalize on whatever is left of their fame, looks, and strength.
G/O Media may get a commission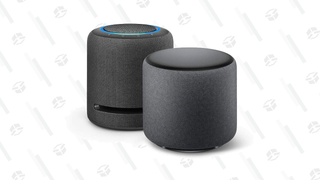 25% off - Prime Exclusive
Echo Studio + Echo Sub Bundle
Mariah is working to go legitimate after the loss of her surrogate son, Cornell, as Luke is fighting to shut down her remaining revenue streams. Mariah's anxiety and remorse over her name and what happened to Cornell the previous season is fueling her. Mariah seems unconcerned with Luke. The shadow of her family and her drinking are what feels like a threat to Mariah and her success. She's being defined by her loss and there's foreshadowing of a loss of control.
Misty is another woman is driven by loss this episode. While Mariah has defined herself by her family and her name, Misty has defined herself by her occupation. Misty Knight is recovering from her loss of limb and as a result, the loss of her identity. She doesn't want to define herself as a victim and would rather be righting the wrongs caused by Scarfe. She keeps feeding Luke information because he still sees her as Misty Knight, bad-ass detective and not Misty Knight, object of office pity. Mariah and Misty are both seen drinking at home alone this episode and it feels a bit like a lazy choice when it comes to communicating the sorrow of a secondary character.
Another bother is the length of this episode. After we're introduced to John "Bushmaster" McIver and his abilities, there's another scene with Luke and Mariah. Bushmaster tearing open his jacket to reveal bullets lodged in his chest and the camera pushing in to his face should be the end of the episode. It's the most powerful image and the only one in the episode that threatens the status quo in Harlem. The action in Bushmaster's fight is masterful and terrifying. It felt like a complete change of pace when it comes to Luke Cage villains but it should have been the final image.
Ultimately, the world agrees that Luke is a hero, he's starting to enjoy the status that comes with being one, and Luke Cage is moving with confidence.
Stray Observations:
How long until we get a Mean Girls-Plastics reference from Mariah?

Cockroach has three of the best lines of the episode in one scene. "Svelte. She thick and thin at the same time," "Tupac wrote a book?," and last, but certainly not least "Never underestimate how old pussy can raise a man to new heights."

JOI is the musical performer this episode. I'm not familiar with her music but I'm very interested in her after she was dressed like she was ready to head to the RuPaul's Drag Race reunion.

I can't decide if Luke dabbing is cool, hilarious, or like watching your dad learn how to whip and nae nae.

This episode introduces us James Lucas, Luke's father played powerfully by Reg E. Cathey in his final television role. The episode opens with a powerful monologue from James about his son. James asks the question that I imagine is the question of the season: "Does he serve the Lord or does he serve himself?"