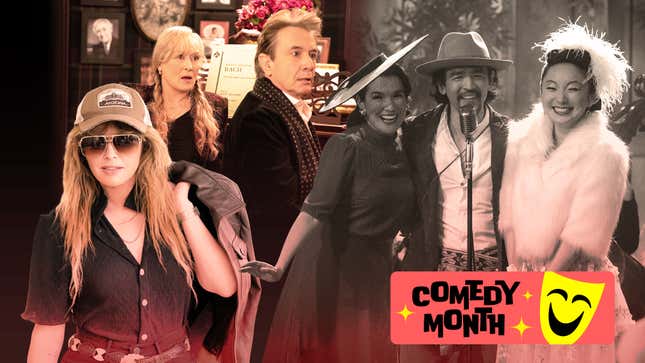 There's nothing funny about murder. Unless the dream team of Martin Short, Steve Martin, and Selena Gomez creates a fictional podcast to solve it in Only Murders In The Building. Hulu's comedy satirizes our collective, excessive true-crime obsession, and its goofy, heartfelt specificity makes the Emmy-nominated series stand out among its peers. (Obviously, it isn't the only show or movie mining our love affair with suspense for comedy, although it's perhaps the best at it—and has inspired some mixed copycat series to boot.)
"Glass Onion" director Rian Johnson talks Agatha Christie
Of course, TV series have historically relied on grim subject matter for narratives. From old hits (Telecrime, Columbo) to long-running procedurals (Law & Order: SVU, Monk, Castle) to teen dramas (Veronica Mars, Cruel Summer) to sci-fi fare (Lucifer, iZombie), death and doom can thrive on the small screen. But in 2023, shows are increasingly examining our morbid fascination through a comedic lens. And that approach is paying off. Take OMITB, which returns to Hulu for its third season on August 8. This will be the show's flashiest case yet, following the aftermath of a Hollywood superstar who drops dead on a Broadway stage on opening night, with the likes of Meryl Streep and Paul Rudd joining the already famous cast. (As viewers, this is a "sign us up immediately" situation.)
But Only Murders is just one of several modern works with notable ensembles that are putting a comedic spin on whodunits. Apple TV+'s The Afterparty, which is currently airing its second season, dabbles in different genres as it tackles the unreliable narrator trope; Knives Out director Rian Johnson pushes boundaries again with Peacock's intriguing Poker Face; and the same streamer behind that Natasha Lyonne vehicle revives the amateur sleuths-doing-a-podcast setup with Based On A True Story. And that's not all: Prime Video's crafty Deadloch and cannibalistic The Horror Of Dolores Roach, Max's animated Harley Quinn, and Acorn TV's multiple originals are further breathing new life into TV's murder mysteries.
These shows are booming partly because it's incredibly fun to watch our favorite actors channel their inner Sherlock Holmes or Agatha Christie characters. The Afterparty features talents like John Cho, Ken Jeong, Elizabeth Perkins, Paul Walter Hauser, and Zach Woods in a wedding mystery. This new batch of episodes may not be as strong as the first season, but you can tell everyone onscreen is having the time of their lives fake mourning Woods' dead groom. Meanwhile, Poker Face lets Natasha Lyonne's amateur sleuth verbally (and sometimes physically) spar with ace performers like Judith Light, Stephanie Hsu, Ellen Barkin, Tim Meadows, Hong Chau, and Nick Nolte, to name just a few of the show's big guest stars. Who doesn't want to see these people play suspicious weirdos or kooky detectives?
More crucially, this seemingly never-ending resurgence makes the case that humor is an unmatched storytelling device when it comes to making mystery, tension, horror, and even superheroes palatable. (This is why we have slashers getting meta, vampires taking over Staten Island, zombies falling in love, haunted houses going full-ridiculous, and on and on.) On TV nowadays, murders and anyone investigating them have become ... funnier. The approach isn't exactly fresh, but it hasn't ever been this much of the norm. And as the aforementioned 2023 premieres prove, the weirder and wittier the better. These are not dark comedies with commentary like Bad Sisters, You, or Fargo; emotionally adept dramedies like Dead To Me; straight-up Dateline adaptations like The Thing About Pam; nor bleak as hell character studies like Barry.
Instead, creators are embracing the absurdity of the central crime and letting us laugh at it, following in the footsteps of Search Party and The Flight Attendant—so much so that Based On A True Story and Harley Quinn both feature TFA's Kaley Cuoco. In the latter she voices anti-hero-turned-good girl Harley to perfection, hunting DC Comics villains who famously love attacking Gotham. In Based On A True Story, she plays yet another capricious blonde drawn to murder like a magnet. Ava is the everywoman obsessed with true-crime podcasts (a.k.a. definitely us and possibly you, dear reader). Except she's also pregnant and married to Chris Messina's Nathan. The couple foolishly makes a podcast with a devilish serial killer who's on the loose. Although flimsy, especially compared to one particular show with basically the same setup, the leads do deliver worthy performances.
If you're looking for further proof of this trend, Deadloch is your prime, er, Prime Video example. Australia's sharp comedy flips the script, depicting a sleepy Tasmanian town where female detectives rule the world. (And it was released a whole month before Barbie!) Kate Box plays a lesbian police officer in charge of finding out who keeps slaying men as their massacred bodies wash ashore. The dark comedy didn't get the attention it deserved upon its June debut, but Deadloch is thematically rich and subversive while being super entertaining. And it fits in like a glove with its partners-in-crime this year.
Another vein coursing through these shows is how mildly suspenseful they actually are. An interesting case isn't necessarily the driving factor—the multidimensional protagonists are. OMITB wouldn't sustain for three seasons if Oliver, Charles, and Mabel weren't such a charming trifecta. We want to watch them run around the Arconia as our POV more than, say, find out who the killer is. Similarly, as silly as BOATS' Ava and Nathan are for trusting a known culprit, their nosiness is unfortunately relatable. Meanwhile, Lyonne's Charlie Cale, despite a dopey lie-detecting gimmick, feels like a new-age Veronica Mars. Charlie's tenacity and vulnerability make her the ideal rookie private eye. Poker Face is equally about the cases falling into her lap and her evolution because of them. And the actor nicely pulls off being a believably human and funny substitute for us, the captivated audience.
Our undying interest is exactly why whodunits and thrillers will never get boring. It's also in their very nature to remain complex. But this super-sized comedic facelift is a way for everyone, even those who can't stomach death, blood, guts, and gore, to get in on the genre. Let's just hope the ongoing runs of OMITB, The Afterparty, Deadloch, and Poker Face inspire continued innovation and less copycats. Because there's nothing funny about every show going for the same joke.