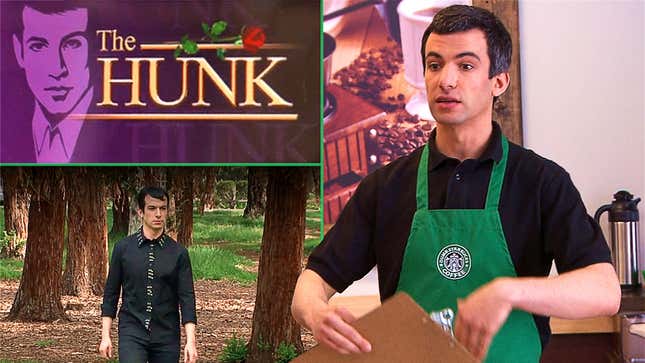 Nathan Fielder's The Rehearsal is one of the most fascinating reality shows in the genre's history—in part because its approach to "reality" is so frequently full of constructions, manipulations, and blatantly unreal moments. With every episode, Fielder (or maybe "Fielder," the curated, sometimes-deranged version of himself that the comedian has been putting in front of cameras for nearly a decade at this point) seems to retreat deeper and deeper into the false worlds he's built around both his subjects and himself. To lift a Willy Wonka metaphor from Kor Skeete, the trivia-loving subject of The Rehearsal's table-setting first episode: It's like he's constantly threatening to lose himself in his own candy factory.
As we desperately prepare our spirits for the show's season finale this week (and the possibility that "Fielder" might simply disappear into his world of warehouse bars and false fatherhood, possibly for good), it feels germane to look back at how we got here. After all, The Rehearsal didn't just miraculously appear, like a six-year-old child actor being secreted in through a bedroom window by a deeply dedicated production staff. It's built from the base material of Fielder's Comedy Central series, Nathan For You, a show that masqueraded as a prank show masquerading as a business advice show, but which often revealed itself, like The Rehearsal, as a platform for Fielder to explore the themes that seem to obsess him: false faces, emotional disconnection, and the fundamental paradox of reality TV—a genre that purports to capture "real" moments of human existence within the reality-devouring lens of a television camera.
Thus, this piece: An examination of six episodes of Nathan For You that chart the ideas and themes that power The Rehearsal, and which might—maybe, possibly—give us some window into what Fielder is thinking as he unleashes the finale, revealing the next vista of his ever-evolving, increasingly confusing, and sometimes ethically dubious worlds of pure imagination.