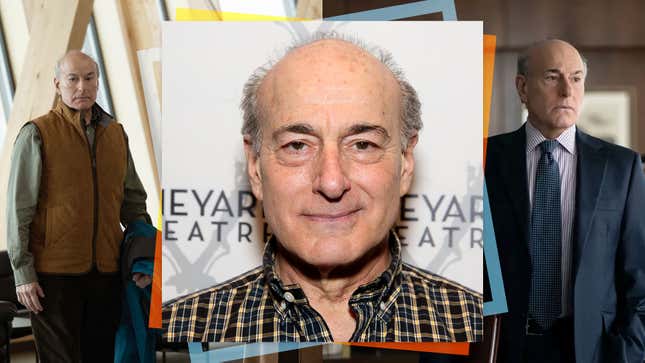 "Life is short. We should all love one another," Frank Vernon tells Roman Roy in Succession's game-changing episode dedicated to Logan Roy's funeral. Peter Friedman, who's essayed Frank since the series premiere, also truly believes in his character's advice, especially in regards to the Roy siblings.

Judy Garland's previously missing Wizard of Oz dress to be auctioned off
The actor has been evolving Frank in Jesse Armstrong's award-winning series from "the man who got fired" in episode one to a mensch along for a wealthy joyride over four seasons. Frank might've been Roman's nemesis when the HBO drama began, but he has since become a critical part of the posse surrounding the Roys. The show just wouldn't be the same without the old guard, which includes Frank, Karl (David Rasche), and Gerri (J. Smith Cameron).
To mark the series finale on May 28, The A.V. Club spoke to Friedman about playing Frank, his experience filming crucial scenes, who he's rooting for on the show, and joining The Marvelous Mrs. Maisel's final run.
---
The A.V. Club: When you first got the role of Frank Vernon, what were you hoping for from Succession? In hindsight, how did it pan out in comparison?
Peter Friedman: [Laughs] Oh, that's a good one. So, I believe when I did the pilot, I was not a regular. I was just hired for that episode. After HBO accepted the series and picked it up, then things shifted. I still felt okay because Frank's been there at Waystar Royco for 30 plus years. He's fired at the end of episode one, but he must know where all the bodies are buried and all that kind of stuff. So I thought, "I'm good." I might be fired, but there are all sorts of trite plot points where I can come back [to take revenge]. None of that happened. This is not that kind of TV show. It's different, and that's what makes it cool. They don't do what you think they're going to do. They concentrate on the Roy kids and the family dynamic, of course. But it's interesting how despicable they were to us in the first episode but how pitiable they are to us now. And they're the same people, but we've just come to feel bad for them.
AVC: What were your reactions to season four, and how Frank's arc with Karl and Gerri progresses?  
PF: We didn't get our scripts way before. We'd get them the night before reading either live or on Zoom. We'd read it all out, crackle, and sometimes go, "Wow" or "I don't know." Two days later, we got another version of it. The writers really listen to those first readings and are ruthless in making edits. It was beautiful. There haven't been many of my dialogues, but other people's words would keep blowing my mind. They make these characters go to the nastiest part of themselves all the time.
AVC: What was it like to be in the church and film Logan's funeral in the most recent episode? I liked that small exchange between Frank and Roman where you ask him, "Are you okay, son?"
PF: Yeah, it was nice. That was all scripted. To film the episode, there were so many people involved. I just kept thinking, "How are they going to keep this a secret?" There are thousands of people here. But somehow, they did. It was all done in so many pieces. I was just caught up in the drift of the actual scenes.
AVC: Was it similar to filming episode three, "Connor's Wedding," and being on the set of that plane where Logan dies?
PF: It totally was. That was a masterful episode. Dave Rasche, who plays Karl, and I and the others were sequestered in the back. Matthew Macfayden was on the phone from England quite a bit. The yacht stuff was done first. We weren't at the party. We were on the plane. So we were kept in the back room behind curtains. I'm with a tech person and a phone person because we were going to do all the phone calls live that day. We shot the fuselage stuff in the studio; it's the one across from the Museum of the Moving Image in Queens. It was a tight area. There were moments I had to walk over a body to get to the pilot. It was something. They also brought in decoys like Larry Pine, who plays Sandy Furness, just to put him on the call sheet and photograph him on the ground in a costume. It was to lead whoever was there or gets a whiff of anything off the scent. It was a hushed, intense, and quiet day. And, of course, Matthew was handling most of it [when he was there].
AVC: There's a standout Frank moment in that episode when he's talking to Kendall on the phone and says the pilot can't come to talk to him. It comes from a place of genuine care. Do you think Frank does feel some paternal affection for Ken? Was that a character motivation for Frank?
PF: Yeah, I think he does. He's watched him since he was a baby and has seen him go awry. He's naturally worried about Kendall, while he's frustrated by Roman because of whatever their L.A. adventure was. But he does seem to feel for Ken, which is a motivation.
AVC: So it's safe to say if Frank was rooting for any of the Roys, it would be Kendall. Were you, as Peter, rooting for anyone?
PF: Wow. [Pauses] So, I liked when Frank told Kendall, "Do you really want back in?" It says a lot. I personally want these guys to be human. That's what I'd like to see. This place is no good for them.
AVC: Do you feel like Succession is an easy show to let go of since you've been a part of it from the beginning?
PF: Oh, yes. Yes. It's because it's been brought to a conclusion. I'm okay with that. I mean, I've got a million questions about my guy that I've still not got answers to, but the hard part is knowing that it's going to be a while before I see such all-over excellence again in a working situation.
AVC: What were some of those questions you had about Frank? Was it tough to get into character when you didn't know as much about him?
PF: Exactly. I'm one of those guys who loves to research. For me, it's the most fun, even as much as acting. You go into worlds you never knew. As a not very gregarious person, it forces me to ask questions and meet people I didn't know before. I loved that. I've taken trips to immerse myself in culture and dialect for a role. It helps you in a way you can't describe. You feel a teeny bit more authentic, and then you have to let it go. But with Frank, it was different. I was a CFO, I think, in the pilot for a few minutes. So, of course, I researched on what those duties entail and what it's like. And then, boom. He's not the CFO. He's fired. From then on, I didn't know what I was. Sometimes I hear Frank is the Vice Chairman of the Board or something. I don't know. I think for everyone, including him, it was about keeping enemies close or friends who are not trustworthy close.
AVC: Frank, Karl, and Gerri have been around since the beginning. Frank usually takes it all in when he's not the center of the story. What was it like to observe everything happening around him?
PF: When you mentioned that, right now, the one thing I think of is the editing. I'm not represented by lines, so it's easy to disappear in the background. People tend to approach me on the street about Frank and are friendly, but it confuses me because I only have one or two lines in an episode sometimes. But the editors treat the episode like a novel, and non-verbal reactive shots of you are added in. It keeps your character alive. I give them the credit for building the character the way it has. I also think there's merely enjoyment to watching everything, like watching Brian explode, but it's real. There's the acting explosion and the real explosion. It's something to see when he can channel the real one for the scene.
AVC: There's a scene in season four episode five of Frank and Karl sitting outside the sauna while the others are baking in the tiny room inside. It went viral on Twitter, and people were rooting for both of them to be free of Waystar Royco.
PF: [Laughs] That was our goal. The original concept was that there's a hot tub on that deck three feet over from where we're sitting. The idea was to have us in there, but it didn't happen. So there we were in our robes. It was a lovely evening. The people inside are crammed in and sweating because of the lights. Dave and I got off easy.
AVC: You both have lovely comedic chemistry. Was it fun to develop that over four seasons?
PF: We've been friends for a long time. He's the funny one; I'm certainly the straight man. He's a great storyteller and likes to do that. I'm not quite as affable. But he's a delight, and it just works.
AVC: You're also in the final season of The Marvelous Mrs. Maisel, which ends on May 26, playing a character with not villainous, but definitely negative, energy. What was that like? Were you a fan of the show?
PF: I hadn't seen all of it, just part of it. But the creators offered it to me. The role [George Toledano, producer for a late night talk show] seemed like a lovely departure for me as an actor. It was timed perfectly so I would exit filming right when Succession started. Mrs. Maisel started shooting in February and Succession in June of last year, so it worked out great, and I could be in six of the Mrs. Maisel episodes. I wish I could be in more, but I was glad to do it. The first time I was on set, [series creator] Amy Sherman-Palladino had to cajole me to get bigger and do bigger. I was still doing more subdued, realistic stuff. Amy had to remind me, "This guy is a character. He's a show-off." Everybody there, just like with Succession, were all lovely, sweet people. It was so much fun. It was a party.
AVC: Did you have any idea both shows' final seasons would air at the same time, and that the series finales would be one day apart?  
PF: Isn't that cool? I didn't know what the schedules would be, but I love the one-two punch of it.