Even if he never appeared in his famous top hat again, Saul "Slash" Hudson would still be remembered by most music fans as the flamboyant guitarist for sleaze-rock legend Guns N' Roses. Formed while he was a teenager in Hollywood, GN'R released its massive hit debut album, Appetite For Destruction, in 1987, then spent the next decade playing in stadiums and inciting riots, until a power struggle between singer Axl Rose and the other members tore the original lineup apart.
In the years that followed, Slash worked on a slew of middling projects before joining Velvet Revolver, a strutting hard-rock supergroup that includes two fellow GN'R refuges, as well as former Stone Temple Pilots singer Scott Weiland. But Slash's past has always followed closely behind him, and last year, while he was working on Velvet Revolver's ambitious new Libertad, the Internet was abuzz about a supposed reconciliation with Rose. Just before heading out on tour, Slash spoke to The A.V. Club about that nagging rumor, life on the road as a father, and why standing in GN'R's shadow isn't always such a bad thing.
The A.V. Club: After Velvet Revolver released Contraband in 2004, you guys spent the next two years playing shows. This month, you're going to start a tour for Libertad that will last, more or less, a year and a half. Is that daunting?
Slash: No, not really. I've been on the road for so long that it's a part of my being. Even after all these years, I love playing. I love recording. I love writing. I love rehearsing. I love touring. I love all that stuff. That has not changed one iota with me. But the hard part is trying to couple that with domesticity. I am married and I have two kids now, and I love them all to death. So I am trying to put all that together and maintain the same pace I've been keeping. But really, I relish what we do. A year and a half sounds like a cakewalk to me.
AVC: Do your wife and kids travel on the bus with you now?
S: Yeah. This particular tour, they're going to come out and hang out with me for three weeks. But then the kids go to school, so they'll pop in every two weeks, or I will come back home for a couple days. It's just one of those things. When I was a kid, a lot of my parents' friends were in the music business. In the late '60s and early '70s—all the way through the '70s, actually—a lot of the bands that were around had kids at a very young age. So they were all working on that concept way early on. And I figured if they can do it, I could do it, too.
G/O Media may get a commission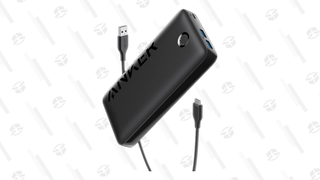 20% Off
Anker 335 Power Bank
AVC: It's often been said that Libertad was a difficult record to make.
S: No, the album was easy to make. It was getting in the studio that was hard. That was difficult for all kinds of reasons. We had just finished touring, and yeah, it was close to a two-year tour. That was our first tour together, and a lot of good came out of that experience, but it was also very tumultuous. There was a lot of band and management turmoil. So after that, we kind of took off in different directions to try and wind down.
At one point, we did get back together and started working over at [drummer] Matt [Sorum]'s house. But it was at his home studio, which is a very controlled environment. That is something I don't like to work in. When it comes to actually writing, I like to write in a full room with the amps blasting, and a big drum set. Then I had a lot of issues going on. I was the one that allegedly "quit and joined my old band." That wasn't true. But it was said so matter-of-factly on the Internet that the guys weren't really sure what I was up to. Then I had some issues at home, and I fell back into the drug thing again. I did that for a few months, but when I came back from [rehab], we all locked up in a real rehearsal room and all started writing. And that was great.
AVC: Drugs and in-fighting are two things fans really mythologize when it comes to rock bands. They seem to think that it lends something to the music they create together. Can you relate to that mindset?
S: I don't know. When I was a kid, I didn't give a shit about any of that stuff. I didn't read the magazine articles. I looked at the pictures, and that was about it. What I did know about my favorite bands and their personal activities didn't interest me. It was always about the music, and the rest of it was just a waste of time. Especially if it was negative. It's like when Metallica put out Some Kind Of Monster. People don't want to know that, man. It's depressing. People want you to produce records. They don't care what it took to make it. When a band is out doing concerts, the fans don't want to know about equipment difficulties. They want their hour-and-a-half release, and that's it. The only difference is that, in the last 10 years, the public has been so affected by reality TV and the Internet. They really dwell on entertainers' misgivings.
AVC: Does Velvet Revolver get reality-television show offers?
S: Actually, it hasn't come up about the group. I know that different members of the band get offered that individually. I know that I do, and I think Scott has. But that's just this insidious thing that comes at you, and you just have to grin and bear it. It's part of what's going on out there these days, but we always turn them down.
AVC: Why are you opposed to the idea?
S: It has just turned into the lowest form of entertainment. It has become the kind of medium where it's taken the human condition and exposed it to the point where there's actually no personality left. It's just all so commonplace now, and there's no privacy and no mystique to anything. It's all just out there and exposed. Like, if you were a kid and you wanted to come out and make a statement now, you'd have to really dig deep to find something that no one has exposed already.
[pagebreak]
AVC: Over the past month, there's been a very blatant surge in Guns N' Roses nostalgia. There was a concert celebrating the 20th anniversary of Appetite For Destruction, and vintage pictures of the band plastered on magazine covers. Do you still feel a connection to that time?
S: Yeah, that's where I come from. When that band started out, I was 18 years old. So that was my reality all the way up until I quit the band. And even then, you know, Guns N' Roses has a nasty way of sticking around. [Laughs.]
AVC: Is there still a literal connection for you to that time? Like, do you still occasionally hang out on the Sunset Strip?
S: No, I was never into hanging out on the Sunset Strip. When it came to Guns N' Roses and the scene that was going on then, that was something we pretty much hated. That was what we had to scratch and claw through, and as soon as we got established enough to leave, we never went back. I don't actually hang out down there. It's not, like, where I go to be seen. [Laughs.] We had something at the Whiskey commemorating the release of our new record, and that was a hell of a lot of fun. But when you're done, you don't necessarily want to be walking down by the Rainbow Room.
AVC: Your friendships with [bassist] Duff [McKagan] and Matt have apparently sustained—you're still playing in a band with them. But how often do you talk to the other guys that were in Guns N' Roses?
S: Well, I had a birthday party recently, and [former GN'R guitarist] Izzy [Stradlin] was there. So I talk to him on a pretty regular basis. You know, whenever he pops up.
AVC: When was the last time you spoke to Axl?
S: The last time I talked to Axl was in 1996. That was the last time we exchanged any sort of words. There was a rumor that I talked to him a while back [and asked to rejoin the band]. I did go to his house one night, and I talked to his assistant about something that had to do with this lawsuit that we were involved in. But it got turned into something else. He went out and made a press release that said I actually spoke to him, which was all bullshit. I was really shocked. Axl is not the type of person to make something up. So I was sort of shocked that he went that direction. That caused me a lot of problems. If that had really happened, I would have talked about it. But it was something that didn't happen, and it was sort of awkward. It almost seemed like it was intended to upset Scott, which I guess he succeeded in, because it did for a second. But we managed to get through all of that.
AVC: Do you understand the rampant curiosity that fans still have about there being another Guns N' Roses record?
S: It's just seems like more of the same to me. It seems like a lot of what was going on when I quit is still going on. There was this really uncertain future with how things were going to go back then, because, at that point, things really ended up in Axl's hands. We had no idea what was going to happen with it. But since then, I haven't really bought into the curiosity of the whole thing.
What does surprise me, though, is the amount of attention this band has garnered 11 years after the original lineup broke up. That's an interesting phenomenon. It was even interesting back in the day. I mean, [we were] this glorified garage band. It was a great band, but it was not the kind of band you expected to become what it has. It has become such a controversial and attention-demanding subject that has lasted all this fucking time, and that's tricky. It would be one thing if there had been a slew of new records that came out over the last 11 years, but that's not really the case. We just talked about one. Or they were talking about one. Now he has been talking about one. But for some reason, the obsession continues.
AVC: Do you still listen to the music you guys created together?
S: I don't physically put Appetite For Destruction in and listen to it, but I hear it on the radio or at sporting events or wherever else it pops up, and it's great. I dig everything about it. When I hear Appetite, it sounds like exactly what it was. It sounds like a record made by an angry bunch of kids. [Laughs.] It's still really good. There are good songs on it, and great fucking lyrics. Then there are some good guitar sounds, and some pretty decent playing. For me, the original Guns N' Roses is the embodiment of a certain kind of chemistry that really couldn't be duplicated.
AVC: Does it bother you that, even as you continue to put out new records with Velvet Revolver, Appetite is still the album that most rock fans measure you by?
S: No, why would it? That's something to be proud of. If you're going to let something like that get to you after you've succeeded to that extent, than you're a miserable motherfucker. [Laughs.]
AVC: True. But it seems like most artists who have that kind of success with a particular era either learn to resent it, or are unable to let it go.
S: Oh, the era itself has nothing to do with anything. We weren't really attached to that at all. I just saw this thing where they had a Poison concert on VH1, and to me, that is being attached to an era. That was their shtick. It was theirs, and I'll give them that. But it really seemed like they were in a bubble for all those years. That's cool for them. But if I was still trying to be in Guns N' Roses while I wasn't in the band… I wouldn't want to maintain an image like that.
I mean, the thing about Guns N' Roses was that it wasn't trying to attach itself to the '80s, or anything that had to do with the '80s. It's just who we were at that time. We were doing what we wanted to do. That had really nothing to do with anything around us, except for the simple fact that we were rebelling against that stuff. That's how much we disliked it. Even into the early '90s, it was still based on the same ideal, which was doing our thing. To us, there wasn't really a time period that signified what that band was about.