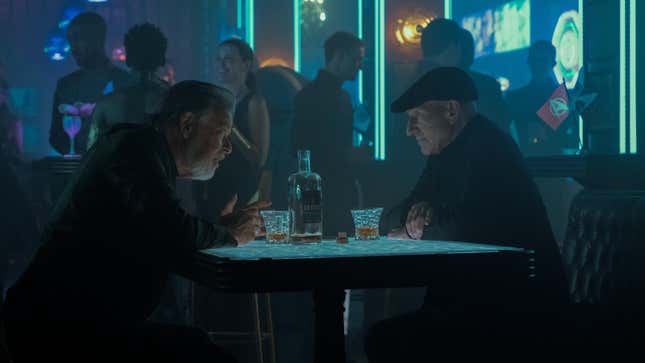 Among the upper echelons of sci-fi television, is there a series as beloved as Star Trek: The Next Generation? Maybe. But the classic franchise is on a pretty short list. Some 35 years after the premiere of that show, audiences are apparently no less thirsty for Picard, Riker, and the rest of the Enterprise-D crew, as seen in Paramount Plus' ambitious legacy series Star Trek: Picard, which reunites those heroes for a third and final season. Though early episodes may struggle to shake the writing and tonal tendencies that bogged the first two batches, Picard season three is, without question, the show's strongest yet, recapturing a bit of that magic of The Next Generation and nicely utilizing its talented cast.
This time around, the show follows Picard (Patrick Stewart) and Riker (Jonathan Frakes) on a mission to rescue an old friend after receiving a distress call from Beverly Crusher (Gates McFadden). It quickly becomes clear Crusher's call for help is just a single piece of a larger, more sinister puzzle, and soon Picard is scrambling to reunite his old crew and align with new allies to escape the sights of mysterious new villain Vadic (Amanda Plummer).
In the beginning, Star Trek: Picard struggled with bringing the warm tones and characters of The Next Generation into the icy, harsher landscape of the modern Kurtzman-led Trek shows. This led to something of a clash, with Jean-Luc feeling like a fish out of water in his own series. For this last season, though, Picard veers away from the ensemble cast of new players from the first two seasons, opting instead to recenter its focus around uniting the crew of the Enterprise-D. It's the best move the show could've made. By acknowledging and taking advantage of the strengths of the Next Generation cast, Picard blossoms, finally finding its stride.

Here, the plot-heavy and cynical storytelling feel (ironically) much more in the vein of The Next Generation. Episodes five and six, in particular, bear a remarkable resemblance in both structure and pacing to a famed installment of that famed show. And director Dan Liu's ability to morph a modern story to fit a traditional form is indeed admirable. It's bolstered by how Picard's third season uses sound effects, display graphics, and music queues from the Next Generation, further embracing the idea that many fans are tuning in to catch up with characters they remember fondly from childhood.

That's not to say that Star Trek: Picard is fan service or simply cashing in on nostalgia. If anything, the series continues to make the kind of bold, unorthodox choices for Picard & Co. that have caused frequent uproar among certain sects of devotees. But those same shocking, at times nihilistic moments are made personal and introspective by the acting chops of Stewart, Frakes, and the rest.

It's difficult to pick a standout among a returning cast, who effortlessly seem to slide back into their roles, but Michael Dorn's Worf is a particular scene stealer. His frank, no-nonsense attitude provides many of the season's most memorable laughs. And it's also a delight to see LeVar Burton's Geordi La Forge, an underutilized presence on The Next Generation who gets time to show off both his dramatic and comedic chops.

At the center of it all, though, of course, is Patrick Stewart's Picard, a character who (as previously mentioned) frustratingly lacked compelling relationships in the show's early seasons. But with Jonathan Frakes' Riker nearly constantly at his side, he shines. Though all the returning players from TNG are in distinctly different places from where we last left them 30-plus years ago, the dynamic that might benefit the most from attention in Picard season three is that of Beverly Crusher and Jean-Luc Picard. Crusher still doesn't get quite the meaty dialogue and storylines she's worthy of, but her increased significance here is a gratifying development.
Delving into the specifics of that relationships would be heading into spoiler territory, but rest assured that Picard has no qualms about drastically shifting the narrative with characters you thought you knew. (In this regard, we were particularly taken with the aforementioned fifth episode, "Imposter.")

Still, despite this being far and away the show's strongest season, Picard's final bow does have its flaws. Newcomer Ed Speeler's mystery character feels burdensome and repetitive when there are so many familiar faces we'd rather be catching up with, and Plummer hams it up as baddie Vadic. One new character who manages to deliver, however, is Todd Stashwick's Liam Shaw, whose initially prickly exterior gives way to the kind of recurring Starfleet officer TNG often hosted.

Though it's axed most ties to the ensemble from seasons one and two (Agnes, Cristobal, and the like are nowhere to be found), the presence of Raffi remains. And while she's absolutely paired up with the right TNG vet, her character still feels a bit out of place among the larger ensemble. What's more, the clunkiness of the dialogue is an occasional holdover from previous seasons, especially in the early outings.

More than anything, though, it's Star Trek: Picard's decision to finally embrace the audience's affection for The Next Generation that helps it soar. From the use of archival clips of that show to music queues, callback characters, and visual references, this is a Picard that at long last lets itself savor the legacy of being a Star Trek series.

---
Star Trek: Picard season three premieres February 16 on Paramount+.