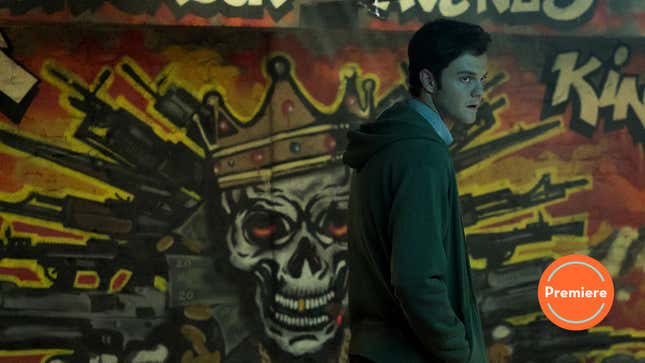 This post discusses plot points of The Boys episode "The Big Ride."
Started in 2005, during the first Bush administration, the Garth Ennis-penned comics that serve as the source material for Amazon Studios' adaptation of The Boys were defined by skepticism and distrust. Corporate, military, and bureaucratic interests were increasingly merging together to entertain, distract, and subdue us, and they were using superheroes, "brands made real, brands personified," to do so, Ennis told Uproxx. Eric Kripke's first season of The Boys explored the corruption festering under American-flag capes with sneering style and anarchic anger, and the second season pushes that dynamic combination further by introducing an array of new villains. A new member of the Seven, new capitalist overlords, and new religious swindlers embody as much of our current time as Ennis's original comics represented the immediate-post-9/11 era, and premiere "The Big Ride" reorganizes our familiar players and their shifting alliances.

In the season-one finale, "You Found Me," the arcs of Homelander (an exceptionally unsettling Antony Starr), the leader of the Seven, and Billy Butcher (a gloriously unhinged Karl Urban), a former CIA operative turned vigilante, collide. Butcher had thought for years that Homelander had raped and killed his wife, Becca (Shantel VanSanten), which caused his vendetta against all superheroes (or "supes") and the Seven in particular, heroes with whom the rest of the world is obsessed. Homelander had been told by Vought, his employer and the world's most powerful corporation in managing superheroes (and, it is later revealed, producing them through experimentation with the secret substance Compound V), that Becca had a miscarriage. Both were lied to: Becca and Homelander's son are both alive, a secret that Homelander's lover and handler at Vought, vice president Madelyn Stillwell (Elisabeth Shue), had kept to herself for years.

"Are you telling me that this whole thing is based on fucking feelings?" Homelander had laughed at Butcher when learning of his vendetta, and in typical Homelander fashion, his every move is a dick move. He murders Madelyn by burning his laser eyes into her brain, brings Butcher to where Becca and her son are hiding, and gloats in introducing himself to his son. That was the final scene of "You Found Me," and in "The Big Ride," its ramifications are still reverberating outward.
Butcher is still missing, framed by Homelander for Madelyn's murder. TV reenactments of Madelyn begging Butcher for her life sell the cover-up, and a hotline is established for tips about Butcher's whereabouts. Meanwhile, his teammates hide out among a Haitian gang, unsure when—or if—Butcher will come back. What now? Weapons dealer Frenchie (Tomer Capon) keeps trying to get Kimiko (Karen Fukuhara), the supe they saved from Compound V experiments, to speak. Ops guy Mother's Milk/M.M. (Laz Alonso) busies himself fixing up injured gang members. And Hughie (Jack Quaid), so much younger and so much more innocent with the rest of the group, drawn into their orbit after Seven member A-Train (Jessie Usher) killed his girlfriend by running through her, spends his days in a funk. He barely sleeps. He listens to a lot of Billy Joel. And he sneaks out to meet Annie (Erin Moriarty), the girl he dated before realizing she was a supe named Starlight, the most recent member of the Seven.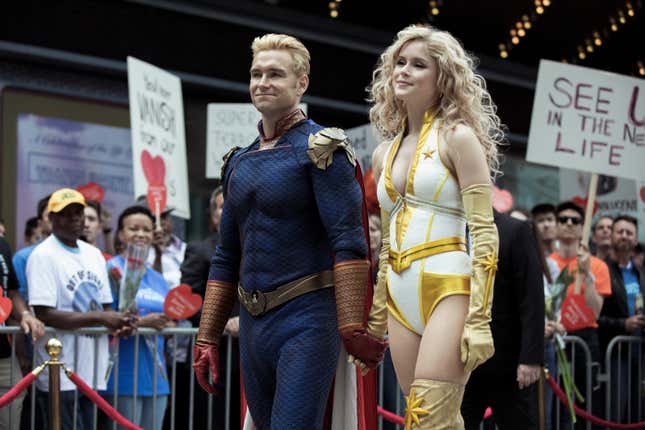 In Butcher's absence, Hughie is desperate to prove himself, and to step up as a leader—a Harry Potter, or as Frenchie says in his inimitable accent, perhaps a Katniss. And to be fair, the plan he and Annie come up with to steal a sample of Compound V and leak it to the news media (to show that Vought is genetically modifying children into becoming superheroes they then control) is a good one. All Annie, increasingly disillusioned with her Taylor Swift-as-superhero cosplay, needs to do is blackmail Gecko (David Thompson), another supe from her "Capes for Christ days," who is basically prostituting himself out to an S&M audience. (That scene is extremely fucked up and yet also feels entirely believable in this world, which is a real demonstration of the tonal swings The Boys nails so well.) With Gecko agreeing to get Annie a sample of Compound V, she and Hughie feel like they're finally one step ahead of Vought—and one step closer to revealing the truth.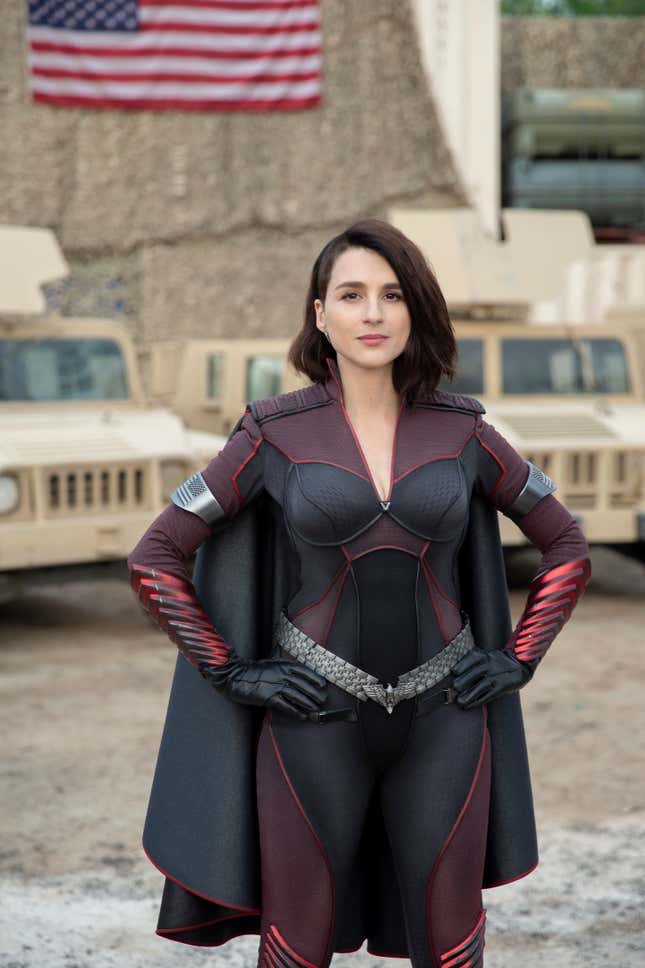 Ah, to be that young! To be that innocent! Because what Hughie and Annie are unaware of is how many others, with far more power and influence, have their own motivations regarding Compound V. Homelander think he's secured a win for the Seven by getting them into the U.S. military, and strong arms former publicist Ashley (Colby Minifie) into being his mole in Vought's executive branch. (Starr's Batman-like growl of "Ashley, look at me," reminded me so much of Glenn Howerton; both actors are phenomenal at switching between casual smugness and blistering rage.) He believes his reign at the top of the Seven is untouchable—until new member Stormfront (Aya Cash) waltzes into the picture, live-streaming her way through her first official appearance and negging Homelander and Queen Maeve (Dominique McElligott) in the process. When Homefront goes to Vought CEO Stan Edgar (Giancarlo Esposito) to complain about Stormfront and try to gain some leverage, he's shook by how easily Edgar swats him aside like he's nothing. To everyone else, Homelander is America's supe Jesus; to Edgar, he's a nuisance, and a replaceable one. Vought is a pharmaceutical company, Edgar informs him, and supes are a byproduct—not the end goal. (Is threatening Homelander the right way to go? I would think not, but you don't cast Esposito in a role post-Breaking Bad that doesn't utilize his "Fuck off, I own you" energy.)
And Homelander, Edgar, and Vought overall aren't the only shady actors running around, including the supe terrorist who dropped a boat, killing some of the human traffickers with whom Frenchie was unknowingly working, and who possibly left behind that piece of origami that Kumiko recognizes. And the Church of the Collective, represented by Carol (Jessica Hecht), who seems very much like a cult leader intent on recruiting former Seven member and Annie's sexual abuser, the Deep (Chase Crawford).
With so many potential enemies, the Boys need a leader—and in through the door saunters Billy Butcher, back at last. "He's too much of an asshole to die," the crew had agreed, and they were right. "Daddy's home," Butcher smirks, but is he enough?
---
Stray observations
Hello! I'll be reviewing The Boys for you every week. Garth Ennis's Preacher is my favorite comic but I could never get onboard with the TV show; on the flip side, The Boys in comic book form eventually turned me off, while the show has kept me intrigued. As long as I deactivate the part of my brain that says, "Isn't this show being on Amazon an inherently hypocritical endeavor, given the nature of Ennis's frustration with mega-corporations?", everything will be fine!
Programming note for you: Recaps for episodes two and three will post at 12 and 1 p.m. CST, respectively, on Saturday, Sept. 5, because Amazon has embargoed certain plot points until then.
I suppose that Amazon budget, though, allows for flexes like starting your episode with the Rolling Stones' "Sympathy For The Devil."
Great sight gag this episode: Black Noir (Nathan Mitchell) using the stuffed bunny to taunt? or maybe play with? the kid in the terrorist safe house.
The Lava Falls the Deep was drinking looked tasty, and made me want to rewatch Zodiac.
A-Train update: Still in a coma!
Quick! Can you name one Ansel Elgort movie and one Alden Ehrenreich movie? Could Annie?
"Pressure" by Billy Joel, which played during the montage of Annie and Huey getting ready to meet, is actually a bop!
The Boys is not at all the type of show that gets nominated for, let alone wins, Emmy Awards, but Starr's clipped, dismissive delivery of "Nope. It's saving America. It's Americans that are gonna keep us in the fucking Army, not the fucking world" during that Vought focus group to discuss "super terrorists" vs. "super villains" is better than, say, anything Jason Bateman has ever done on Ozark. Do not at me!
Mother's Milk always has the best outfits (especially for a guy hiding out in a basement), and his Black Panthers' Peoples' Free Food Program is particularly good.
Are you a Fresca person or a La Croix person? Which product placement this episode spoke most to you?
"An extra grand, I'll let you chop off my dick"—dear reader, I screamed!
Congresswoman Victoria Neuman (Claudia Doumit) is definitely this show's stand-in for Alexandria Ocasio-Cortez, but hey, it can't be worse than how Space Force did it.
"Ethnic, or female, or fingers crossed, ethnic female!" Ashley is a white feminist, guys!
Stormfront is from Portland. Note that.
Homelander warming up Madelyn's frozen breast milk with his laser eyes, tonguing it, and then chugging it. Do not note that, please forget that, goddamn.