For all The Muppet Show's capacity to delight and amuse, the series also has the ability to unsettle. We'll explore deliberately "scary" episodes of the show when Vincent Price and Uncle Deadly pay their visits to The Muppet Theater in coming weeks, but the Peter Ustinov episode of the series holds a special place in the dank, cobweb-infested corners of my memory thanks to the mid-show musical number, "You Do Something To Me." The segment isn't scary on its surface, but it does insert a quasi-sinister and freaky thread into the otherwise safe and familiar environs of The Muppet Show. For reference, check out the clip below, the YouTube comments for which are remarkably lacking for recollections of viewers who, upon first seeing that innocent pink monster take on the vampiric features of Svengali, bolted from their grandparent's living room in youthful terror.
See, not scary in the slightest, right? Yet, just thinking of the way Svengali skulks into the frame, the creepily realized drawing-room set, or the way puppeteer Eren Ozker awkwardly lowers the monster's voice to a Natasha Fatale croak gives me shivers. (It doesn't help that Ozker's character appears to be quite tortured by what's happening to her.) And, as such, I purposely avoided the segment for a good 15 years because the memory of it was so traumatic. Not traumatic enough to keep me away from The Muppet Show or any other Jim Henson production, but enough to cause a good deal of heart-palpitating trepidation when the first-season DVD set was released in 2005. I was 20 years old, and I could barely bring myself to watch a goofy comedy sketch starring two pieces of sculpted foam. The following excerpt from an essay by The A.V. Club's own Sean O'Neal (about his own personal pop-culture boogeyman, the Too Close For Comfort episode "A Portrait Of Henry") does a great job of explaining why (though, in terms of The Muppet Show and "You Do Something To Me," there's no cheap story, but rather a solid gag and some fantastic effects work from the show's crew):
"As children, our ideas about the world are pretty limited, so seeing something—like, say, a talking painting—that pulls the blanky out from under our understanding of the way things work is all the more likely to have a lasting effect, even more so when it's removed from all contextual comprehension of a story […] To make matters worse, our memories tend to fragment as we get older, our internal highlight reels removing everything but those scary images and the feeling of imminent danger–emotions that long outlive whatever cheap story they were featured in and take on a life of their own."
Yet despite the weird psychological baggage it introduced, I prefer to view "You Do Something To Me" as testament to the multi-faceted nature of The Muppet Show. It's likely Henson and company weren't looking to disturb children born nearly a decade after The Muppet Show debuted, but that their show had the power to do so demonstrates that it's more than just "kid's stuff." That's a distinction displayed throughout both of the episodes reviewed this week, as well as much of Henson's post-Muppet Show output. (I have some similarly traumatic memories relating to The Dark Crystal whose origins I'm unable to place. But who wouldn't be scared of the Skeksis?) After all, what's a little childhood trauma in exchange for a fun, inventive series that holds up to adult eyes and adult sensibilities?
Episode 112: Peter Ustinov
"With our special guest star": Kermit introduces Peter Ustinov by rattling off his guest's many, many qualifications to headline a TV variety show: "He is a man for all seasons: An actor, a director, a writer—plus being a great raconteur. That's French for tennis player, I think." Ustinov's CV would only grow more crowded in the years between his Muppet Show appearance and his death, and his work here speaks to his diverse skill set and wide-ranging interests. (Not for nothing is he later seen talking to the show's "writer," a hatrack who Ustinov notes is "a man of many talent" as he "wears more than one hat.") Of course, the skill he uses most frequently on The Muppet Show is that of imitation, as the UNICEF Goodwill Ambassador runs through a number of international accents in his scenes with The Muppets. That Ustinov was also an ardent proponent of the United Nations adds an intriguing layer of subtext to the "Robot Politician" sketch, where he plays a one-man UN at the command of Bunsen Honeydew.
G/O Media may get a commission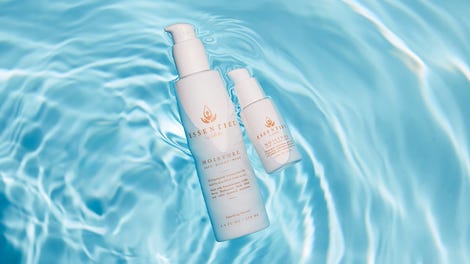 20% off
Essentiel by Adele
"The most sensational, inspirational, celebrational": Ustinov would later say of his experience on the show (and in his tremendous cameo appearance in The Great Muppet Caper), "There's an old theatrical saying: 'Never work with children or animals.' I would add puppets to that list because they always steal the limelight." I can only assume this is a bit of cheek from Ustinov, as the two major highlights of this episode—"Robot Politician" and the lecture by the guest and Fozzie Bear as Drs. Arnold Nood and Frederick Nik, respectively—put The Muppets in support roles. Ustinov carries the Nood and Nik scene as the bear feeds him the straight-man setup, and the two make for a hell of a Carl Reiner-Mel Brooks-style comedy duo. Lest the scruffy, "amateur" charm of The Muppet Show be lost to the sketch's polished execution, Frank Oz gives Fozzie's portion of the act a palpable over-eagerness. If there's any upstaging happening here, it's in Ustinov's partner stepping on his lines and listening to his affected Brooklynese with rapt, mouth-agape attention.
"It's like a kind of torture to have to watch the show": This episode goes up there with Episodes 105 and 108 in terms of early Muppet Show classics, so there's not much to dislike. The recurring segments are starting to look worse for the wear, though, with Panel Discussion dragging in particular.
"It's time to play the music": Two episodes after Robin debuted his signature song on the stage of The Muppet Theater, Kermit gets his turn by giving "Bein' Green" its première spin on The Muppet Show. He brings it with him from Sesame Street, where the song was first performed 1970. This marks "Bein' Green" as a ringer in the lineup (before the time of The Muppet Show's first season, Frank Sinatra, Van Morrison, Diana Ross, and Ray Charles all turned in covers of the track—the last of them duetting with Kermit in a 1975 episode of The Cher Show), but it's introduced organically to the episode as the conclusion to a runner involving various characters transposing their love and loyalty to Kermit onto Ustinov. Both that original performance and the Charles duet are more definitive than the version of "Bein' Green" done here (there's a Burt Bacharach-esque schmaltziness to the arrangement that undercuts Joe Raposo's bittersweet melody), but it is beautifully staged, as Kermit moves through an appropriately emerald-tinted landscape.
"It's time to raise the curtain": My personal issues with the segment aside, "You Do Something To Me" is remarkable for how much of an undertaking it must've been. The pink monster goes through 10 permutations of seven puppet bodies, each transformation requiring a flash of pyrotechnics and a stop trick from the camera. Maybe that's part of the scene's disturbing quality—the effects are abrupt, and the stop tricks give a jarring, herky-jerky rhythm to the proceedings. (Or maybe I'm just trying to rationalize a very irrational scare I received some 20-plus years ago.)
"It's time to meet The Muppets": Statler and Waldorf don't need a backstory, but their relationship gains some color in this episode. The old coots in the booth reserve as much contempt for one another as they each do for Fozzie, and Statler heaps abuse on Waldorf throughout Episode 112. First, he convinces his mustachioed friend that their mutual acquaintance is dead; later, Statler stomps on Waldorf's missing contact lens. Maybe Statler is holding back resentment stemming from Waldorf marrying his twin sister.
"It all ends in one of two ways": The early part of the show bats two for two in terms of Henson endings, with the conductor of "Evening At The Pops" losing his head (to which Henson surrogate Kermit replies "Good ending") and Ustinov's explosive exit from "Robot Politician." And, naturally, to add one final unsettling note to "You Do Something To Me," the Svengali-monster blows up her tormentor at the end of the song.
Episode 113: Bruce Forsyth
"With our special guest star": This week's guest stars share common ties: Both would be more familiar to viewers of The Muppet Show in the U.K.; both were eventually knighted; both had connections to Angela Lansbury (Ustinov through marriage and Bruce Forsyth through a costarring role in Bedknobs And Broomsticks). Forsyth's a bit more of a television man than Ustinov, though, and the presentational charms that have served him all the way to his current gig hosting the British inspiration for Dancing With The Stars, Strictly Come Dancing. He's an old-school song-and-dance man for the boob-tube age, and while his time at the piano during "Let There Be Love" just made me anxious for Dudley Moore's fourth-season episode, Forsyth appearance is notable host for a pair of reasons:
When Piggy socks him during the Talk Spot, he dares to hit her back, and
His interactions with The Gawky Birds in "All I Need Is The Girl" get kind of racy.
Leave it to a British television presenter to bring some sauciness to The Muppet Show.
"The most sensational, inspirational, celebrational": Veterinarian's Hospital is a fondly remembered Muppet Show sketch, but the early versions of it we've seen so far tear through multiple jokes before the first one has time to land. This episode's edition, however, is considerably streamlined, with pared-down dialogue and a much simpler running gag: Each time the duck says "duck", the doctors hide under the operating table. The sketch deserves further notice for proving that old Chekhovian saw that if someone talks to a duck at the top of the show (as Kermit does backstage), that duck better go "quack" in the-second-to-last segment.
"It's like a kind of torture to have to watch the show": There's another old saying that comedy should avoid negotiation at all costs, and Forsyth's time in the Talk Spot proves that notion, as his haggling with Kermit over the price of leasing a duck deflates the absurdity of the terms of their negotiations.
"It's time to play the music": Echoing the provocative edge of Forsyth's number with The Gawky Birds, the Gogolala Jubilee Jugband's performance of "I'm My Own Grandpa" is weirdly suggestive because… the characters are rural folk, and if there wasn't already an air of incestuousness to "I'm My Own Grandpa," giving the number to Jim Henson's Deliverance Babies certainly drives it home.
"It's time to raise the curtain": Between The Gawky Birds and The Snerfs' dance to "In A Little Spanish Town," the puppeteers spent a lot of time disguising themselves against black velvet backgrounds in this episode. "In A Little Spanish Town" was previously staged for a 1974 special starring Herb Alpert And The Tijuana Brass, which would've given the puppeteers lots of practice at the simple trick of establishing individual character identities in a silent scene starring identical creatures. They just had to make sure each member of the ensemble dances differently, but it's still astounding what the Muppet performers could convey through simple movement. It's like ballet, but, you know, with puppets and cheesy instrumentals.
"It's time to meet The Muppets": That Alpert special is frequently cited as Miss Piggy's first onscreen performance; Muppet Central links ("What kind of links?" "Sausage links!" "Oh hohohohohoho") that appearance to Piggy's "Let There Be Love" duet with Forsythe, declaring the latter performance the character's first non-U.K. Spot showcase on The Muppet Show. She begged for a big number in the Lena Horne episode, but here she breaks from the chorus to steal the limelight with which Ustinov was so cheekily concerned. The character's ascendance to the top of the cast—eventually overshadowing Kermit, even—starts here.
"It all ends in one of two ways": None, though I guess we can Piggy has started "blowing up."
Next week: Sandy Duncan dances with monsters (while Fozzie introduces Kermit to "The Banana Sketch") and Candice Bergen teaches The Hillbilly Singer a lesson in women's lib.