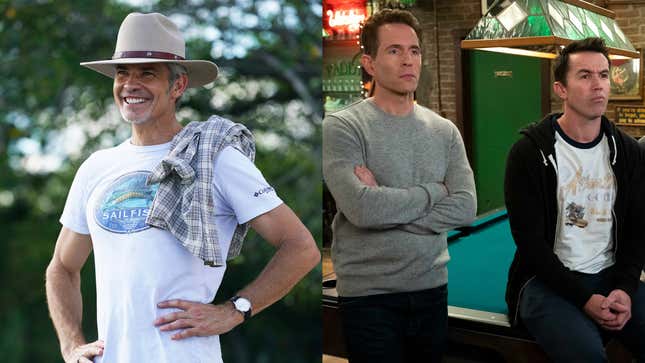 Welcome to What's On, our weekly picks of must-watch shows. Here's what you need to watch from Sunday, July 16, to Thursday, July 20. All times are Eastern. [Note: The weekend edition of What's On drops on Fridays.]

"Mythic Quest" star Charlotte Nicdao talks "Dinner Party" and her "Always Sunny" dream
---
The biggies
Justified: City Primeval (FX, Tuesday, 10 p.m.)
It's the Timothy Olyphant month of our dreams. The actor, who stars in Max's recent Full Circle, reprises one of his most notable roles with Justified: City Primeval. Set years after the original series, the sequel follows cowboy hat-wearing Raylan Givens, now co-parenting of a teen daughter, who is drawn back into the criminal world he gets the chance to nab a notorious mobster, Clement Mansel (Boyd Holbrook). While no other members of the original Justified cast return, Olyphant is joined by Aunjanue Ellis, Adelaide Clemens, Marin Ireland, and his real-life daughter, Vivian. Here's an excerpt from The A.V. Club's review:
"The show is an overall engrossing endeavor; an eight-episode season that stands on its own, with obvious potential to continue further—fingers crossed. There's enough to keep audiences old and new on tenterhooks. But City Primeval is primarily a triumph because of its flawless return to a beloved TV character."
---
It's Always Sunny In Philadelphia (FXX, Wednesday, 10 p.m.)
It's Always Sunny In Philadelphia's 16th season, which recently saw cameos from Breaking Bad stars Bryan Cranston and Aaron Paul, wraps up with episode eight. "Dennis Takes A Mental Health Day" follows Dennis (Glenn Howerton) destressing at the beach, but life, of course, has other plans. FXX's comedy has already been renewed for season 17. (Hopefully, Mythic Quest's Charlotte Nicdao appears alongside her co-star, Rob McElhenney).
---
Hidden gems
Goliath (Showtime, Sunday, 10 p.m.)
Showtime's three-part docuseries Goliath digs into the life and career of basketball star Wilt Chamberlain, who broke records and racial barriers, while challenging the unwritten rules for all athletes, especially Black players.
---
Superpowered: The DC Story (Max, Thursday, 3:01 a.m.)
Warner Bros. is churning out yet another hype machine with Superpowered: The DC Story, a three-part docuseries about DC Comics. Funnily enough, Rosario Dawson, star of Marvel's Daredevil and Disney's Ahsoka, narrates the show, which explores the origins of Superman, Batman, and Wonder Woman, as well as the company's struggles and how it modernized itself.
---
More good stuff
The Deepest Breath (Netflix, Wednesday, 3:01 a.m.)
If this year has proven one thing, it's that exploring the ocean is not for the faint-hearted. Enter The Deepest Breath. Co-produced by A24, Laura McGann's documentary tells the story of Alessia Zecchini and Stephen Keenan, two divers united by their love of the sport of freediving. The pair form a powerful connection while chasing their dreams in the darkest depths of the ocean.
---
I Wanna Rock: The '80s Metal Dream (Paramount+, Tuesday, 3:01 a.m.)

I Wanna Rock: The '80s Metal Dream is yet another three-part docuseries dropping this week. It delves into the hair metal scene of the 1980s and focuses on the early years of Skid Row, Winger, Twisted Sister, Vixen, and The Scream.
---
Can't miss recaps
The Righteous Gemstones (HBO, Sunday, 10 p.m.)

Secret Invasion (Disney+, Wednesday, 3:01 a.m.)
And Just Like That... (Max, Thursday, 3:01 a.m.)
What We Do In The Shadows (FX, Thursday, 10 p.m.)
---
Arriving now
The Real Housewives Of New York City (Bravo, Sunday, 9 p.m., season 14 premiere)
Love Island (Peacock and E!, Tuesday, 9 p.m., season five premiere)
Sweet Magnolias (Netflix, Thursday, 3:01 a.m., season three premiere)
---
Ending soon
The Rising (The CW, Monday, 8 p.m., season one finale)
Mayans M.C. (FX, Wednesday, 10 p.m., series finale)
The Walking Dead: Dead City (AMC+, Thursday, 3:01 a.m., season one finale)