In his 2008 article "True Crime: A Postmodern Murder Mystery," The New Yorker's resident chronicler of deadly obsessions, David Grann, recounted the strange case of a Polish writer who became the prime suspect in an unsolved murder after a detective recognized details of the crime in his debut novel. The story was irresistible, all but begging to be made into a movie. But however one might have imagined it being translated to the big screen, it probably didn't involve Jim Carrey in a Letterman retirement beard doing "an accent" as an emotionally stunted cop. Or if it did, one would hope it would have more of a sense of humor about itself than Dark Crimes. The English-language debut of the Greek director Alexandros Avranas, which is as laughably generic as its title, takes substantial liberties to turn the real case into the stuff of off-brand Scandi-noir, complete with a Europudding arthouse cast and dismal lighting that makes it look like the whole thing was shot in the basement of a late-period Jean-Pierre Melville film.
Here, a few words should be said about Carrey's performance: It may be the worst dramatic acting of his career, a charmless cartoon of self-repression. His character, Tadek, has been demoted from the detective force; all evidence in the film suggests that it was with good reason, except that all of the other cop characters seem to have been written with the express purpose of making Tadek's behavior look competent and professional in comparison. (This includes superiors played, bizarrely, by the Finnish actress Kati Outinen, a mainstay of the deadpan films of Aki Kaurismäki, and the Romanian actor Vlad Ivanov, who played the literally by-the-book police captain in Police, Adjective.) Hoping to get his job back, he sets off to solve a cold case, which eventually puts him on the trail of bad-boy novelist Kozlow (Marton Csokas). He's the sort of high-brow provocateur who, when asked in a TV interview whether the misogynistic violence in his novel is supposed to be symbolic, answers, "Maybe. Maybe not." That's about as subtle as this thing gets.
In writing about the real case that inspired the film, Grann—whose nonfiction was also adapted in The Lost City Of Z—focused on its unlikely mix of surreal and banal details. He told of a straight-arrow cop jokingly nicknamed "Jack Sparrow" by his colleagues; of an obscure writer who was elevated to national prominence and the bestseller list by a murder charge; of cops trying their hand at literary theory. Jeremy Brock's script replaces its source material's appealing elements and characterizations with overcomplicated thriller clichés and humorless prurience. Tadek's investigation into Kozlow, a thoroughly unconvincing literary superstar, points to police corruption, an industrial sex club, and the writer's ex-girlfriend (Charlotte Gainsbourg, one of the true masochists of film casting). All the while, he immerses himself in his suspect's work by listening to it on audiobook. Which, despite the filmmakers' intentions, is just as uncinematic as watching someone read.
Csokas' delivery of Kozlow's sophomoric prose and pseudo-philosophizing dialogue suggests that he's in on a joke that's been lost on the rest of the cast and crew. Throughout, Avranas' direction remains leaden and one-note in its attempt to imitate the bleakness of Swedish and Norwegian crime imports in an indifferent Eastern European setting; the sky is always overcast and the characters are all dressed like they're on their way to a funeral. As much of a disaster as it might have been, Tomas Alfredson's adaptation of The Snowman at least had a rubbernecking, train-wreck factor going for it. Dark Crimes, which wishes it were The Snowman, is for the most part just boring.
G/O Media may get a commission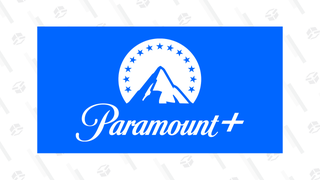 One month free
Paramount+ One-month Free Trial
---
Note: Saban Films is owned by Saban Capital Group, a part owner of Univision Communications, which owns a controlling share of The A.V. Club.