Here's what's up in the world of TV for Monday, October 31. All times are Eastern.
TOP PICK
How I Met Your Mother (CBS, 8 p.m.): Season one's "Slutty Pumpkin" remains one of the show's top episodes for many of the series' fans, and now, after years and years of speculation, the show is revealing that the Slutty Pumpkin is… (spoilers, we guess) Katie Holmes? Actually, it kind of makes sense that Ted would have found her really hot back then but would find her vaguely terrifying now. We can get behind that as a character motivation. Anyway, Holmes will sleepwalk her way through whatever she's handed and slur her lines through a half-opened mouth, and then in "The Slutty Pumpkin Returns Again," the role will be handled by Maggie Gyllenhaal. Actually, can Maggie Gyllenhaal be the mother? We'd like that. Donna Bowman is forgoing her trick or treating to hang out with Holmes and you.
---
REGULAR COVERAGE
Terra Nova (Fox, 8 p.m.): Did you miss the dino-extravaganza when it was gone last week? We're going to guess probably not, but hey, it's back tonight, with Elisabeth and Zoe trying to help an unborn ankylosaurus survive. Well, at least the show's finally using real dinosaurs, and not just making up, like, "BigArmorCoveredSaurus." Rowan Kaiser traveled back to the Cretaceous, and when he discovered a new dinosaur, he named it the Rowanosaurus.
2 Broke Girls (CBS, 8:30 p.m.): Caroline and Max take a cake-decorating cash because they have so much money to just be dicking around with. Anyway, here's hoping that everything they do doesn't end up on CakeWrecks.com, though we have a feeling Max would take that as a weird badge of honor. Actually, if this show was about Max making weird, offputting cakes designed to ward people off, Todd VanDerWerff would like it more. Oh, we're just kidding. He's stupid. He'll like it anyway.
Bored To Death (HBO, 9 p.m.): Tonight's episode features guest spots from Oliver Platt and Olympia Dukakis. What are some other shows that would benefit from Olympia "The Kakis" Dukakis showing up? Clearly, she's make a great color commentator on Sunday Night Football, but we'd also like to see her just fartin' around on Mike & Molly or something. Here's hoping she turns up on Saturday Night Live, The Good Wife, and Happy Endings before the season is over, so David Sims can complete the hat trick.
G/O Media may get a commission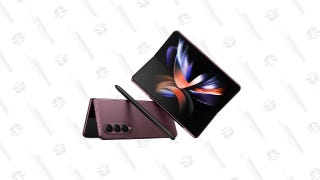 Save Up to $300
Galaxy Z Fold4
House (Fox, 9 p.m.): Tonight's episode description mentions characters named "Adams" and "Park"? Who the fuck are those people? And don't say that we should Google it or that if we watched the show, we'd know that already. We know that! What we're saying is that a show like House should never be allowed to change ever. It should just be Hugh Laurie bitching at Robert Sean Leonard in perpetuity and for the foreseeable future. If only for Zack Handlen's sake.
Enlightened (HBO, 9:30 p.m.): Tonight, in a special Halloween-themed episode, Amy accidentally kills a man through her powers of enlightenment, a murder that she's forced to cover up by chopping the body into tiny pieces, bloodily and somewhat awesomely. (The look of horror in Laura Dern's face as Amy comes unhinged is exquisite.) Then, a bear shows up, and… oh, we're just kidding. Tonight, Amy goes kayaking and looks at flowers. Erik Adams is breathless.
Castle (ABC, 10 p.m.): Castle aired its Halloween episode last week because Nathan Fillion wanted the night off, and he demanded it. Absolutely demanded it. So that means that tonight, Castle and his mother will end up being taken hostage in a bank robbery, which is something that happens on every show at one time or another. Will Castle and his mom survive? Not if Fillion wants Thanksgiving off, too. The crazy s.o.b. Phil Nugent wanted Halloween off, too, but we said, "No!"
---
TV CLUB CLASSIC
Justice League (1 p.m.): Oliver Sava's coverage of this series, arguably the pinnacle of the DC Animated Universe, begins with the show's first episode. Granted, it's one of those shows where the good stuff is in later seasons, but it's not like season one is any slouch, either. Plus, is it just us, or is this the best portrayal of the Martian Manhunter in any medium ever? We'll stop now, because our wife is looking at us all funny for getting our nerd on. (Yes, TV Club has a collective wife.)
---
WHAT ELSE IS ON
Ghost Hunters Halloween Live (SyFy, 7 p.m.): This bullshit is airing for six fucking hours, and we're betting that nobody sees anything spooky in the slightest and that the scariest stuff is just going to be when you look at the clock and realize it's November and you've wasted yet another night of your life. But what if they do see a ghost, though? Yeah, we'd better watch.
The Sing-Off (NBC, 8 p.m.): Look, if you're going to watch a singing competition show—and since you're Americans, you're clearly susceptible to the siren song of amateur performing—why not watch this one? At least most of the people involved are talented, and tonight's episode features a mash-up that somehow transitions "This Is Halloween" into "Werewolves Of London." (A-wooooooo.) Also, Sara Bareilles is actually adorkable. So there you go, America. Your new favorite show.
Rock Center With Brian Williams (NBC, 10 p.m.): NBC's latest gambit to recapture its past glory is… a newsmagazine? Of course it is. Next thing you know, they'll be breaking out the old-fashioned variety show (perhaps hosted by Carol Burnett), a show where a bear is one of the co-stars, or a Western. Anyway, we'll check out the first episode of this one to let you know if it's any different from every other newsmagazine.
Conan (TBS, 11 p.m.): TBS is doubling down on Conan O'Brien, hoping that he can regain some of the audience he lost by moving to cable by bringing him back to his roots in New York City, with a week of shows from the Beacon Theatre. Among the guests will be Jimmy Fallon, who's the guy now occupying his old soundstage, and we won't be happy unless there's bloodsport.
Halloween (AMC, 8 p.m.): Granted, this one probably won't be helped by constant commercial interruption, but, c'mon. If there's one night out of the year that John Carpenter's seminal slasher movie is a must-see, it's this night. Come for Michael Myers getting all stabby; stay for Jamie Lee Curtis doing her level best to find new ways to scream convincingly.
Village Of The Damned/Night Of The Living Dead (TCM, 8 p.m.): If you're looking for scary movies today, TCM's got a fun lineup starting from 7:15 a.m. on, but primetime is where the network really breaks out the creepy stuff, with a classic film about deadly psychic children and one of the contenders for best horror movie ever made in George Romero's zombie epic.
Monday Night Football: Charger at Chiefs (ESPN 8:30 p.m.): We were going to do a whole "speaking of scary movies" riff here, but there's not really anything scary about this matchup. The Chargers are leading the division, while the Chiefs are .500. Really, it's just kind of a boring match-up, if you think about it. Unless you're from San Diego or Kansas City, that is.
---
IN CASE YOU MISSED IT
Homeland (Sunday): We don't say this idly—okay, we say this all the time about virtually every show on TV because we can't be trusted, but we really mean it this time—but Homeland is the best show on TV right now, and if you didn't see Sunday's episode—covered here by Todd VanDerWerff, you're missing a big part of the reason why. There's awesome stuff going on here, and you should check it out.