Wye Oak's sixth album is beautifully dense, while The Deconstruction proves the Eels haven't lost their touch for melancholic pop, and Dr. Octagon swings for the goddamn fences on Moosebumps. These, plus The Weeknd, No Thank You, Kali Uchis, and many more in this week's new releases.
And don't miss our featured review of Cardi B's Invasion Of Privacy, which you can read here.
---
[Merge]
Grade: B
Across 12 radiant tracks, the vague pronoun that lingers so mysteriously in the title of Wye Oak's ambitious new album becomes shorthand for any number of anxieties causing singer Jenn Wasner's inner conflicts. Sometimes, "it" is the random sequence of events that makes up our past and determines our present. Elsewhere, it's the guilt of privilege and success. No matter the case, "it" is some intangibility with dreadful psychological weight, and the album plays on Wasner's inner turmoil by juxtaposing the introspective tumult of its lyrics with music that is as ungraspable as her dread but always remains hopeful and confident. There's the occasional straightforward cut—like "It Was Not Natural," a danceable standout that recalls the bass-driven grooves of Shriek—but more often the duo is exploring unconventional time signatures and fascinatingly inscrutable rhythms. This is Wye Oak drawing as much from the looping, hypnotic compositions of Terry Riley as it is Beach House and Björk, and while some of the headier experiments fail to rise above their inherent monotony, the results are usually singularly beautiful and beautifully dense.
RIYL: Beach House. Terry Riley. Eighth notes getting the beat.
Start here: The title track is an uplifting distillation of everything The Louder I Call has to offer: layers upon layers of perpetually arpeggiating synths sliding in and out of place around a chorus of Jenn Wasners, their off-kilter rhythms and short lifespans making the song's burst of squawking guitar the single foothold in a wall of shimmering sound. [Matt Gerardi]
G/O Media may get a commission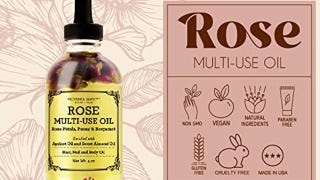 Provence Beauty Rose Multi-Use Oil
---
[Lame-O]
Grade: A-
On "Furrowed Brow," the leadoff track to No Thank You's terrific new album, All It Takes To Ruin It All, the band makes a triumphant statement of purpose as it journeys through the various shades of its' old-school emo sound. Moving from gently strummed guitars matched to Kaytee Della Monica's plainspoken but glass-clear voice, it builds slowly, adding rolling drums and noise until a cathartic distorted release. From there, the band runs through Rainer Maria-esque harmonies and quiet-loud dynamics that hearken back to late-'90s indie guitar swing with admirable brevity. No Thank You finds a hook, a refrain, a soulful perspective, and delivers it all efficiently and without fuss. What pushes the record toward greatness is Della Monica's poetic, no-bullshit lyrics that capture honest emotional truths about loss and tragedy. By the time she's comparing someone to an "Outdoor Cat," those relatable but never clichéd expressions of her heartache and wonderment have helped transform All It Takes into a fantastic and moving document of contemporary mourning, undeniably retro in its stylings but timeless in its appeal.
RIYL: Rainer Maria. Pele. Really, half the bands on Polyvinyl in the '90s.
Start here: "Dash" is nicely evocative of the record as a whole, transitioning from whispy riffs and an angular beat into a full-throated sing-along and distorted cry that's carried along by Della Monica's low-in-the-mix, high-in-the-emotions vocals. [Alex McLevy]
---
[Bulk Recordings]
Grade: B+
In the same month that saw not one, but two half-efforts from underground icon MF DOOM, here comes Kool Keith and Dan The Automator, swinging for the goddamn fences on a new Dr. Octagon record. It's their first collaboration in 22 years, and it handily eclipses 2006's Automator-less Return Of Dr. Octagon. Keith is still rapping in the same hyper-dense blasts of words, and it's still frequently gross as hell: "Master charge hold the condom with the iPod / Brain massage through my prostate, oh my god," he raps on "Operation Zero." Dan The Automator sets these hallucinatory freak-outs in his characteristic blend of woozy sci-fi synthesizers, menacing guitars, and cartoon-adventure whimsy, and DJ Qbert shows up to scratch a hole in the time-space continuum on album centerpiece "Bear Witness IV." That nonsense title may say more than it seems; the trio seems animated by the challenge of making a record like this in 2018, working in its established mold but determined to make the most of it. Moosebumps won't replace anyone's copy of Dr. Octagonecologyst, but it's a worthy addendum to the story.
RIYL: The first Dr. Octagon record. Pretty much everyone else need not apply.
Start here: "Area 54" has got it all: porn samples, lively Automator drums, squawking saxophones, ghosts(?), and lines like "Pull over the starchild, put gas in your ass." [Clayton Purdom]
---
[XO/Republic]
Grade: C
Abel Makkonen Tesfaye, a.k.a. The Weeknd, has a broken heart. In case the title of his new EP, My Dear Melancholy, didn't make that clear, the six songs do: "Call Out My Name" ("You gave me comfort / But falling for you was my mistake"); "Try Me" ("Don't you miss me, babe?"); "Wasted Times" ("Even though you put my life through hell / I can't seem to forget 'bout you"); "I Was Never There" ("What makes a grown man cry? / What makes him wanna take his life?"); "Hurt You" ("And now I know relationships my enemy"); "Privilege" ("And I'ma fuck the pain away, and I know I'll be okay.") True, "Hurt You" also vows "If you call me up / I'm fuckin' you on sight," but on Melancholy, the Starboy wallows in heartbreak. It can be a bit tedious, at least until French producer/DJ Gesaffelstein shows up for "Never There" and "Hurt You," which plays like a two-part song. The sonic palette has more layers, but aside from the klaxon melody that opens the former, they remain pleasingly subtle. Still, anyone looking for bangers will need to wait for The Weeknd's next release.
RIYL: Slow jams about banging for love and banging to get over loving someone.
Start here: "Call Out My Name" is the EP's lead single, but "I Was Never There" is hookier and more textured. [Kyle Ryan]
---
[E Works]
Grade: B
If nothing else, The Deconstruction, Mark Oliver Everett's latest effort as Eels, proves he hasn't lost his touch for melancholic pop. Here E is, once again playing in his eclectic wheelhouse of moody trip-pop, spirited guitar rock, and odd-yet-beautiful ballads. From a bird's eye view, it's all vintage Eels. But E saves The Deconstruction from formula by turning his inner turmoil outward. In Trump's America, he's holding out hope for brighter days now more than ever ("There's poison in the hearts of cheerless men," he rasps wistfully on "Sweet Scorched Earth."). And for once, he's trying to convince someone other than himself that this too shall pass. "I had a premonition that we're gonna get by," he sings on the guitar-strung ballad "Premonition." "You and I have a love that never can die." E's always been good at wading through misery, but on The Deconstruction it's easier than ever to share in his pain.
RIYL: Eels.
Start here: The Deconstruction is full of sad-but-sweet moments, but the infectious pop rock of "Today Is The Day" wears its hope for a better tomorrow colorfully on its sleeve. [Ryan Bray]
---
Grade: B-
[Saddle Creek]
Hop Along's 2015 LP, Painted Shut, was a bold and thrillingly alive record that upended convention as it traversed indie rock, folk, alt-country, and more with brash and unusual structure. If Bark Your Head Off, Dog is a more agreeable and poppy endeavor, it sacrifices some passion in the bargain. There's still experimentation here, with the band incorporating strings, harmonies, and even a verse of whistling ("How You Got Your Limp"), but the songs occasionally lack punch. Still, there are multiple high points to this likable album—opener "How Simple" is a sugary alt-pop confection, while the electronic drum triggers and tambourine in "The Fox In Motion" make for a groovy number reminiscent of Contra-era Vampire Weekend, and rolling rhythms and strings help "What The Writer Meant" amble along with endearing spark. Yet the more accessible and restrained songs—especially with singer Frances Quinlan holding back on the volcanic eruptions that lent such urgency to her previous work—mean there's not as much edge to the music, fewer crunches to the guitars. The lyrics still have bite and darkness, but this is a sweeter and sunnier Hop Along.
RIYL: Pop-laced alt-country. Mellow '70s singer-songwriter rock. Juliana Hatfield.
Start here: "How Simple" captures the group's softened musical direction, in a charming and hummable tune about the difficulties of growing up and apart. [Alex McLevy]
---
---
[Glorious Dead Recordings]
Grade: B
There's pleasure to be had in rap records that are way too long, gradually turning into a sort of ambient mood music, beats crackling on minute after minute, rapper after rapper turning up to show out on the beat. Flatbush Zombies are at their best in this mode. All three members can go in, but their drug-munching, horror-obsessed style hasn't ever really clicked until Vacation In Hell, where they tap into a Soul Food-era Goodie Mob sense of long-playing largesse. There are, sure, a couple dud hooks and some somnambulant moments in the back half, but the record's appeal is its sprawl, a death march of murky, minor-key acid-rap with growling guest spots from Jadakiss, Bun B, and Denzel Curry, among others. It's not exactly a quantum leap from their 2016 debut or earlier mixtapes so much as it is a clarification of their virtues, ditching the crystal-clear electronics of yore for crackling 35mm warmth. Rapper Meechy Darko's napalm-scorched growl has always been central to this appeal, and here he steps out as the trio's sleeper star, a rapper of surprising emotional expressiveness ("Facts") and lyrical depth ("U&I").
RIYL: Old Goodie Mob. Old Joey Bada$$. A less-flashy A$AP Mob.
Start here: The blunt-burner "U&I" takes the OutKast reference extremely literally, with Meechy Darko summoning the ghost of André for the best verse of his career. [Clayton Purdom]
---
[Universal Music Group]
Grade: B+
Harnessing dreamy production, sugary hooks, and a Latin infusion, Kali Uchis reaches her final form with long-awaited debut LP Isolation. After captivating with honeyed vocals and raw emotion on 2015 EP Por Vida, the neo-soul singer spent the next two years crafting Isolation's often dry and unabashedly introspective material. Uchis, who started writing poetry as a homeless teen, impresses from the get-go, mingling her vocals with flute on jazzy intro "Body Language," flexing surf-pop muscle on "Miami," and elevating her Colombian roots with the hip-shaking "Nuestro Planeta." The 24-year-old proves she can truly turn any feeling or experience on its head and into pop fodder with kiss-off "Dead To Me." As she breaks down the triumphs and heartbreaks of real life, she deftly invokes her every musical whim—from 1970s soul to hip-hop beats that wouldn't be out of place on a '90s dance floor—to stunning effect.
RIYL: M.I.A. SZA. Kelela. Erykah Badu.
Start here: Toronto jazz collective BadBadNotGood sets the tone on the percussion-driven single "After The Storm," on which Uchis is also joined by frequent collaborator Tyler The Creator and funk legend Bootsy Collins. [Nina Hernandez]
---
Unknown Mortal Orchestra, Sex & Food
[Jagjaguwar]
Grade: B-
Unknown Mortal Orchestra majordomo Ruban Nielson took a global approach to his band's fourth full-length, Sex & Food: He recorded the album in Seoul, Hanoi, Reykjavik, Mexico City, Auckland, and Portland. Accordingly, the music is a colorful pastiche of eras and approaches, including gooey psychedelic rock with grimy guitars ("Major League Chemicals"), gleaming Steely Dan homages (the falsetto-driven "Hunnybee"), zoned-out stoner-pop sprawls ("Ministry Of Alienation"), and blurry blues-rock ("American Guilt"). Although Sex & Food's heavy-lidded moments can occasionally meander too far afield into somnolence, the record's sharp observations about life, politics, and society are focused. On the poignant "If You're Going To Break Yourself," which seems to address the painful experience of losing a friend group after getting clean, Nielson sings wearily about missing "the secret loser language" and says, "You blocked my number just because I stayed alive."
RIYL: Foxygen. "Casey Kasem's American Top 40" reruns from the '70s. Crate-digging in a dusty record store. Obscure prog. Later-period Radiohead. Steely Dan.
Start here: "Everyone Acts Crazy Nowadays," a cosmic disco number sprinkled with glittery funk and soul accents. [Annie Zaleski]
---
[Mom + Pop]
Grade: B-
If Hinds' 2016 debut, Leave Me Alone, was suffused with easygoing party music, there's a more bracingly direct vibe on follow-up I Don't Run, even as it is more wide-ranging and expansive in structure and style. Sounding like the epitome of appealingly ramshackle K Records-style music, the quartet move from chilled-out canyon rock to spritely bubblegum sing-alongs to almost country-fied riffing, all of it filled out by the swirling harmonies of Carlotta Cosials and Ana Perrote. Tracks like "Echoing My Name" find an almost Cornershop-like groove, pairing it to unadorned and straightforward lyrics ("Sometime I miss having you around") that carry the record through some of the weaker spots. Still, the group is at its best when it speeds up the tempo and delivers pogo-ready head-boppers, like "Tester" with its snare-driven refrain, or the dance-floor rhythms of "Finally Floating" and '70s riffage of "To The Morning Light," which adds a brash exuberance to its throwback sounds. The mess is the message—"If you're looking for mistakes Hinds is your band," Cosials has said—and the invitation to be okay with your own mistakes takes the band's infectious, fuzzed-out music a long way.
RIYL: Poppier Halo Benders. Beat Happening covering The Byrds. A less goofy Vaselines.
Start here: "Tester" starts slow but then lurches into a sunny jangle-rock anthem, showcasing Hinds' songwriting strengths. [Alex McLevy]
---
Saba, Care For Me
[Self-released]
Grade: B+
There's an introspective urgency to Saba's songs, like they're the only thing keeping the 23-year-old from succumbing to the systemic and social madness that surrounds him on Chicago's West Side, and that rawness has only expanded on sophomore effort Care For Me. As on 2016 debut Bucket List Project, Saba sets out to interrogate the madness, while celebrating the lives that manage to thrive despite it. It's not easy on him: With a couple of exceptions (the radiant "Smile" and gospel-rap closer "Heaven All Around Me"), Care is a melancholy affair, where Saba wrestles with social isolation ("Busy," "Fighter"), romantic and systemic dysfunction ("Broken Girls," "Life"), and loss (the devastating "Prom/King"). It's more sonically focused than Bucket List, riding an aqueous neo-soul/jazz palette throughout, while still showcasing Saba's great versatility. On the downside, some of the album's choruses feel like missed opportunities, falling flat ("Girls," "Smile") or retreading familiar territory ("Heaven" calls back to Saba's turn on Chance's superior "Angels").
RIYL: Neo-soul and R&B. Chicago rappers like Noname, Mick Jenkins, and Chance The Rapper (on his darker days).
Start here: Single "Life" has one of Care For Me's best beats, and Saba's scorching performance is indicative of the many furious lyrical breakaways you'll find within. [Kelsey J. Waite]
---
Purchasing via Amazon helps support The A.V. Club.