In 2013, news broke that Channing Tatum and John Milhiser (formerly of Saturday Night Live) were set to star in a gay romantic comedy from director Paul Feig, who was fresh off the massive success of Bridesmaids. The premise sounded endearing enough: A relative average Joey (Milhiser) lands a hunky hottie, played by the former "Sexiest Man Alive" himself, and can't believe his good fortune. In the time-honored tradition of romantic comedies, hijinks ensue.
If you're wondering why you haven't heard of that movie, it's because it never existed: Feig pitched executives the idea of the 21 Jump Street actor playing the lead, and his "pie-in-the-sky" choice trickled its way onto the internet as a genuine casting announcement. Nearly three years later, that film hasn't been made with Tatum, Milhiser, or anyone else. In fact, there hasn't been a gay studio comedy at all since Sacha Baron Cohen released Brüno in 2009, based on the flamboyant Austrian reporter Cohen originated on Da Ali G Show.
Even worse, there's never been a comedy with a queer female lead that's played in more than a thousand theaters. Ever. Thus far, the widest-ever release for a LGBT-themed comedy starring women was Lisa Cholodenko's The Kids Are All Right in 2010, a movie that topped out at just 994 theaters. Kissing Jessica Stein, Jennifer Westfeldt's 2001 rom-com hit about a "straight" woman in a same-sex relationship, hit its ceiling at 319. In contrast, the most recent Adam Sandler vehicle, Pixels, screened at 3,723 locations on its opening weekend. (Speaking of Sandler, it's telling that the highest-grossing gay-themed comedy of the past decade is I Now Pronounce You Chuck And Larry, a film that preaches tolerance while promoting homophobic, unenlightened attitudes about gay men.)
This deficit is underscored by the recent 20th anniversary of The Birdcage, the Mike Nichols-directed film that broke box-office records when it was released in 1996. The movie was a historic smash, earning $120 million in theaters. In today's dollars, that would be the equivalent of a $237 million haul—around what the most recent Star Trek and X-Men movies earned domestically. After The Birdcage opened on March 8, the film held on at number one for four weeks, while earning an additional $61 million overseas.
Its blockbuster success, however, was not unique: The Birdcage was just one of a string of profitable gay-themed comedies well-received by the public. Drag comedies like To Wong Foo, Thanks For Everything, Julie Newmar (which made the equivalent of $72 million back in 1995) and Victor Victoria (the equivalent of $83 million in 1982) also proved sizable hits. In addition, La Cage Aux Folles, the French film from which The Birdcage was adapted, was the most successful foreign film ever (the equivalent of $70 million in 1978) until the release of Crouching Tiger, Hidden Dragon in 2000.
G/O Media may get a commission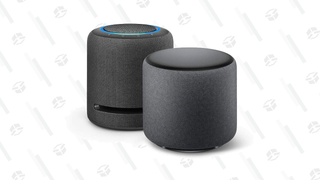 25% off - Prime Exclusive
Echo Studio + Echo Sub Bundle
When The Birdcage debuted, the L.A. Times' Kenneth Turan suggested that there was a reason that gender-bending gay movies proved so successful. He wrote that these films "[demonstrate] that homosexuals, otherwise practically taboo on domestic screen… [are] acceptable to audiences if they were made up to look like the opposite sex." In The Birdcage, Albert (Nathan Lane) is a nightclub diva who works in his partner Armand (Robin Williams)'s club. His drag name is "Starina." Albert spends most of The Birdcage attempting to pass himself off as a Nancy Reagan clone ("Mrs. Coleman" grew up on Fisher Island and believes in a "return to traditional values") at his son's request, to impress the Republican parents of the young man's girlfriend.
The following year, Kevin Kline starred in the decidedly non-drag In & Out. Kline plays Howard Brackett, a schoolteacher who is outed by a former student. His one-time pupil wins an Academy Award for playing a gay character (à la Tom Hanks in Philadelphia) and thanks Brackett in the speech for teaching him to be tolerant of others. There's one problem: Howard is engaged to be married to Peggy (Joan Cusack) and he's straight—or at least he thinks he is? His friends point out that he does own a lot of Barbra Streisand records. In & Out, which received acting nods at the Oscars and Golden Globes, made the equivalent of $121 million in 1997.
What made the reluctant coming-out film successful was not the presence of makeup and heels, but its universal themes of acceptance—of others or yourself. Most of Howard's friends know that he's gay before he does and don't care, but it takes Howard a while to catch up. His fianceé has objections to his realization, of course, but her major complaint is that he waits until their wedding day to figure himself out. Who wouldn't be upset? But it's worth it to see hysterical Joan Cusack yell to a crowd of wedding guests "Does anybody here know how many times I've had to watch Funny Lady?" before laying into her formerly betrothed.
In an essay on The Birdcage, Decider's Tyler Coates argued that Nichols' film is likewise a meditation on tolerance and "the need for acceptance":
What The Birdcage does display perfectly, and not quite like any other movie before or after it, is the burden of performing normativity. I'm quite sure that most queer people have felt the desire or need to "be like everyone else," to "prove that they are normal." Who gains the most from that?
Certainly not Albert, who spends the entire movie tripping all over himself to pretend to be someone else. In The Birdcage, it's living a lie that's cuckoo, whereas the truth sets us free.
The Birdcage deals with the absurdity of masking, an idea that everyone—gay or straight—can relate to. But in the years since that movie's release, gay comedies have been increasingly treated as niche experiences, ones the public at large won't be able to stomach. The screens on which those stories are told have been getting smaller and smaller. Two decades ago, I Love You Phillip Morris, a black comedy starring A-listers Jim Carrey and Ewan McGregor as inmates who fall in love, would have been a major release. In 2009, it maxed out at 100 theaters, making just $2 million. No studio wanted to make Behind The Candelabra, Steven Soderbergh's seriocomic Liberace biopic, so it landed on HBO in 2013. Soderbergh was told the film was "too gay."
The world has made a great deal of progress in the intervening years, but Hollywood has gone backward. While TV is undergoing a queer renaissance—with shows like Orange Is the New Black, Modern Family, and American Horror Story—the film industry has become more conservative about sexuality. As BuzzFeed's Adam B. Vary writes, this has to do with the bottom line, which favors projects aimed at the "broadest possible audience, forever chasing the 'four-quadrant' golden goose." Because movies cost more to market and produce, it's seen as more of a gamble to have an out LGBT protagonist and risk alienating a portion of your audience.
In 2016, it's much more likely to have a gay character in a movie who's mocked—or even murdered—than one we're allowed to laugh with. I previously wrote for The A.V. Club that it's easier to win an Oscar playing a gay person if you die (see: Monster), but this issue isn't relegated to queer tragedies. In GLAAD's 2015 report, the organization pointed out that LGBT characters were most likely to appear in comedies (Horrible Bosses 2, Top Five, Get Hard) where they were the butt of the joke. Why? Ridiculing gays makes the public comfortable by reaffirming their marginalization. It's hardly the audience's homophobia, however, that's the issue.
Today's Hollywood has gone back in the closet, and it's not just Rupert Everett urging gay actors not to come out. A 2014 Williams Institute report attested to widespread bias against LGBT actors behind the scenes. The think tank polled queer SAG members and found that nearly half "strongly believed that producers and studio executives think [gay] performers are less marketable." A majority personally witnessed discrimination. "An openly gay extra was fired because the lead character felt uncomfortable having him around," the Institute reports. "In fact, two were fired a week apart for the same reason." If the industry is uncomfortable with gay people even being on set, it's no wonder they're treated as worthless and laughable on screen.
Movies like The Birdcage and In & Out, however, show that there's an incredible power in laughter: It helps break down boundaries and create empathy for those unlike us. While someone like the flamboyant Albert might appear to be the film's comic whipping boy, he's the strongest character in The Birdcage, the only one who sees the futility of the film's duplicitous endeavor. He knows it's impossible to hide who he is, so why bother? But 20 years after The Birdcage's success proved audiences could embrace fabulous, funny gay characters, it's Hollywood that needs to learn a little acceptance.