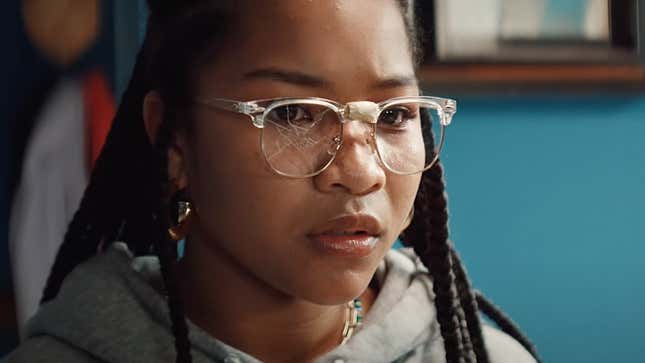 No one was doing gothic horror like Mary Shelley, who basically crafted the science-fiction genre with her iconic 1818 book Frankenstein. Even more than 200 years later, Shelley's writing on death and loneliness continues to be ripe for revisiting, with film adaptations still being made interpreting the classic creature novel. That's what we see in the first trailer for The Angry Black Girl And Her Monster, which brings the haunting tale of Frankenstein into our modern world.

Written and directed by Bomani J. Story in his feature film debut, this new take follows mad scientist Vicaria (Laya DeLeon Hayes), "a young Black girl whose talent for scientific invention meshes uneasily with her firsthand experience of death," writes Entertainment Weekly.
"Death is a disease," Vicaria says in the trailer, hypothesizing that a cure can be crafted after dealing with the loss of her brother to gun violence and her mother to cancer. This leads the young scientist down the path of upending the cycle of life and bringing back her older brother from the dead—but not without some gory consequences.
Inspired by Shelley's timeless tale, Story explained to Entertainment Weekly that he really wanted to dive into the perceptions of the so-called "monster," taking into perspective how others start "judging this creature before he opens his mouth."
"The true horror of the situation to me is believing what other people call you. It can be something as simple as calling you an 'idiot' or 'stupid,'" said Story about the creature's position in Shelley's novel. "If you believe that, you're gonna walk through life thinking you're not very smart, and that can alter the course of your life. That's very horrifying, and it has happened to more people than we like to consider. As a Black man, that stuff really spoke to me. It was important to me to try to capture that and deal with it as delicately as I could."
Along with Hayes, the cast features Chad L. Coleman (The Wire), Denzel Whitaker (The Great Debaters), and Reilly Brooke Stith (Orange Is The New Black).
Executive produced by Jeremy Elliott and Jasmine Johnson, the horror film also shares Story, Darren Brandl, and Jack Davis as producers, alongside Beth Tashjian as a co-producer.
The Angry Black Girl And Her Monster comes to life in theaters, as well as available to stream on-demand, on June 9.