And we're back! With so many major events constantly happening, it feels like time is moving at lightning speed. It doesn't feel like we said goodbye to the Johnson family that long ago, yet there were a million possible events the show could touch on in its premiere. Season three saw Black-ish take on some of the show's most controversial topics, but "Juneteenth" is Black-ish sticking to the basics.
The premise is simple: Dre gets upset when Jack and Diane have to perform the whitewashed story of Columbus in a school play. Dre doesn't think it's fair that controversial people like Columbus are celebrated while events like Juneteenth are ignored. This anger leads to a few classic Black-ish history lessons and ends with the family coming together around their newfound knowledge. It's a classic template and it gives the cast an opportunity to get comfortable in the moments that made Black-ish an Emmy-nominated show. A lot has changed for the Johnson family: Zoey is on her way to college, there's a new baby. The return to normal feels nice.
It would've been easy for the show to set a new status quo during this premiere, but "Juneteenth" is great because it reminds viewers that things don't need to change. Black-ish achieved some of its greatest accomplishments last season and it's starting to get the recognition it deserves. It also tells us that Black-ish isn't interested in appeasing anyone because of its new accolades, it's still going to encourage important conversations around issues of race. Still, "Juneteenth" feels like the show resting on its laurels, but the show has earned it. Moments like Ruby refusing Bow a butterscotch or Charlie revealing too much about his street education are still hilarious. Dre's office meetings are still great. Black-ish still features some of the sharpest, wittiest comedy writing on TV.

So, it's fair that the show would try something new for the season four premiere. I'll be honest: I haven't seen Hamilton. I haven't listened to Hamilton. All I know about Hamilton is that it's about Alexander Hamilton and it has people of color and hip-hop. I imagine most viewers with my knowledge of the musical might have found "Juneteenth" to be a little lackluster. The two bits focused on Hamilton were beautifully shot and moving, but they felt a little out of place. They weren't nearly as successful as "I'm Just A Slave," which was one of Black-ish's best educational moments yet. Overall, the Hamilton stuff was fun and probably great for fans of the musical, but the best moments came from Black-ish just being Black-ish.
G/O Media may get a commission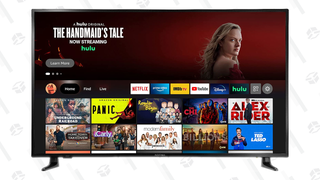 38% Off
Insignia 50" 4K UHD Smart TV
The introduction of guest star Aloe Blacc to Dre's traditional work scenes added a nice change of pace. At this point, Anthony Anderson, Wanda Sykes, Deon Cole, Peter Mackenzie, Jeff Meacham, and Nelson Franklin work together in complete harmony. We could easily watch them argue over lunch and it would be entertaining. I do wonder what they could've done if the group had been given more to work with, rather than the Hamilton scenes carrying the weight of the episode's message, but this is just the premiere and we have an entire season ahead of us.

Bow and the kids aren't really given much to do this episode either, but we have plenty of time to check in with the emotional state of the Johnson house now that there's a new kid in the mix. It'll be interesting to see how they minimize Zoey's role, but Diane, Jack and Junior have made it clear they won't have any issue filling in the gaps.
"Juneteenth" will be remembered as a quintessential Black-ish episode. Bow is right when she says America has a hard time facing its "un-fun" past. White people don't like to be uncomfortable. Black-ish is a show that pushes people out of their comfort zones while addressing painful truths in a way that's easy to process while showing the diversity of black opinion. "Juneteenth" does exactly that. There are black people who believe we should demand the government to recognize Juneteenth. There are black people who believe it's enough for us to celebrate it on our own. The point is: there are a lot of things happening in the black community and those voices need to be heard. The show doesn't waste time saying one side is right or wrong, Black-ish just asks us to have these conversations.

---
Stray observations
Welcome back, Black-ish! Sadly, weekly coverage has been cut and we'll only be checking in on the premiere and occasional episodes. If there's a particular episode this season you'd love to talk about, tell me about it on Twitter.
That Kente cloth scene was absolutely hilarious. Anthony Anderson totally sold it by acting like it was no big deal.
"Thank you for the minorities. We can tell you're trying." - What a great line from Bow that hits on SO MANY things. Black-ish may be reaching new heights when it comes to awards, but there's a lot to be said about representation. It doesn't actually equate to diversity or an actual shift in power, but hey, we can tell you're trying.
I'm sorry I don't know anything about Hamilton. Oh, I also know that Bow's brother was in Hamilton. So...that's like, three things.