In We're No. 1, The A.V. Club examines an album that went to No. 1 on the Billboard charts to get to the heart of what it means to be popular in pop music, and how that concept has changed over the years. In this installment, we cover Blink-182's Take Off Your Pants And Jacket, which went to No. 1 on June 30, 2001, where it stayed for one week.
Take Off Your Pants And Jacket. "Take off your pants and jack it." The history of the Billboard Top 200 is riddled with questionably titled albums, but in 2001, Blink-182 set a new standard. The top album in the country—a first for a punk record—was a masturbation pun.
Anyone familiar with the Southern California pop-punk band couldn't have been surprised. Blink-182's previous album, a quintuple-platinum blockbuster released in the summer of 1999, was called Enema Of The State. The band was known to perform naked at shows, where the between-song banter between guitarist-vocalist Tom DeLonge and bassist-vocalist Mark Hoppus trafficked exclusively in profanity and vulgar jokes (sometimes to the annoyance of drummer Travis Barker). Although all in their early to mid-20s, they acted like adolescent boys. They had turned that very characteristic into a hit single and nudity-packed video, "What's My Age Again?" ("Nobody likes you when you're 23 / And you still act like you're in freshman year.")
Although Blink-182 proudly played up its role as a goofy punk band that took nothing seriously, Enema Of The State was full of adolescent angst, much of it dwelling on romantic entanglement, but also family life and, most seriously, suicide. (The lyrics to hit "Adam's Song" were essentially a suicide note.) "I think we're a pretty serious band with most of our lyrics," Hoppus told Rolling Stone in early 2000. The text ran below a photo of him playing naked onstage.
Enema Of The State sold pretty well immediately. It was gold within six weeks, went platinum in four months, then really took off: It had taken a little more than four months to sell a million copies, but it sold another million three weeks after that. Two months later, it sold yet another million, and by the spring of 2000, Enema Of The State had sold 4 million copies in the U.S. alone. Those steady sales—fueled by radio and MTV—ensured Blink would stay on the road, as it did continually through the end of 2000.
When the touring cycle began to wind down, the band immediately began working on new material, but the singularity of purpose that produced Enema Of The State wouldn't return for its successor.
G/O Media may get a commission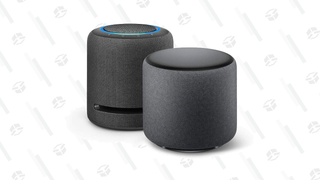 25% off - Prime Exclusive
Echo Studio + Echo Sub Bundle
"Our musical struggle for this new album was evident from the outset," Hoppus writes in the deluxe reissue of Take Off Your Pants And Jacket. "I loved everything about Enema Of The State—the music, the videos, the live show, everything. I wanted to do it again, making it bigger, better, and louder. Tom wanted something heavier, more guitar-driven, dirtier. He was listening to a lot of post-hardcore bands, and their influence showed in what he wrote. Travis, never simply a punk-rock drummer, wanted to challenge himself, as well as the band."
For the first—but definitely not the last—time, the band members weren't working together. As Hoppus notes, they were working in "opposition to one another." "We weren't starting from the same point or working toward the same goal. Sometimes the difference became contentious."
Eventually, the band was able to hash out about a dozen songs, which it demoed in the same practice space it had written Enema Of The State. Those varying desires had produced songs that Hoppus describes as different than their preceding work. "They were catchy, but with a definitive edge."
Too much of one, apparently. The first person outside of Blink-182 to hear the songs was the group's manager. "He listened quietly to the tracks one by one," Hoppus says. "At the end we turned to him with an 'am I right or what?' expectation, to which he said, 'I think it's really cool, but I don't hear that thing. That Blink-182 good-time, summer-anthem thing.'"
Blink-182 had been a band for nearly a decade by that point, but fame and fortune were still new to guys who had spent most of their band lives playing small clubs, touring in a van, and sleeping on floors. Getting hassled by management or the label about a single was a music-industry cliché experienced only by big rock stars. But Blink-182 had spent the past year selling out arenas around the world—its members were rock stars. Rock stars make hit albums, and hit albums need hit singles. Blink-182 wasn't three dudes goofing around anymore. Well, no, it was still three dudes goofing around, but now people expected things from them. "After years of hard work, promotion, and nonstop touring, people knew who we were, and listened to what we were saying—it scared the shit out of us," Hoppus writes in the liner notes.
Their manager's reaction infuriated Hoppus and DeLonge. They had already struggled with writing the new songs, and now that they had settled on something they all liked, the person who was supposed to be their greatest ally just wanted another dopey summer single.
Hoppus describes their response: "'You want a fucking single? I'll write you the cheesiest, catchiest, throwaway fucking summertime single you've ever heard!' I drove home, grabbed my guitar, sat on the floor, and wrote 'The Rock Show' in 10 minutes. Tom drove home, grabbed his guitar, and wrote 'First Date.'" Those cheesy throwaways would become the album's first two singles, both of them hits, and remain live staples to this day.
Right around the time Enema Of The State reached quintuple-platinum status in February 2001, DeLonge and Hoppus were holed up in Signature Sound Studios in the band's hometown of San Diego with producer Jerry Finn. Barker, easily the group's most skilled musician, had already tracked his parts in a few days at Larrabee Studios in Los Angeles. They were finishing up the arduous process of making Take Off Your Pants And Jacket.
"Looking back, I realize that underneath the usual bawdy humor and Mexican food, there lay a battle," Hoppus says in the liner notes. "There was an unspoken competition between Tom and I—who could write the better chorus, the cleverest lyrics. We were more protective of our ideas, less likely to give any ground in a disagreement."
Naturally, that led to heated disagreements mediated by Finn, who had also produced Enema. But the band put its best face forward when Alternative Press visited for a cover story to accompany the album's release, betraying none of the conflict that had accompanied every phase of making the new album. The trio wasn't all smiles—it had grown weary of getting naked onstage and was a little baffled by getting lumped in with the TRL scene it lampooned in the "All The Small Things" video—but this wasn't the same band that made Enema Of The State.
The article found DeLonge tracking what would be one of the last songs recorded for Jacket, "What Went Wrong." It was one of six acoustic songs that would close out the three different editions of Jacket—half of them serious, half of them silly ("Fuck A Dog," "When You Fucked Grandpa," for instance). In the post-"Good Riddance (Time Of Your Life)" world, every punk band seemed to be including a token acoustic song on their albums. DeLonge and Hoppus had always started writing their songs on acoustics, and their desire to try something different had taken them to recording some, as DeLonge noted, in their "original form."
"You grow up and realize, 'Fuck! Who gives a fuck about punk rock?'" he said in the article. "There are so many great forms of music out there, and you grow beyond wanting to listen to or write something because your parents will hate it."
As Hoppus noted, DeLonge had been listening to post-hardcore, and Barker was probably listening to as much hip-hop as rock. Their widening tastes influenced what they wrote, and even though Hoppus would've loved to have made another Enema, he found himself pushed in a different direction, too.
"I agonized over every word I sang," he says in the liner notes. "I didn't feel like writing the same themes, and the lyrics often turned a bit darker and introspective—love songs became broken love songs."
He cites "Every Time I Look For You" as an example of Blink's shifting impulses. Calling it a "Frankenstein monster of disparate elements," he notes how the song starts with DeLonge's "distorted drone guitar, then my poppier verses and chorus, both with bleak lyrics. Travis' drums go from punk to bombastic, leading to a beautiful mess of a bridge filled with screechy, screaming guitars."
What Hoppus describes may sound abrasive, but "Every Time I Look For You" didn't sound all that different. DeLonge's "distorted drone guitar" that opens the song is just an octave (a power chord minus the middle note), a staple of pop-punk bands everywhere. Hoppus' vocals and bass are as melodic as ever; if anything distinguishes "Every Time I Look For You" as more accomplished than the songs on Enema, it was Barker's playing, which gave the song a more complex structure. "Every Time" was so non-aggressive that it opened the 2001 American Pie sequel.
Hoppus calls Jacket "the permanent record of a band in transition" in the reissue's liner notes, but that title seems more appropriate for its self-titled successor from 2003, when Blink-182 dramatically altered its sound. (The band didn't even bother going through the motions of writing another "good-time, summer-anthem thing.") For Blink-182, Jacket may have felt like a noticeable departure from Enema, but that didn't seem to register much with fans and critics.
A four-star lead review in Rolling Stone noted the band "didn't mess around much outside their tessitura—they like to keep everything light, fast and punchy." "Not too much has changed since we last left Blink-182," said AllMusic. In an amusingly caustic review, NME said Jacket could easily be mistaken for "any one of the Yank sportz-punk bands currently cluttering up MTV."
"Anthem," a song that yearned for adult freedom, closed Enema Of The State, and "Anthem Part II" opened Jacket with a declaration to the adult world on behalf of kids that "if we're fucked up, you're to blame." It's one of Jacket's best songs, with a massively catchy four-chord chorus and just the right amount of self-righteous rebellion for teenagers to sing along.
Jacket proudly stood with The Kids. As much as "First Date" and "The Rock Show" (winkingly) pandered to them, the album provided catharsis for some of the biggest stressors in teenage life: relationships and family. Blink-182's members may have behaved like adolescents, but they also had a real sense of kids' pain and longing. The "Adam's Song" of Jacket, "Stay Together For The Kids" radiated the hurt from divorce (heavily informed by the split of DeLonge's parents when he was 18). "Give Me One Good Reason" celebrated "kids who fight against how they were brought up" and "who don't want to and don't fit in." "Story Of A Lonely Guy" chronicled the travails of the sensitive, awkward guys, and "Please Take Me Home" looked at the messy aftermath of friends who become a couple.
They weren't songs about the lives of twentysomethings. By the time Blink-182 came out in 2003, the members of the band were in their late 20s and feeling even more restless—and at odds—about their music. Unsurprisingly, a breakup followed not long after.
"Take Off Your Pants And Jacket was our confused, contentious, brilliant, painful, cathartic leap into the unknown," Hoppus writes in the reissue liner notes. They'd make an even bigger leap a couple years later, but Jacket was one last kiss-off to the adult world before they finally joined it.
Next: Paul McCartney goes to No. 1 with another group with Band On The Run.