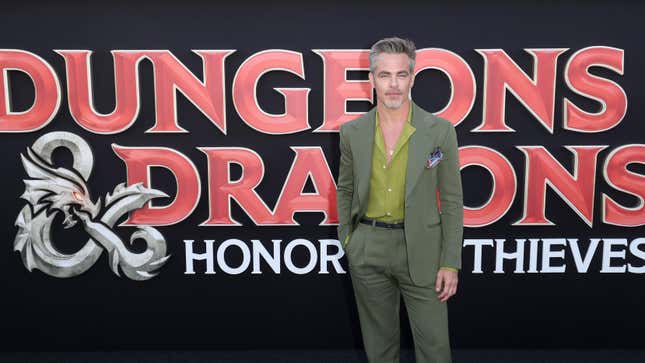 Chris Pine appeared in a certain movie last year that (spoiler alert) was ultimately about men escaping from their shitty real lives and going into a fantasy world, and while it was kind of a bad thing in that movie, Pine is now arguing that—separated from a misogynistic VR world or whatever—that kind of thing is actually pretty cool. In a way. He's actually suggesting that crowd-pleasing blockbuster movies are a great form of escapism, which isn't especially controversial, but the point stands.
What we learned from the "Obi-Wan Kenobi" trailer
Pine made that argument while speaking with Variety at the premiere of Dungeons & Dragons: Honor Among Thieves, saying that he's actually watched that movie more than most of his other movies because he keeps going to screenings so he can see it with an audience. "To come out and see audience's faces, you see exactly what cinema should do, which is people are, like, alive. They want to talk about it. They're in a great mood," Pine explained, adding, "They world is so shitty, so why not use this vehicle—big-budget cinema—to make people feel better."
But this shitty world isn't the only thing that Pine is escaping from, since he also mentioned to Variety that he managed to get out of doing any dumb old stunt work for Honor Among Thieves. "I don't do any stunts in this film," he told Variety, "Nothing. I have no action. All I do is run. Run away from shit." Pine noted that everybody else in the movie—who he calls "poor schmucks—had to do "all this martial arts training on the weekends," but he was just "taking walks on the beach" and "reading" and watching Netflix. "I had a great time," he said. Yeah, we can imagine! He makes moviemaking sound great!