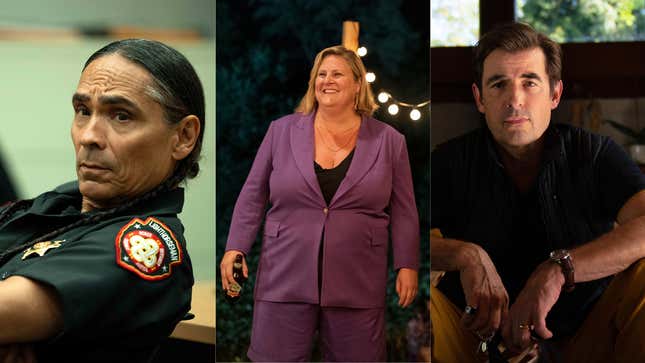 What will it take for Emmy voters to broaden their viewing horizons in order to actually honor the best of TV? It's a question worth asking on the heels of the 2023 nominations. It's not a new phenomenon for the buzziest, most popular shows to occupy a huge chunk of the slate. This year, Succession, The White Lotus, and The Last Of Us dominated the drama categories. While a fascinating HBO face-off involves three shows deserving of accolades, I would like to scream about how they aren't the only shows to leave an impact in the past year. You only have to watch television to know this.

It's easy to look at, say, Outstanding Supporting Actor in a Drama Series—featuring four mostly white male nominees from Succession and The White Lotus—and get dispirited. (Similarly, Succession and The Last Of Us cornered the nominations for Outstanding Guest Actor and Actress in a Drama). It appears voters only viewed or heard consistent chatter about these HBO offerings, and decided not to challenge themselves further. That meant no nominations for Andor's Stellan Skarsgard, Bad Sisters' Claes Bang, Better Call Saul's Giancarlo Esposito and Jonathan Banks, The Diplomat's Ato Essandoh, or House Of The Dragon's Matt Smith, to name a few. Their respective shows earned nods elsewhere, so at least there's some solace.
But what about the rest of the worthy contenders? Stars like Interview With The Vampire's Sam Reid, Industry's Ken Leung, or Evil's Michael Emerson don't stand a chance. Neither do hidden gems like P-Valley, Interview With The Vampire, For All Mankind, Snowfall, and Industry. Despite critical acclaim and a strong fandom, they tend to slip under the radar. (Yeah, shows like Good Times to Diff'rent Strokes, Halt And Catch Fire to Hannibal, and Superstore to Jane The Virgin, can relate). It's emblematic of a persistent problem, more so with hundreds of TV shows premiering on different platforms every year now. That's why it's crucial to pay real attention; there's no telling what project might deservingly break out. Look no further than Amazon Freevee's delightful Jury Duty, which scored big.
Look, it's increasingly difficult to keep track of release schedules. So, naturally, Academy members might favor stuff everyone is already talking about instead of doing the necessary homework to catch up, no matter how essential. It also partly depends on where—and on whom—networks and studios are placing their bets with FYC campaigns and Emmy promotions. Wednesday sneaking in with an Outstanding Comedy claim, or Emily In Paris in a previous year, are perfect examples. Netflix shows become constant online fodder because of things like hate-watching, viral TikTok dances, or other Jenna Ortega-related items, which means they secure eyeballs.
Apparently, that was all Academy members needed this year to bestow a nomination to Wednesday at the expense of other top-quality comedies like Reservation Dogs, The Other Two, Somebody Somewhere, The Great, What We Do In The Shadows, Ghosts, A League Of Their Own, and Never Have I Ever. The list could go on.
Even Ted Lasso's weaker final season grabbed several slots above and below the line. It's easier to assume Apple TV+'s celebrated comedy is still deserving if you haven't seen (or been targeted with) much else. The Ted Lasso discourse never stopped churning, even though another noted comedy ended its sublime run during the eligibility period: Atlanta. It's a long-running Emmys tradition to honor shows that have a history of wins and nominations. The Academy did this with ABC's Modern Family, CBS' The Big Bang Theory, and, going further back, NBC's Cheers and Frasier. Now, some of you are probably thinking: Who cares? But egregious snubs take away from talent that merits more viewership, and therefore, more money—a vital thing to keep in mind during the WGA and SAG-AFTRA strike. (None of the Emmy-nominated programs would prevail without writers and actors).
It's criminal that Reservation Dogs, a coming-of-age show that beautifully highlights the Native American community, doesn't have multiple trophies already. Ditto for Snowfall, FX's stellar long-running drama that wrapped in 2023 without any fanfare. Series star Damson Idris' excellent performance continued to be shut out, including for the final season. Succession's Kieran Culkin, Jeremy Strong, and Brian Cox (for his two-episode run) got three of the top spots along with The Last Of Us' Pedro Pascal, BCS' Bob Odenkirk, and The Old Man's Jeff Bridges. Once again, it's an HBO-heavy lineup. Perhaps the Television Academy didn't stop to consider how split voting might ruin the chances for the Succession trio.
This year's nominations did show some surprises, though, with unexpected nods for The Diplomat's Keri Russell and Bad Sisters' Sharon Horgan showing that voters are willing to embrace some variety. Still, it's a limited exercise. The nominees remain overwhelmingly and blatantly white and with so many coming from the same networks. It makes it harder to take the awards seriously. The only real way to break out of this pattern is for voters to experiment with watching more diverse TV than they're used to if they want to credibly honor from within their industry.
[7/18: The article has been updated to change the misspelling of actor Ato Essandoh]