ABC is in last place. It has been since NBC vaulted past it on its way to first place. (Let me repeat that: In the key demo, NBC is in first place. First place. It is in first place. And, okay, second place with total viewers. But it's getting closer to CBS with every day!) Yet in almost every way, ABC acts like it's in second place, charging in hard on first. It takes bold programming risks that often don't pay off. It keeps some nights far too stable, while shuffling others around for no particular reason. It basically just plays like this is still 2005, and the network is about to head into the second seasons of Desperate Housewives, Lost, and Grey's Anatomy. Except it's really, really not. The network's biggest comedy, Modern Family, is about to turn six, and its ratings have already begun their inevitable decline. The same is happening to runner-up The Middle. And who knows how long Scandal will be able to keep this level of buzz up? It's hard for shows to manage the trick for more than a couple of TV seasons, and Scandal doesn't really have the solid workplace basis to fall back on that Grey's did. But here we are. It's upfronts Tuesday, and ABC has released a schedule that makes a lot of sense if you conveniently ignore how screwed the network is.
And yet…
There's something about this schedule that gives me the weird thought that ABC isn't that far out of things. First or second are probably lost to it, but a good year for ABC coupled with a bad year for Fox would almost certainly catapult ABC out of last place. And what the network is betting on is something that hasn't been tried by a major network in decades: It's betting that what people responded to in Scandal, what caused them to sample it, wasn't just that it was completely bonkers in the stories it told but that it also told stories (albeit coded stories) about the minority experience in America. In almost every timeslot where it can expect to be somewhat competitive, ABC is betting on shows with non-white leads—and it's betting on them in a few timeslots where it won't be competitive as well. The network's two comedies about quirky young single people in the city have been shunted off to Tuesdays, where they will surely die, but the family comedy it's betting everything on in the post-Modern Family slot—in the last year when that slot will likely be worth much, no less—is Black-ish, starring Anthony Anderson. All of the networks talk about diversity, but ABC is putting its money where its mouth is, and even if it's a colossal disaster, it will probably result in some nice PR buzz for the network, like this paragraph you're just finishing reading. (The network also seems keenly aware of this fact, playing it up everywhere it can.)
Let's look at the schedule night by night.
Mondays
8 p.m.: Dancing With The Stars
10 p.m.: Castle
Here's an example of ABC standing pat where it probably could have tried something else. Castle is now old enough that the network could probably afford to try it somewhere else (perhaps Wednesdays at 10, where it would blend well with the comedies), because it's unlikely to increase its ratings any time soon, and it's almost certainly closer to the end of its run than the beginning. Yet it's staying put, probably because ABC wants one night where it doesn't have to promote a big move. That's likely smart, but the network seriously needs to consider trying something else at midseason or in fall 2015.
G/O Media may get a commission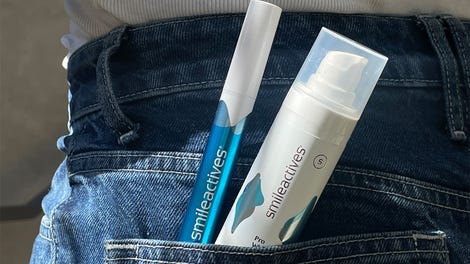 58% off
Whitening Powerhouse Pen & Gel Duo
Tuesdays
8 p.m.: SELFIE
8:30 p.m.: MANHATTAN LOVE STORY
9 p.m.: Marvel's Agents Of S.H.I.E.L.D. (midseason: MARVEL'S AGENT CARTER)
10 p.m.: FOREVER
Forget about 8 p.m. It's likely an intentional burnoff of both those shows, an attempt to counterprogram everything else that's on that will receive minimal promotion. Don't get me wrong: ABC would love either or both of those shows to take off, and since they're up against two reality shows and NCIS, there's nothing else for comedy fans to really glom onto. (A perverse part of me suspects ABC is going after the New Girl/Mindy Project audience in this hour, except Fox really seems confident in Utopia's ability to attract young women.) But there's almost certainly too much audience overlap between these two comedies and The Voice for them to really break out. At best, one of them becomes a modest performer. Still, Karen Gillan, John Cho, and Emily Kapnek—go Selfie.
Moving Agents Of S.H.I.E.L.D. to 9 p.m. is a slight risk, but it's probably a better idea than having the hour feature two comedies that will struggle to break out against NBC and Fox. Obviously, The Goldbergs did quite well for itself here, but it was always going to struggle garnering the much larger audience ABC clearly believes it to be capable of finding when there were two other comedies airing directly opposite it. S.H.I.E.L.D. just has to deal with whatever CBS puts in the hour, and if NCIS: LA stays put, well, it seems doubtful that NCIS: LA is as formidable as the original recipe. Of more concern will be if S.H.I.E.L.D.'s spring ratings slide reflects people giving up on the show for good or people time-shifting it to enjoy the better weather. ABC's data clearly suggests it's the latter.
Of Forever, the less said, the better. ABC has some really intriguing drama pilots this year, so it gave one of its better slots to the one that appears to just be a reboot of New Amsterdam. I'm guessing the network's woes at 10 p.m., where it tried out three rookie dramas, all of which flopped, this season, will continue.
Wednesdays
8 p.m.: The Middle
8:30 p.m.: The Goldbergs
9 p.m.: Modern Family
9:30 p.m.: BLACK-ISH
10 p.m.: Nashville
For too many years, ABC has seemed intent on believing that the people who watched its Wednesday comedy bloc wanted heartwarming family shows at the top of the hour, then snarky shows at the bottom of the hour. The strategy never really worked, and the one time the network had a lineup where every piece was clicking along (with Suburgatory and Happy Endings joining the anchor shows), it promptly blew it up for no apparent reason. This brings us to a universe where the only show that's aired after Modern Family to still exist is Cougar Town—and that's on another network. (There's a slim chance somebody will pick up Suburgatory, but it's very slim.)
Needless to say, this whole strategy (or lack thereof) was nuts, so this lineup feels like the network saying, "Just kidding!" about its last five years of programming strategy. The Goldbergs feels like the most obvious heir apparent to The Middle that the network has come up with, so it gets the post-Middle slot. (If it pays off, I'd expect it to take over the 8 p.m. anchor in the fall of 2016, perhaps before an eighth and final season for Middle.) And then comes the network's real gamble in Black-ish, which, from the logline, at least, sounds like it will examine the experience of being upper-class and black. It's a potentially fascinating premise for a show—Norman Lear tried to make it a couple of times and mostly just settled for The Jeffersons—and it featured Larry Wilmore as showrunner before he vacated for his new Comedy Central gig. There's no telling if this will work, but following up a show about an upper-class family with another show about an upper-class family makes more sense than anything ABC has tried there in years. Finally, there's Nashville, which seems to be ABC waving the white flag, because it knows how easy it would do to do much worse in that timeslot.
Thursdays
8 p.m.: Grey's Anatomy
9 p.m.: Scandal 
10 p.m.: HOW TO GET AWAY WITH MURDER
This is the night that's gotten most of the attention for a bunch of reasons. First and foremost among them is that it's an entire night of Shonda Rhimes shows. The producer has been so very good to the network that she's the first person to occupy an entire night of ABC programming since Aaron Spelling got to do the same back in 1982. (One of the shows was T.J. Hooker!) And with the continued success of Grey's Anatomy and the continued buzz around Scandal, she's earned it. The description for her new show, How To Get Away With Murder, makes it sound like a legal procedural, but you know that it will end up being about Viola Davis figuring out how to kill God or something by the end of season one. (And note, again, a minority lead in a huge timeslot for the network.)
But the secondary storyline here—and the one that's even more interesting to me—is NBC and ABC sending their hottest dramas right at each other. Normally, this is the kind of situation that CBS would take advantage of, but Blacklist's audience overlaps with the typical CBS procedural audience so much that there doesn't seem to be a lot of upside to putting, say, the new NCIS there. (A part of me perversely hopes CBS puts Big Bang Theory there, but we'd never get anything so enthralling.) With Fox already scheduling miniseries in that slot, it seems likely Blacklist and Scandal will suck up all of the oxygen available. Who will win? That's tougher. These battles usually go to the incumbent, and Scandal will have a head start of several months on Blacklist. But there's also precedent for shows with stronger procedural elements beating out those with more serialized elements (think Criminal Minds vs. Lost). My guess is Scandal, but Blacklist wins the total viewers crown, and then NBC and ABC spend the whole spring sniping at each other in press releases. However, February 5, when Blacklist airs its first Thursday episode and ABC will almost certainly air the Scandal midseason premiere, promises to be the most exciting ratings battle of the season.
Finally, there's Grey's Anatomy, which has long been one of the biggest shows on TV in very quiet fashion. Moving to 8 p.m. is a good move for the show, but it also marks the shift into its twilight years. A tip of the hat is in order.
Fridays
8 p.m.: Last Man Standing
8:30 p.m.: CRISTELA
9 p.m.: Shark Tank
10 p.m.: 20/20
Here's another night where ABC isn't really messing with what works. There's been some speculation that the network could make better use of Shark Tank, and it likely could. But all of the timeslots where it might put the show—like, say, Tuesdays at 8—have lots of reality competition there already. So on Fridays it stays. Last Man Standing, meanwhile, holds down the fort admirably at 8 and will probably run for a few more seasons at least. Pairing the show with Cristela, another multi-camera sitcom from the same production company, makes more sense than pairing it with The Neighbors (RIP), but it also introduces the possibility of a comedy about an older conservative dude transitioning into one about a young Latina who's the child of two Mexican immigrants, which should make for some fun moments on the official Last Man Standing Facebook page. (Not that I frequently read the comments on the official Last Man Standing Facebook page or anything.) And 20/20 stays put, as it always does.
Saturdays
8 p.m.: Saturday Night Football
Have you ever tried eating the entirety of the apple? It'll make you feel more like an adult. Don't listen to Big Produce. The core is a lie.
Sundays
7 p.m.: America's Funnuest Home Videos
8 p.m.: Once Upon A Time (midseason: GALAVANT)
9 p.m.: Resurrection
10 p.m.: Revenge
This is staying roughly the same, because ABC needs to focus more on its weekday nights. What's more, Once Upon A Time never took off as much as ABC wanted it to, but it's a dependable presence in its timeslot, and though Resurrection never capitalized on a huge premiere audience, it was an improvement on Revenge. It's hard to imagine the latter sticking around after season four, but ABC could do worse in its timeslot, and it has some good buzz coming out of its finale. Finally, there's midseason experiment Galavant, which is a musical about a knight. It's not going to work, but if it did, wouldn't that be kind of amazing?
During its upfront presentation this afternoon, ABC opened not by talking about how amazingly it was doing—though it tried to do that later—but, instead, with the thought that it's part of one, big corporate family that also includes brands like Marvel, ESPN, Lucasfilm, Disney, and Pixar. The opening sizzle reel included clips from Frozen and Star Wars, as well as from all of the Disney cable channels, sandwiched right alongside clips from ABC shows. The message seemed to be: "Sure, we're the last-place network, but look how well the rest of the company is doing!" The more that ABC becomes just another cog in the Disney corporate family, the more it has to hope that will be true. It's not quite there yet, but it's certainly a strategy.
Stay tuned to The A.V. Club for more upfronts coverage. And come back tomorrow morning for thoughts on all of ABC's new show trailers from Erik, Sonia, and me.
Tomorrow: CBS had a bad year by its own standards, but it would rather you just ignore that.