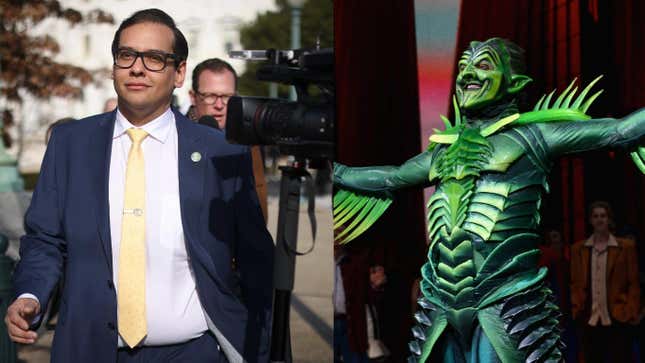 New York Republican Rep. George Santos has had a, let's say, complicated relationship with the truth over the course of his recent rise into the national spotlight; his various claims about the events of his life, many of them made during his 2021 run for Congress, are currently the subject of investigations by two different national governments, plus the state of New York. And also, he apparently told people he produced Spider-Man: Turn Off The Dark, the infamously unsuccessful, actor-smashing Broadway flop, for some damn reason. Which he does not appear to have done.
The A.V. Club's weekly film round up
This is per Bloomberg, reporting on allegations that Santos, while running for Congress, told potential donors that he worked as a producer on the play, which ran from 2011 through 2014 in New York, after suffering through one of the longest preview periods in Broadway history. (Also: A concussion, multiple serious leg injuries, and, in the case of one stunt performer, two broken wrists at the same time.) This statement has been contradicted by Michael Cohl, the lead producer on the musical, who denies that Santos was ever involved in the production. (Cohl resisted the urge to point out that this would also make Santos the only person in Broadway history to try to associate their name more with Turn Off The Dark, which ended up closing after losing something like $60 million across its run.) Santos' name also doesn't appear, per Bloomberg, in any of the show's playbills; the publication also notes that, per a Brazilian investigation into check fraud that's being conducted on Santos, he was living in the South American country for at least part of the show's run.
And, let's be clear: Our purview, as a pop culture web site, is not to analyze or evaluate the many, many things that George Santos has said over the last couple of years that people have called out as fundamentally factually deficient. But it's hard not to be fascinated by this (alleged!) lie, tied as it is to one of the most infamous Broadway flops of the last few decades. Why lie about producing the Spider-Man musical that couldn't stop breaking its Spider-Men? Were these potential donors members of the Sinister Six? Or just big fans of the Letterman clip where the cast performs "A Freak Like Me Needs Company"? (We can relate.) The single best motivation we can come up with is that being a producer on a Broadway play that everybody's heard of sounds impressive, and that it's easier to fake credit on a flop than on a hit—provided that you're not living the kind of life where everything you say, up to and including, like, your lunch order, has to be run through a fact checker for accuracy at this point.