Spider-Man: Turn Off The Dark—the perennially troubled, potentially deadly $65 million U2-Julie Taymor musical that's suffered numerous delays, reports of actors breaking their wrists and feet, and the general sense that it's completely doomed—had its first preview showing last night. How did it go? Well, no one broke their wrists or feet or died. Other than that, the New York Times and New York Post report that there were just some minor hiccups, like:
- The show starting 24 minutes late and having "few of the special effects" that were promised, including sets noticeably missing entire pieces.
- A wire malfunction during the opening musical number that left the singing radioactive spider character Arachne suspended in midair over the crowd for "an embarrassing seven or eight minutes as stagehands worked feverishly to figure out the problem."  (Yes, this show has a singing radioactive spider.)
- Another halt in the middle of an Act I scene to free Spider-Man actor Reeve Carney from an aerial harness.
- A scene where Mary Jane was supposed to be saved from atop the Chrysler Building, except "part of the building was missing, and Mary Jane was nowhere in sight," leaving Carney to fly her in unexplained from somewhere off stage.
- A not-so-dramatic end to Act I where Carney was supposed to fly off, but instead "a harness and cables lifted Spider-Man several yards up and over the audience, then stopped," leaving the stage manager to once again call for a halt over the loudspeaker. Then three stagehands "spent 45 seconds trying to grab Spider-Man by the foot, as the audience laughed and oohed."
G/O Media may get a commission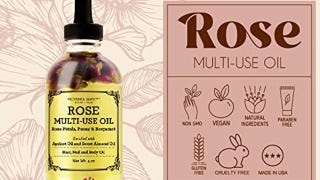 Provence Beauty Rose Multi-Use Oil
- As soon as they finally caught Carney, the house lights came up, beginning an intermission that lasted over 40 minutes to the vocal displeasure of an increasingly restless audience.
- A scene where the Green Goblin played a musical number at the piano (again, yes), which then turned into a long, improvised version of "I'll Take Manhattan" as "stage workers openly rushed around to fix faulty equipment."
- A final stop during the show's last 10 minutes, during which some theatergoers walked out and a woman shouted, "I don't know how everyone else feels, but I feel like a guinea pig today—I feel like it's a dress rehearsal." (She was met with a chorus of boos.)
And then there were the post-show reviews, which branded Turn Off The Dark "an epic flop" with "a dull score and baffling script" that left "stunned audience members…scratching their heads over the confusing plot—when they weren't ducking for cover from falling equipment and dangling actors." But did we mention no one died?