American network comedy is entrenched in an Age Of Autobiographical Sitcoms. Which is odd, because none of the shows made in this mode have left much of an impact; the most prominent of them all, The Michael J. Fox Show, was also the costliest flop of the 2013-14 season. The Goldbergs is doing all right for itself on ABC, but that's a show that was given time to shape characters out of the "characters" typically populating TV memoirs. Revolving around a blind father (J.K. Simmons), a mom in a middle-age crisis (Jenna Elfman), and two kids trying to make sense of their kooky parents (Eli Baker and Ava Deluca-Verley), Growing Up Fisher is based in fact—but its early episodes synthesize personality from paper-thin quirks. Elfman's character takes this to extremes that border on self-parody, adopting a pipe that is to the pilot what Winona Ryder's monocle is to Heathers.
Unfortunately, that's not the only young-sitcom problem affecting the first two episodes of Growing Up Fisher. It might be in good shape if it were just a single-camera series about a family grappling with divorce. Or if it were just a show that focused on the challenges of living with Mel Fisher, a self-reliant attorney who doesn't let blindness get in his way (namely, by not disclosing that condition to his clients). However, Growing Up Fisher is these shows and more—an identity crisis unhelpfully highlighted in a second episode that finds each Fisher pretending to be someone they're not.
Projecting a calming confidence amid the swirling confusion is Simmons, his natural gravitas anchoring a shaky midseason replacement for the second consecutive year. (In 2013, it was ABC's Family Tools.) Mel's blindness makes an awkward selling point for a comedy, but it allows Simmons to explore a vulnerability typically masked by the actor's paternal air. It's unclear what he ever meant to Elfman's Joyce, and he doesn't seem to have much of a relationship with daughter Katie, but the weird working life he's carved out for himself provides a handful of chuckles. Much of the credit there goes to Bill Fagerbakke, playing an associate who narrates every aspect of Mel's day that isn't already being described by actual narrator Jason Bateman.
Thanks to Fagerbakke and fellow supporting player Lance Lim—who provides Eli Baker's awkward Henry with a smooth-operating sidekick—there's a lot to laugh at on the fringes of Growing Up Fisher. If only the brood at the middle of this family comedy were as sharply defined. Joyce is particularly problematic: Elfman plays the Fisher matriarch as a logical extension of the free-spirit persona she fine-tuned on Dharma & Greg, with the added baggage of divorce papers and more than a decade of parenting experience. As hacky as that previous show's premise was, at least it provided Elfman with a genuine comic foil in Thomas Gibson; on Growing Up Fisher, the joke is "pipe-chomping, skinny-jeans-buying mom seeks daughter's friendship." That's the setup for another show slugging it out beneath the surface of these episodes—were the novelty of an older woman trying to recapture her youth still novel (or entertaining).
G/O Media may get a commission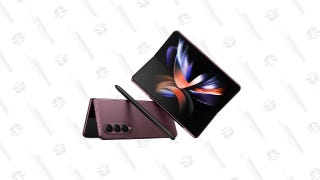 Save Up to $300
Galaxy Z Fold4
An overriding notion of "you can't make this stuff up" drives most autobiographical programs, yet Growing Up Fisher and its ilk are most commonly hurt by a manufactured sense of originality. As narrator and executive producer Bateman could attest, you can make this stuff up, and sometimes a fictional clan like the Bluths winds up feeling more like a real family than the Fishers, the Goldbergs, or the parents with whom you're living (for the rest of your life). Creator DJ Nash based Growing Up Fisher on his own experience of being raised by a blind father—a scenario that could yield universal truths about family, pride, and overcoming adversity. But as they've been translated to the screen, this show's universal truths are more suited to an amusing anecdote than a weekly sitcom.