Thanks to its public domain status, George Romero's Night Of The Living Dead (1968) has seen more home video releases than any other horror movie. (Amazon currently lists more than 100 on DVD alone.) Compared with that, the journey of John Carpenter's Halloween (1978) from theaters to your couch seems relatively straightforward. Until you start looking into it.
Our research turned up more than 20 iterations of Halloween on various home-video formats, from the original 1979 Media Home Entertainment VHS to the 4k Ultra HD edition that was released at the end of September. This is partially due to updates in technology, of course, but also due to the complicated and ever-shifting question of video distribution rights. Halloween has passed through a number of distributors—including Blockbuster Video, which held exclusive rights to the film for a couple of years in the mid-'90s—over the 40 years of its existence.
Anchor Bay Entertainment has held the rights to Halloween on home video for more than 20 years now, but that only streamlines part of this equation. There are also the questions of audio mixes and video transfers—of which Halloween has seen several—as well as different cuts of the film. And all of them have their partisans. So, to help us make the right choices in the face of this bewildering array of options, we turned to Brandon Peters of the Cult Cinema Cavalcade podcast, whose article on the home-video history of the Halloween franchise as a whole was an invaluable resource for this article, along with eBay and collectors' forums. (Completists can also check out an outdated, but impressively comprehensive, history on this anonymous Angelfire page.)
Peters calls the original Halloween his favorite film of all time. "It was a life changer for me," he says. When he first saw the movie as a kid (either 8 or 9 years old, he's not sure), he says, "I've never had my heart racing so fast. I liked that feeling of being on a ride." He's collected Halloween movies since he was a kid, and worked on the DVD release of Rob Zombie's Halloween in 2007, so he has experience both as a fan and a professional. For collectors like Peters, new releases of Halloween give him the chance to see his favorite movie in a new way. "When I watched it on DVD, I saw it in wide-screen for the first time. Then I didn't want to watch it on pan and scan anymore. Then I saw it on Blu-ray, and then I saw the 35th anniversary edition, and each time I felt like I was seeing the movie for the first time. I love that feeling," he says.
So, who's ready to get granular?
---
VHS
G/O Media may get a commission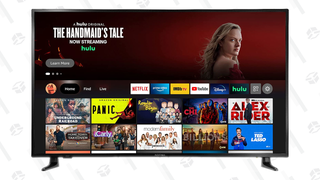 38% Off
Insignia 50" 4K UHD Smart TV
Buying a VHS tape in the year 2018 is a perfectly valid aesthetic preference, if you ask us. But there is one major problem to look out for: the old pan-and-scan full-screen crop. A technique that adjusts 2.35:1 wide-screen theatrical aspect ratios for the 1.33:1 box that used to be standard for all televisions, pan-and-scan basically takes images composed as long rectangles and crops them into squares to fill the screen on an old 4:3 square TV, losing around 40 percent of the frame in the process. For a film that makes artistic use of the wide-screen format, as Halloween does, a full-screen crop will significantly impact the viewing experience. If a VHS is in wide-screen, it'll be labeled as such, on the back of the box or on the tape itself. If it doesn't say, it's full-screen.
The original 1979 Media Home Entertainment VHS of Halloween is not in wide-screen, though that didn't stop a collector from paying $13,220 for a rare "MEDA" (the name of label owner Charles Band's first wife) variant back in 2014. Nor is the 1995 Blockbuster Presents VHS of the film, which was sold at Blockbuster Video stores between 1995, when the video chain bought the rights to Carpenter's film, and 1997. But in 1997, new rights holder Anchor Bay, a.k.a. Video Treasures, gave viewers a choice, releasing Halloween on VHS in both wide-screen and pan-and-scan. The wide-screen 1997 edition even came with an early special feature—the Halloween trailer at the end of the tape.
VHS also marks the first home-video appearance of the "extended version" of Halloween, actually the TV version shown on NBC in 1981. (It was released on VHS by Video Treasures in 1989.) Perhaps predictably, censors demanded numerous cuts to the original Halloween before it could be shown on broadcast TV, and the result was too short to fill the movie's scheduled two-hour time slot. So, the ever-practical John Carpenter gathered together Donald Pleasence, Jamie Lee Curtis, Nancy Kyes, and P.J. Soles, and shot a handful of talky insert scenes on the set of Halloween II. Curtis had cut her hair in the meantime, but Carpenter had a solution for that, too: just put her in a bathrobe and stick a towel on her head. Ta-da! Fresh from the shower!
Our expert's pick: Peters likes the 1998 two-cassette "Orange Tape" 20th anniversary VHS of the film, and not just because the film is in wide-screen. He recommends it as an overall package, thanks to a second tape that includes the aforementioned additional footage shot for NBC as well as a making-of documentary, Halloween Unmasked, that features Jamie Lee Curtis being interviewed on the set of Halloween: H20. "All with no menu," he says. "Old-school VHS. You had to sit through it all and wonder, 'Is that it? Oh, no, wait, there's more!'" But hey, it also came with a keychain!
This edition, like all the releases of Halloween on VHS, is out of print. But you can find it for around $30 to $40 on eBay. The other 20th anniversary Halloween VHS, which doesn't come with a second tape but does come with a delightful snow globe of Michael Myers chasing Laurie Strode over that famous tan couch, is more expensive.
---
Beta
Halloween only saw one beta release, but like the original VHS, there are two different variants. First, there's the original MEDA version seen at left; that one came out in 1978. Then, it was re-released in 1982, after the company had changed its name to Media Home Entertainment. Prices for (obviously secondhand) Halloween beta tapes can vary wildly depending on the condition of the tape, from around $20 to $200 or more. Believe it or not, distributors kept releasing Halloween movies on beta up until 1989, when the now-defunct CBS/Fox put out Halloween 4: The Return Of Michael Myers.
---
LaserDisc
This is another easy one: Halloween was released on LaserDisc by the Criterion Collection in 1994. It was the 247th LaserDisc from the company, coming out between Ingmar Bergman's Through A Glass Darkly and David Lean's Brief Encounter. Sadly, a Halloween Criterion DVD was not to be, as the rights passed to Anchor Bay a few years later. Halloween LaserDisc prices can also vary widely depending on condition; the current average hovers around $100 on eBay. But if you're devoted enough to collect LaserDiscs, we can't imagine a high price tag would put you off.

---
DVD
Here's where things start to get truly complicated. DVDs can hold significantly more information than a VHS tape, which meant that the advent of the DVD led to the advent of DVD special features. The original 1997 DVD release of Halloween is "bare bones," according to Peters, and is devoid of special features save for a theatrical trailer. But starting with its 1999 two-disc DVD set (one of the original film, and one of the "extended" TV version), distributor Anchor Bay—which holds the rights to Halloween to this day, and was involved in all the releases mentioned from here on out—began adding tons of special features to DVDs of Halloween, of which Peters counts "six or seven" including full-screen alternate editions. (Which, again, why?)
Special features can include trailers, stills, posters, radio and TV ads, cast and crew bios, and commentary tracks. But the main attraction is the making-of documentaries, some of which stretch out into feature length. The 1999 DVD includes Halloween Unmasked 2000, which was made for the 1998 20th anniversary VHS and was carried over to DVD. A subsequent 2003 25th anniversary DVD introduced Halloween: A Cut Above The Rest, an in-depth behind-the-scenes documentary that, at 87 minutes, is only 14 minutes shorter than the movie itself. There's also a fan-favorite 2005 documentary, Halloween: 25 Years Of Terror, that centers on a Halloween fan convention and was released as a stand-alone DVD in 2005. But Peters recommends a more recent documentary, Halloween: The Inside Story, which was created for A&E's Biography series in 2010. That one was directed by Phil Nobile Jr., who's now the editor-in-chief of Fangoria. Nobile's documentary was only released on DVD in the U.K. (and is now out of print), but you can watch it on YouTube.
Our expert's pick: Hey, maybe you still buy DVDs. We don't know your life. Peters has a strong opinion on this one, calling the 2003 25th anniversary edition of Halloween "a solid one to own… If you're still adhering to that format, it's the way to go." He recommends it mostly for the special features, which include "this really weird commentary… It's separate interviews with Debra Hill, John Carpenter, and Jamie Lee Curtis, and there's someone who announces their presence every time they speak." (Peters then launched into impressions of Jamie Lee Curtis and John Carpenter, which we sadly cannot reproduce in print.)
For this edition, Anchor Bay remastered the film in something called "Divimax," which the company touted at the time as a "high-Definition film transfer process that provides state-of-the-art picture quality." (We prefer the pithier box copy: "Digital video to the max!") Basically, it's an HD transfer made from a 35mm print of the film. It's letter-boxed, a.k.a. wide-screen—something we no longer have to worry about with DVD and Blu-ray, unless you're a crazy person who deliberately buys a full-screen DVD—and comes with the new Dolby True HD 7.1 sound mix that was created for the film in 1998. This version is mostly similar to the original audio, but remixed and juiced up with additional lightning and wind sound effects. So it's hardly a Star Wars special-edition-level debacle. Still, purists take note.
Blu-ray
If DVD is the format of special features, then Blu-ray is the format of transfers. As physical media becomes an ever more boutique concern, the supplemental materials on Blu-rays have gotten more lavish, and the presentations of the films themselves tailored to ever more specific tastes. Now, there are "only" four choices if you want to buy Halloween on Blu-ray: The original 2007 Anchor Bay Blu-ray, which is relatively bare bones and repeats special features from earlier DVDs; the 2013 35th anniversary edition, which comes with new commentary from John Carpenter and a new featurette called "The Night She Came Home"; the FYE exclusive steel-book Blu-ray, which is the same as the 35th anniversary edition except it comes in a metal tin; and the new 4k Ultra HD/Blu-ray combo pack, which also repeats the special features from the 35th Anniversary Blu-ray. (The newest release is "not a huge jump," according to Peters.)
Basically, it comes down to the 2007 Blu-ray and the 2013 Blu-ray. And this is a source of some controversy: Some collectors prefer the look of the 2007 Blu-ray, an upgraded version of the transfer that's featured on the 25th anniversary DVD. That version is slightly washed out, but with brighter whites and true blacks. The only problem there is that neither John Carpenter nor cinematographer Dean Cundey approved that transfer—or like it, for that matter. That's how we got a new transfer for the 2013 Blu-ray, this one supervised by Cundey himself; the color temperature in this version is cooler, and the blacks more like midnight blue. The difference is noticeable, if subtle, when you look at them side by side:
For Cundey's part, he says the complimentary orange/blue color scheme that's evident on the 2013 Blu-ray was his original intention for the film, and calls the 2013 transfer "the most accurate portrayal of how John and I wanted Halloween to be seen." That being said, Cundey's intent was a bit lost in the original process of transferring Halloween to 35mm, and so the brighter 2007 transfer is closer to what you would have seen watching it in a theater during its original run. So it depends on what you want out of the experience, really.
Our expert's pick: Pressed to choose just one edition of Halloween on Blu-ray, Peters offered up a bit of a cheat: He says that Scream Factory's presentation of Halloween in its 2014 "Halloween: The Complete Collection" boxed set is the best, because it's the only one that gives you the option to choose between the original 1978 mono theatrical audio mix and the upgraded Dolby True HD 7.1 audio mix. (You remember, the one with the added sound effects mentioned above?) "The one in the boxed set, that's genuine, that's what it sounded like back in 1978," he says. (It's also the 2013 Cundey transfer, so it's a bit of a Frankenstein's monster as far as authenticity goes.)
Told that we needed a second option for fans just looking to buy the original film, Peters chose the 2013 35th anniversary Blu-ray. "It's kind of ghostly, and creepier," he says, adding, "It gives a whole new feel to the movie. It's so different, [and] the details come through a little bit better." That being said, he thinks the original Blu-ray has a good level of detail—he makes special note of how the sidewalks looked wetter on Blu-ray compared to DVD—and "Hey, you're watching Halloween, and you're watching it on Blu-ray and not DVD, so that's good."
Thankfully, both are affordable. The 35th anniversary edition is currently going for $12.97 on Amazon, and the original 2007 Blu-ray is around $11 to buy outright on eBay—or less, if you're up for a bidding war.
---
You can also find Halloween in this year's edition of The A.V. Club's Halloween streaming guide, thanks to Shudder, which currently has exclusive streaming rights to Carpenter's original film. (Shudder is also streaming the film for free, without a subscription, through midnight tonight on its Shudder TV site.) You can also rent or buy it on VOD, but remember: You don't actually own those.